Are you in the market for a phone tracker app? With so many options available, it can be challenging to determine which app is right for you.
FreeAndroidSpy is a popular option that offers several features.
However, with a free app, you must ensure you're not sacrificing quality for the price.
In this article, we'll provide a comprehensive review of FreeAndroidSpy, diving into its features, benefits, and potential drawbacks and helping you make an informed decision.
Additionally, we'll also address a common question about FreeAndroidSpy: is the app currently down or not?
Keep reading to find out everything you need to know about FreeAndroidSpy!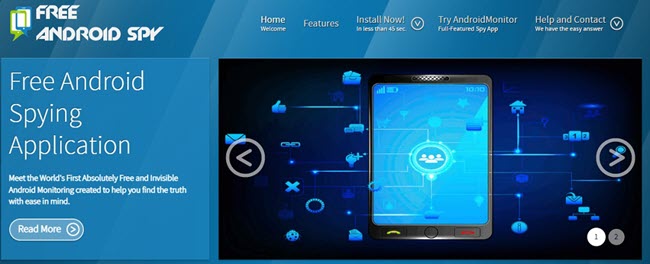 Part 1: What is FreeAndroidSpy?
FreeAndroidSpy is a mobile app designed for parents who want to monitor their kids' activities on their phones. The app allows you to track the location of your loved ones and sends you notifications if they enter an unsafe area.
In the following sections, we'll dive into the features and compatibility details of this free Android spy app.
Part 2: The Features of FreeAndroidSpy
This FreeAndroidSpy app provides a range of powerful features to help you monitor your loved ones and keep them safe:
GPS location tracking: View the real-time location of the monitored device.
Call monitoring: Access logs, including incoming and outgoing calls, call duration, and contact information.
Text message tracking: Read all incoming and outgoing text messages, including contact information and time and date stamps.
Contact list: View the monitored device's contact list.
Media files: Access photos, videos, and other media files stored on the monitored device.
Geofencing: Set up geofences and receive alerts when the monitored device enters or exits a specified area.
Alerts: Receive alerts for suspicious activity, including when the monitored device visits inappropriate websites.
Remote locking and wiping: Lock or wipe the monitored device remotely in case of loss or theft.
Part 3: The Compatibility of FreeAndroidSpy
Compatibility is essential when choosing a phone tracking app, ensuring it will work seamlessly on your device. It also allows you to use the app's features to their fullest potential without issues.
Using a compatible app also ensures that you get accurate and up-to-date information from the monitored device, which is critical when tracking the location of a loved one or employee.
So, FreeAndroidSpy is a phone tracking app designed for Android devices. This means the app is compatible with Android version 2.2 or higher devices, including smartphones and tablets.
Part 4: The Price of FreeAndroidSpy
FreeAndroidSpy is a phone tracking app that is available for free.
Unlike many other phone tracking apps, FreeAndroidSpy doesn't require you to pay subscription fees, hidden costs, or in-app purchases.
Once you download the app, you can use its features without any limitations or charges.
Part 5: How to Use FreeAndroidSpy?
The app is easy to use and install.
Check out the steps to enable the app on the target device quickly!
Step 1: Pre-installation and Settings
Allow unknown sources on your Android device. You can do this by going to your device's settings, selecting "Security", and then toggling on the "Unknown sources" option.
Disable Google Play Protect on your device. This can be done by opening the Google Play Store app, selecting the menu icon, choosing "Play Protect," and then toggling off the "Scan device for security threats" option.
Step 2: App Installation
Download the FreeAndroidSpy app from the official website.
Initiate the installation process by tapping the downloaded APK file and following the installation prompts.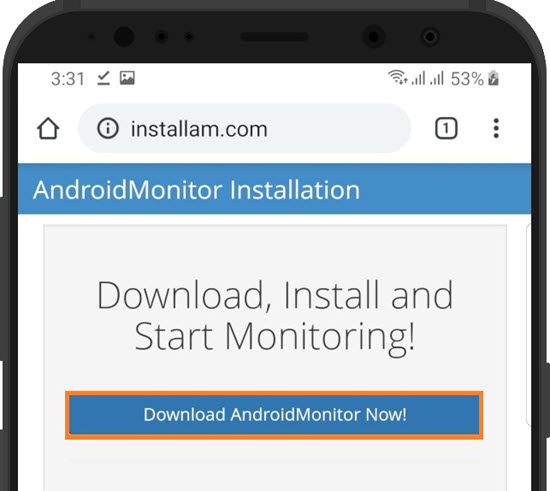 Step 3: Start Tracking
Once the app is installed and configured, log in to your FreeAndroidSpy account on any device with an internet connection.
You can then start monitoring the target device.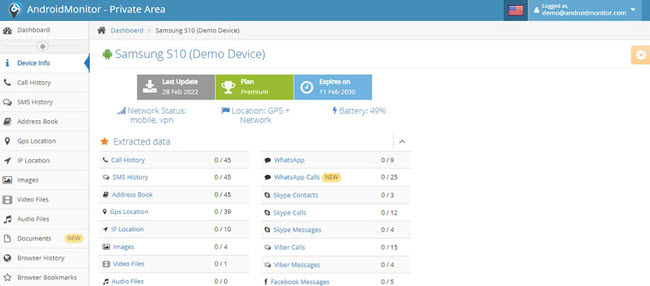 Part 6: The Pros and Cons of FreeAndroidSpy
If you're considering using FreeAndroidSpy to monitor an Android device, weighing its pros and cons is essential.
While the app offers some useful features, it does have its limitations.
In this section, we'll explore the advantages and disadvantages of using FreeAndroidSpy to help you make an informed decision.
Pros:
Easy to use, with a simple installation and configuration process
Free to use, with no hidden fees or subscriptions
The web-based dashboard provides remote access to monitored device information
Runs in stealth mode, making it difficult for the user to detect
Cons:
Only compatible with Android devices, with no solution available for iPhone users.
No option to take screenshots of the monitored device remotely
Can't record calls or surrounding conversations, limiting the app's usefulness for monitoring communication
Lacks a keylogger feature, which could be useful for capturing passwords and other sensitive information
Unable to track popular social media and instant messaging apps like WhatsApp, Facebook, Snapchat, and Instagram
While FreeAndroidSpy offers some useful features for monitoring Android devices, it does have some limitations.
The lack of compatibility with iOS devices and the inability to monitor popular social media and messaging apps may be deal-breakers for some users.
However, the app's ease of use and stealth mode makes it a good option for those who want to monitor basic device usage, such as location tracking and call monitoring.
Part 7: Is FreeAndroidSpy Down?
FreeAndroidSpy is not down, and its website and app are fully functional.
However, technical issues can arise anytime, and the app may experience downtime or other issues in the future.
It's always a good idea to check the app's website or social media pages for any updates or announcements regarding technical issues or maintenance. Additionally, if you experience any issues with the app, you can reach out to their customer support for assistance.
Part 8: The Best Alternative for FreeAndroidSpy – Yeespy Android Spy App
Despite its convenience and cost-effectiveness, FreeAndroidSpy does have some alarming disadvantages that are hard to ignore, especially the inability to track social app activities.
So, what should one do?
Well, opting for a much more competitive alternative is the best approach, and here we recommend Yeespy!
The powerful spy app offers all features that are inaccessible with FreeAndroidSpy. Moreover, you can also track iOS devices without software installation with it.
Every feature and phone tracking information is accessible on the intuitive online dashboard on any web browser.
Key Features of the Yeespy Android Spy App
With the Yeespy Android tracker, you can easily:
View social media activities on apps like WhatsApp, Facebook, Messenger, Instagram, Snapchat, and more
Track GPS location in real-time
Screen record the user's phone activities
Access the media files on the phone
How to Spy on Android?
Here is how you can enable the Android app on the target device:
Step 1: Sign Up For Free
Go to the Yeespy website, and click on Sign Up Free. Next, enter your valid email address.
Step 2: Install the App
Apply the onscreen guidelines to install the Android app in a few minutes.
Step 3: Start Tracking
Finally, visit the web-based dashboard to manage all the features offered the Yeespy.
What Else Can Yeespy Do?
Besides all the features mentioned above, Yeespy lets you
View installed apps and the browsing history
Block apps and URLs remotely
Keep track of all keystrokes made on the phone
Monitor the call log and text messages on the spot
Why Choose Yeespy as The Best Android Spy App?
Unlike other spy apps, Yeespy doesn't require rooting the target device.
The app also features an intuitive control panel that provides real-time phone activity reports, making monitoring your loved ones or employees easy.
Additionally, Yeespy offers customer support 24/7, so you can get help with any issues related to the app's functioning.
Part 9: FreeAndroidSpy VS Yeespy
FreeAndroidSpy and Yeespy are two popular Android spy apps that allow you to track the location and activity of your loved ones or employees. Here are the similarities and differences between the two apps:
Similarity:
Both apps allow you to track GPS location in real-time
Both offer call and text message monitoring
Both provide access to media files on the monitored device
Both offer remote locking and wiping features
Difference:
Unlike FreeAndroidSpy, Yeespy allows you to track popular social media and instant messaging apps like WhatsApp, Facebook, Snapchat, and Instagram.
Yeespy features a keylogger that allows you to capture passwords and other sensitive information.
Yeespy offers screen recording and the ability to remotely take screenshots of the monitored device.
Yeespy is compatible with Android and iOS devices, while FreeAndroidSpy is only compatible with Android.
Yeespy offers 24/7 customer support, which FreeAndroidSpy does not.
When choosing between the two, Yeespy is clearly the better option. Its ability to track social media and instant messaging apps and compatibility with iOS devices make it a more comprehensive and versatile solution.
Additionally, its intuitive control panel and round-the-clock customer support make it easy to use and troubleshoot.
Conclusion
Phone tracking apps have become increasingly popular, with many parents and employers using them to monitor their loved ones or employees.
FreeAndroidSpy and Yeespy are two popular Android spy apps that offer a range of features to help you track the location and activity of a monitored device.
While both apps have advantages and limitations, Yeespy is the better option.