With rapid technological progress, children of all ages have access to all corners of the Internet. It is natural for parents to feel the need to protect their children from the harm that can befall them.
Banning electronics and the Internet is not viable since this can be one of the only few ways to keep in touch with your children. However, you can keep your children safe on the Internet using one of the many parental spy apps available.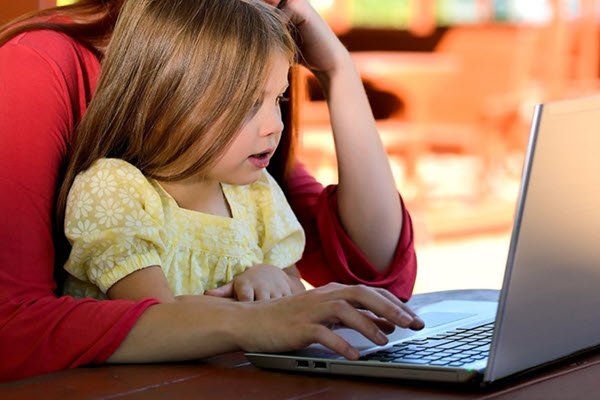 Part 1: What Is A Parental Spy App?
Parental spy apps are designed to help cautious, caring parents keep an eye on their children's activities on the Internet to ensure their safety.
There are a lot of ways in which your child can fall into the traps of malicious hackers and predators on the Internet. It then rests on your shoulders to ensure the safety of your susceptible and innocent children in the digital world.
Part 2: Top 8 Parental Spy Apps for iPhone & Android
This article will enlist several of the best parental spy apps to help you monitor your children's activity and keep them safe.
2.1 Yeespy
Perhaps one of the best parental spy apps, Yeespy comes packed with a myriad of features that go above and beyond to help you feel reassured about your child's safety.
Key Features of the Yeespy Parent Spy App
Yeespy can track your child's location to ensure they are not in a dangerous situation. You can also track their SMS and calls as well as their social media data which can help you determine if they are being pursued by any predators.
It can also enable you to block certain apps on your child's phone to protect their innocence.
How to Spy on Kids' Phones on Android and iPhone?
Here's how you can manage Yeespy parental spyware for cell phones:
Use Yeespy for Android to Monitor Kids Activities
Step 1: Make an Account on Yeespy
Enter your working and valid email address to set up a free Yeespy account.
Step 2: Set Up the Android App
Now, install the app by following the onscreen directions on your account.
Step 3: Track Your Kid's Phone Activities
Access the web-based dashboard before clicking General Features. Finally, open any feature to view the details.
Use Yeespy for iPhone to Monitor Kids Activities
Step 1: Sign Up on Yeespy
Create a free Yeespy account by just providing your valid email address.
Step 2: Enter the iCloud Details
Now, you only need to enter your kid's iCloud account information to verify the iPhone.
Step 3: Check the Kid's Phone Activities
Go to the online dashboard, and click General Features. Now, you can tap any feature to click to review the details.
Why Choose Yeespy as The Best Parental Spy App?
There are several reasons to choose Yeespy as the best parental spy app. Not only does it come with many helpful features, but it is also completely untraceable, which means you can ensure your child's safety without them losing trust in you.
2.2 mSpy
mSpy is a highly recommended parental spy app and stands out based on its numerous features. It is quick and easy to install. Once set up, it can give you a detailed report of the GPS location, SMS and calls, and screen recordings of the target device at regular intervals.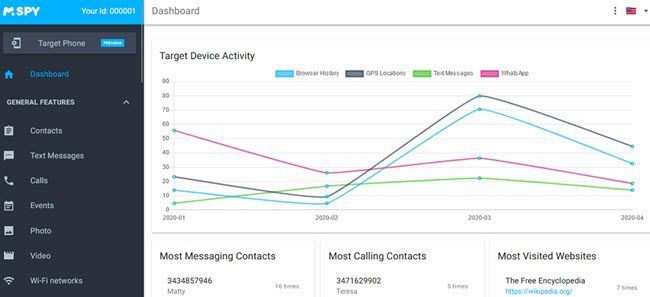 Pros:
Absolutely untraceable.
Readable and comprehensive dashboard.
Cons:
Does not come with remote control features.
Paid plans are quite expensive.
While mSpy is an excellent app for concerned parents, it does not have as many features as Yeespy, such as the social tracker, which is extremely important in protecting your children from predators.
2.3 Spyzie
Spyzie can help ease the minds of concerned parents by offering various features, such as enabling you to track your child's location, SMS, and calls along with their social media activity while remaining completely anonymous.
Pros:
Installation and use are hassle-free.
No need to root or jailbreak the device.
Cons:
Features offered across Android and iOS are different.
No free trial.
Spyzie comes packed with a number of extremely useful features; however, it does not offer as many features for iOS devices as the ones offered by Yeespy.
2.4 eyeZy
The list of the best parental spy apps would not be complete without eyeZy, which can help concerned parents track their children's location, go through their browsing history and monitor their calls, texts, and social media activity.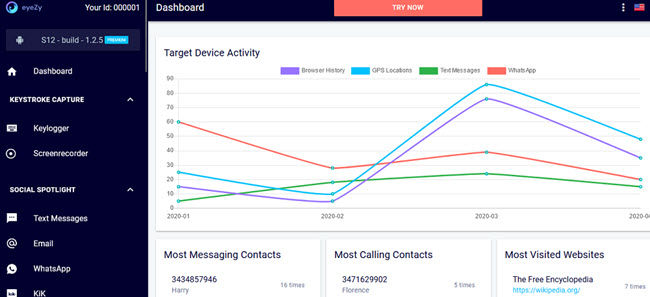 Pros:
User-friendly and clean interface.
No technical skills are required.
Cons:
Additional tracking features are not available.
Requires jailbreak for iOS.
While it is a worthy competitor, Yeespy has one major advantage over eyeZy since you do not need to root or jailbreak the device for Yeespy.
2.5 FlexiSPY
FlexiSpy landed a spot on this list based on the multiple features parents can use to ensure their children's safety. These include location tracker, social media tracker, call recording, and taking pictures by remotely accessing the target device's camera.

Pros:
Many advanced features are available.
Stealth mode is very effective.
Cons:
Rooting/jailbreaking is required.
A little more expensive in comparison.
FlexiSpy comes packed with a lot of features. Still, these are dulled compared to Yeespy since the latter can be used without jailbreaking/rooting.
2.6 Family Locator
Packed with the features needed to put a parent's mind at ease about their child's safety, this spy app for parents allows you to track your child's phone to ensure they are not in any physical danger.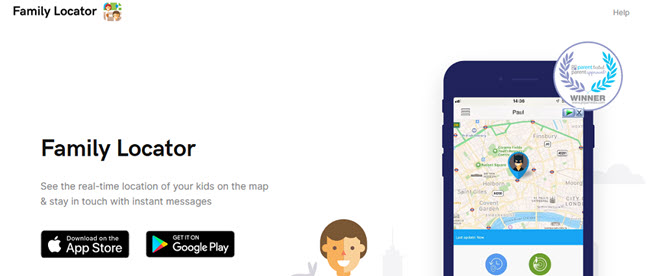 Pros:
Supported across both iOS and Android.
Cons:
Some users found it to be too complicated.
Less accurate than most apps.
Family Locator provides the rudimentary features a parent might need to ease their worries, but it does not have enough features to provide true peace of mind as Yeespy does.
2.7 FamiSafe
FamiSafe is one of the best parental spy apps since it also comes with additional parental control features. Not only can you track your child's location, but you can also view their SMS and browsing history. You can also block harmful websites and apps.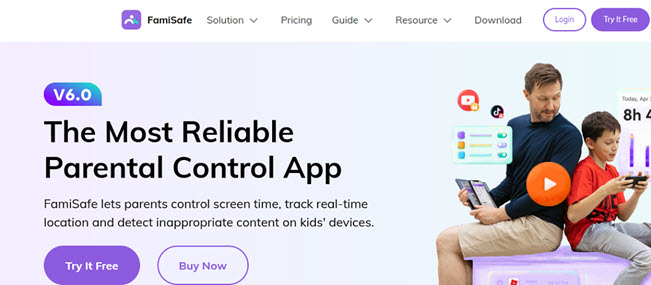 Pros:
No need to root/jailbreak.
In-depth analysis of screen time.
Cons:
Location reporting is slow.
Features left much to the imagination.
When it comes to the number of features offered, FamiSafe does not have a lot of competitors. However, when it comes to the efficiency and reliability of these features, Yeespy steals the spotlight once again.
2.8 Hoverwatch
Last but certainly not least, we have Hoverwatch. This app allows concerned parents to track their children's location. You can also view the messages they sent or received, as well as listen to their call recordings.
Additionally, you can gain access to the target device's camera and take pictures of your child's surroundings to ensure their physical safety.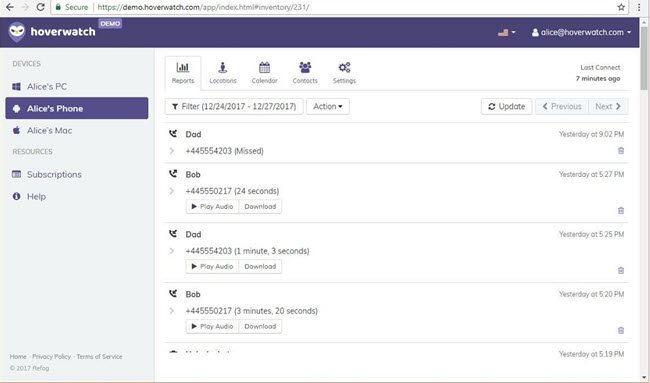 Pros:
Free trial available.
Completely untraceable operation.
Cons:
Poor customer support.
Not compatible with iPhones.
Hoverwatch certainly offers a lot of helpful features, but these are dulled in comparison with Yeespy since the latter is compatible across all devices and offers customer support around the clock.
Part 3: How We Test and Rate The Best Parental Control Apps?
This list of the best cell phone spyware for parents was compiled after rigorous testing.
When testing and rating the best parental control apps, several factors are taken into consideration:
Effectiveness
Ease of use
Flexibility
Reporting and alerts
Additional features
Privacy and security
The apps are then rated and compared based on these factors, and the top-performing apps are recommended to users.
Part 4: FAQs about Parental Spy Apps
Review this FAQ section for more handy tips on parental control apps:
4.1 How Can I See Everything on My Child's Phone without Them Knowing?
You can track your child's activity on their phones without them knowing simply by using apps such as Yeespy. Since these apps are untraceable, your child will not know you are tracking their device.
4.2 What Is The Best App to Monitor Your Child's Phone without Them Knowing?
You can pick from a handful of parental spy apps to monitor your child's phone; each has merits and demerits.
However, Yeespy pulls ahead since it has the most features. Additionally, its key selling point is that it is completely untraceable.
4.3 How Do I Restrict Internet Access to My Child?
You can restrict internet access to your child in a number of ways. You can use parental controls on your router. Or you can use specific monitoring software, such as spyware for kids' phones, to block specific websites and apps.
4.4 Can I Control My Child's Phone from Mine?
Yes, controlling your child's phone from your own device is possible by using parental spy apps. These apps allow you to set limits on internet access, block specific websites and apps, monitor your child's location, and view their call and text history. Some popular ones have been listed above.
Conclusion
In conclusion, parental spy apps can be a valuable tool for parents who want to monitor their child's online activity and ensure their safety. Knowing which app is the best fit for your family can be difficult with so many options available.
Each app has unique features and capabilities, so it's important to research and compare them before deciding. After an exhaustive process of weighing out the pros and cons along with the user reviews of each app, it became evident that Yeespy is the uncontested victor.