Do you ever wonder if you can spy on an iPhone by sending a link?
You're not alone. Many people are looking for ways to monitor their loved ones or employees, but they don't want to go through the hassle of downloading and installing a spy app.
In this article, we'll explore whether it's possible to spy on an iPhone by sending a link, as well as what you need to know about this method.
From the dangers of phishing scams to the limitations of remote access, we'll cover everything you need to know to make an informed decision about spying on an iPhone.
Part 1: Can You Spy on an iPhone by Sending A Link?
The short answer is yes, but it's not as simple as it sounds.
While there are some tools that claim to allow you to remotely access and spy on an iPhone using only a link, this method is not only unreliable, but it can also be incredibly risky.
Many of these links are actually phishing scams designed to steal your personal information or infect your device with malware.
Part 2: 4 Best Alternative Ways to Spy on iPhone by Sending A Link
While spying on an iPhone by sending a link may not be the most reliable or secure method, there are alternative ways to monitor the activities of an iPhone remotely.
In this section, we'll look at the four best alternative methods for spying on an iPhone, all more reliable and secure than the link method.
From using a trusted spy app to setting using built-in iOS features, these methods offer greater control and reliability and can provide you with the insights you need to keep your loved ones and employees safe.
2.1 Use A Specialized App
We'll start with a specialized spy app called Yeespy.
It is a comprehensive spy app that provides an excellent alternative to the risky method of spying on an iPhone by sending a link.
This powerful app offers a range of advanced monitoring features, including text message and call tracking, social media monitoring, and even GPS location tracking.
With Yeespy, you can keep a close eye on your loved ones or employees, all without having to worry about the potential risks of using a link-based spying method.
Key Features of Yeespy iPhone Spy App
Using this handy phone tracker, you can
Access the new and deleted text messages
View biodata on the sender and receiver
Learn when the texts were exchanged
Get a chance to view the media files sent or received during the chat
How to Spy on An iPhone without Sending A Link?
You can navigate Yeespy without software installation by following these guidelines:
Step 1: Sign Up With Yeespy
Access the Yeespy website. Next, tap "Sign Up Free" before sharing your valid email address to create a new account.
Step 2: Enter the iCloud Info
Provide the iOS user's iCloud details to access their data.
Step 3: Spy on the iPhone without Link
Open the web-based control panel, and tap any feature there to learn about the user's iPhone activities.
What Else Can Yeespy Do?
Yeespy also offers the following features without jailbreak:
Location monitoring
Social apps spy
Call tracking
Browser history checking
2.2 Find A Hacker
Hiring a professional hacker can be a reliable way to spy on an iPhone. However, it's important to approach this method with caution. Selecting someone with the appropriate skills and experience is important if you decide to go down this route.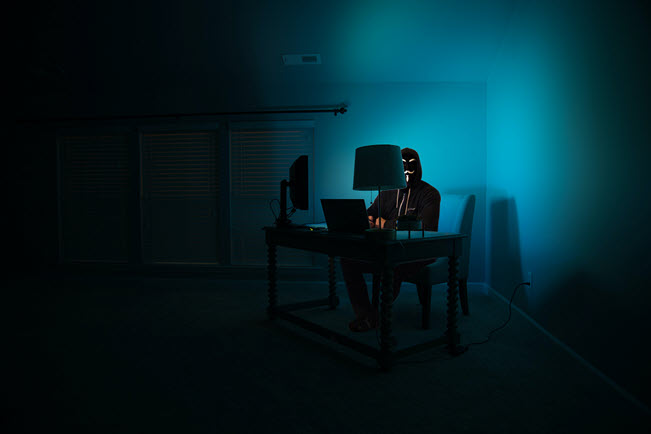 Limitations
The hacker can blackmail you and keep the data. It is also an expensive and time-consuming process.
2.3 Use Find My
Every iOS device features the Find My iPhone/iPad feature, allowing the user to find the device if it gets lost or stolen. Moreover, this method is used to learn about the loved ones' whereabouts in real time.
How? Follow the steps below:
Enable the Find My feature on the target iPhone.
Access your iPhone, and open the Find My app. There, tap the People option, and select + to add the contact.
Send a request to the target iPhone, and accept it yourself.
Now, you can track the iPhone using this app.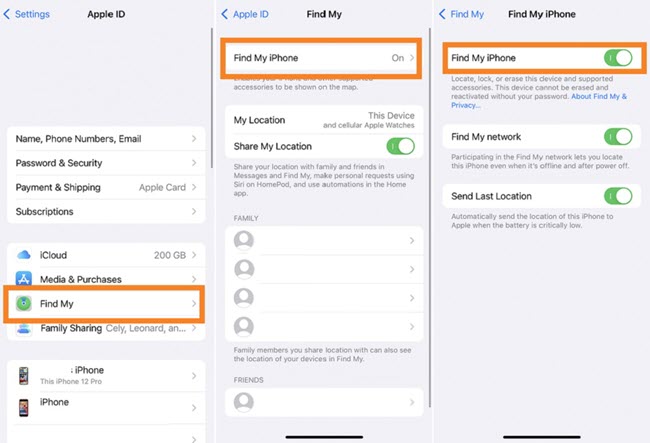 Limitations
Only shows location details
The iPhone owner can turn the feature off
2.4 Use Google Maps
If the target person is an avid user of Google products, then they must have a related account.
Using the Google account credentials. You can track their location via the Google Maps app. Follow the steps below:
On the user's iPhone, open Google Maps, and enable location sharing.
Next, open Google Maps on your iPhone. Access the menu corner, and select Location sharing.
Choose the person you want to track from your contacts or enter their email address.
Now accept the request by accessing their iPhone.
Finally, you can see their location in real-time on the map.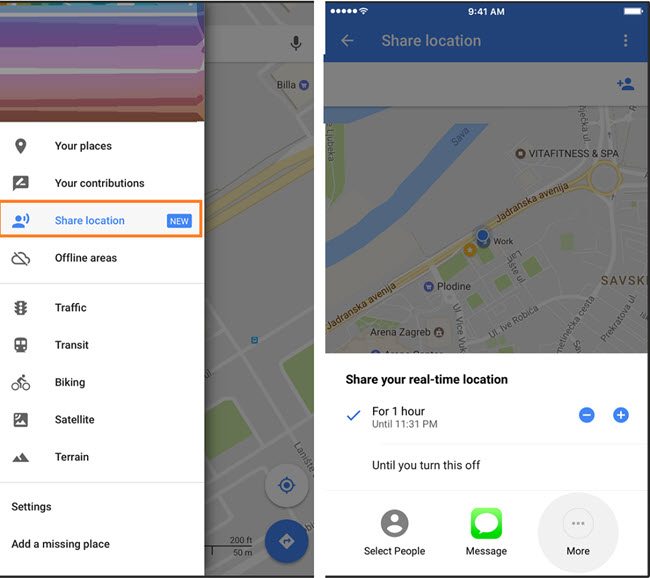 Limitations
The target user must own a Google account
Part 3: What Is The Best Way to Spy on an iPhone?
Do you not have the time to compare the top four solutions yourself?
We have got you covered. Check out this table to make the decision quickly:
| Method | Ease of Use | Customer Support | Risk | Monitoring Options |
| --- | --- | --- | --- | --- |
| Yeespy | Easy | Good | Low | Text message and call tracking, social media monitoring, GPS location tracking, location monitoring, social apps spy, browser history checking |
| Find A Hacker | Difficult | N/A | High | All iPhone-related data |
| Find My | Easy | N/A | Low | Only shows location details |
| Google Maps | Easy | N/A | Low | Only shows location details |
Based on the table above, Yeespy stands as the clear winner with an easy and fast way to track iPhone activities without any risk! Now, you do not need to spy on iPhone by sending a link!
Part 4: How to Know If Someone Is Using A Spy App on Your iPhone?
There are several ways to detect if someone has installed a spy app on your iPhone. We have listed some notable ones here:
Battery Issues

Imagine you have recently bought a new iPhone, and now all of a sudden, it is consuming too much battery, and you have to recharge it multiple times a day. Well, there is a possibility a spy app is draining the battery.

Suspicious Message

Someone can try to spy on your iPhone by sending a link. If you continue to receive unexpected malicious links out of the blue, then there is a chance that someone is aiming to access your data.

So what to do if you find everything wrong with your iPhone?

Well, consider resetting the iPhone, changing your iPhone passcode and Apple ID credentials, and avoiding giving your device to untrusted entities. Also, do not tap on suspicious links you receive via text or social media.

These small steps will prevent anyone from spying on you!
Conclusion
After reading this article, we hope that you now understand that spying on an iPhone by sending a link isn't a suitable solution. It is risky, and the chances of getting caught are incredibly high. Moreover, it may backfire.
So, as an alternative, we recommend opting for methods like a specialized spy app, such as Yeespy, for tracking your loved ones undetected without any hassle!