In our modern, connected world, keeping in touch with people across distances has never been simpler.
Although phone numbers have existed for ages, pinpointing someone's precise location using their number may feel like a scene from a spy film. Yet, with Google Maps, it's achievable.
Keep on reading this guide, as we will explore the topic of locating a phone number on Google Maps while ensuring you use this function responsibly and ethically.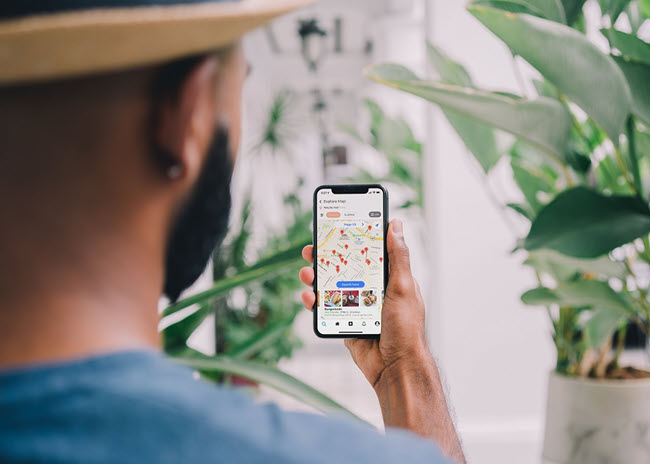 Part 1: Why Is Locating A Phone Number So Important?
Tracking mobile numbers has become increasingly important in our daily lives for various reasons.
Firstly, it can help locate misplaced or lost phones.
Utilizing tracking apps and methods, finding your phone is a breeze if you have internet access, saving time and reducing frustration when locating a misplaced device.
Tracking also comes in handy during emergencies, as it allows you to monitor the safety and location of loved ones remotely.
This feature proves particularly useful for those in high-risk jobs or venturing into unfamiliar territory.
Furthermore, mobile number tracking enables parents to watch over their children's whereabouts, ensuring their safety. Besides, it helps maintain connections with family, friends, and employees.
Part 2: Can You Locate A Phone Number on Google Maps?
Google offers a phone locating feature called the Find My Device which helps users locate a phone number on Google Maps free of cost.
Other services are also available, which we'll discuss in the following sections.
With these tools, one can easily pinpoint the location of the phone number and display it on a map.
Part 3: How to Locate A Phone Number on Google Maps?
This section will share the how-to steps to track a phone number on Google Maps of both Android and iOS devices.
3.1 Locate A Phone Number with Google Maps on Android
Here are the steps to track an Android device via Google Maps:
Launch the Google Maps app on the Android device.
Select your profile picture, and open the menu list.
There, select Location sharing.
Choose your number from the contact list and select for how long you want to track the location.
Finally, hit the Share option, and a tracking link will be sent to your number.
Open the link and now, you can check the other user's Android device real-time location on Google Maps.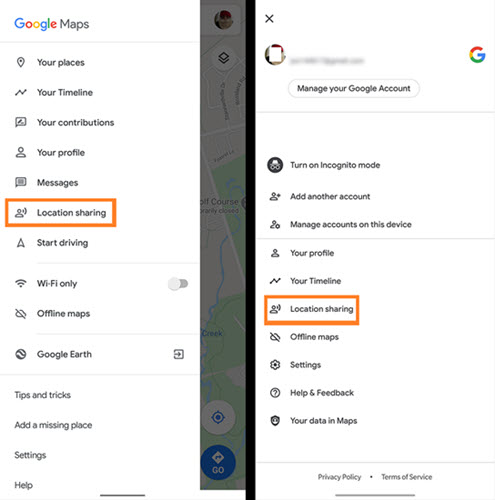 3.2 Locate A Phone Number with Google Maps on iPhone
It doesn't matter if the device in question is iOS-based, as Google Maps is available on it, and locating the phone number is also possible.
Here's how:
Launch the iPhone Google Maps app.
Select the Menu icon before tapping Location sharing.
Now, select the profile with which you intend to share your location (yours or another person's).
Finally, tap Share.
3.3 Pros & Cons
Locating a phone number on Google Maps has its pros and cons; here are some of them:
Pros:
Locates a lost or misplaced phone using Google Maps.
Ensure the safety of loved ones by tracking their location.
Cons:
Can sometimes be inaccurate, especially in areas with a poor GPS signal.
May drain the battery of the device being tracked.
Part 4: 3 Alternative Ways to Locate A Phone Number with Google Maps
While using Google Maps to locate a phone number is a popular method, you can also try other alternative ways.
Read on to understand the three alternative ways.
4.1 Use A Specialized Phone Tracker
Looking for a different way to locate a phone number on Google Maps?
Look no further than the Yeespy app!
This user-friendly app, compatible with both Android and iOS devices, allows you to track any phone's location once installed. Its stealth mode ensures your tracking activities remain discreet and undetected.
Key Features of Yeespy Phone Tracker
With the help of Yeespy, you can
Access the GPS history with time and date
Track the device on the spot via Map View and longitude/latitude.
How to Locate A Phone Number?
So, how to enable Yeespy on the target iPhone or Android device?
Well, check the following step-by-step guide:
Locate an iPhone
Step 1: Create an Account
Make a free account on Yeespy by entering your valid email address on the official website.
Step 2: Enter iCloud Login Details
Enter the iCloud credentials used on the target iPhone or iPad to verify it.
Step 3: Locate the iOS Device
Launch the dashboard using any web browser.
There, go to the features section before tapping GPS Locations to find out the real-time position of the iOS device.
Locate the Android Phone or Tab
Step 1: Create Your Account
Visit the Yeespy website, and click the Sign Up button before entering your email address to create an account.
Step 2: Set Up the App
Now, apply the onscreen guidelines on your newly created Yeespy account to install the app on the Android device.
Step 3: Locate the Android Phone
Visit the online dashboard via any browser, click on GPS Locations, and check the device's GPS location remotely.
What Else Can Yeespy Do?
Other than offering the high-quality location tracking feature, Yeespy has plenty of other surprises up its sleeves.
These include everything from messages and calls/contacts to photo galleries and social app chat history.
With Yeespy, you can monitor all the device's activities and view the phone's browsing history. If you need to uninstall sensitive apps remotely, you can do that with Yeespy.
Why Choose Yeespy as The Best Phone Tracker?
It is cost-effective, offers excellent customer support, and there is no requirement to root or jailbreak the target phone.
It offers an user-friendly interface where every feature is just one click away!
4.2 Track Google Location via WhatsApp
By sharing the location on WhatsApp, you can check yourself or allow someone to track the whereabouts of the target device in real time.
Here are the steps to track Google Location via WhatsApp:
Open WhatsApp on the target device and go to the chat window of the person(your account or someone else's) you want to share your location with.
Tap the attachment button next to the text input field.
Select the "Location" option and tap " Share Your Current Location" or "Share Live Location".
Choose how long you want to share the location and tap on "Send".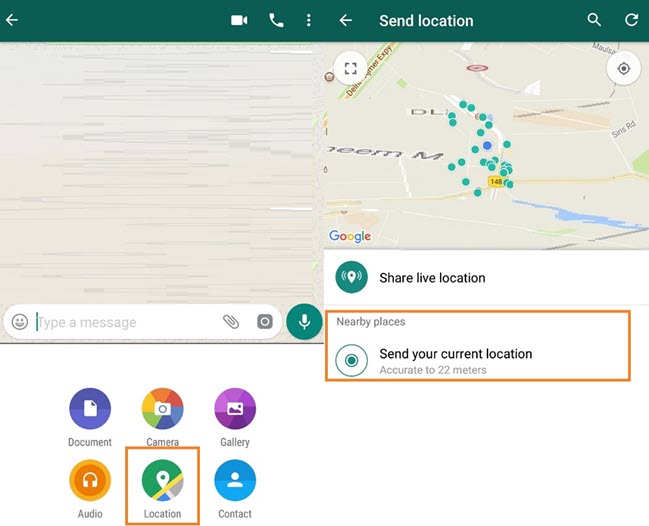 Pros:
Simple and easy
Free
No additional software required
Cons:
Dependent on an internet connection
Not always accurate
4.3 Track A Phone Location via Google Earth
With Google Earth, it is also quite possible to track a phone's location quickly.
Simply apply the steps listed below to learn the details:
Open a web browser and type https://google.com/latitude/.
Enter the Google Account credentials used on the target phone.
Provide your phone number or click "Send a link to my phone".
Next, check your phone for a text message before clicking on the URL link.
Now, allow Google to access the device's location by following the onscreen guidelines.
That's it!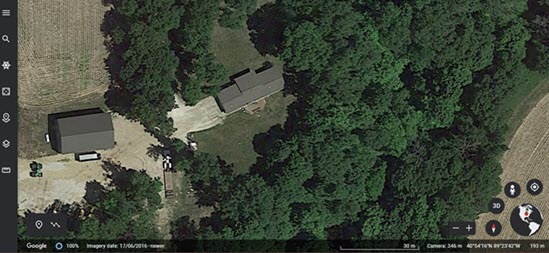 Pros:
Cons:
Time-consuming
May not work
Inaccurate if the GPS is turned off
Conclusion
With a stable internet connection and by following the tips outlined in this post, locating a phone number on Google Maps becomes hassle-free.
However, this solution has its limitations.
To bypass these restrictions or inconveniences, consider using Yeespy as an alternative.