As technology continues to play an increasingly important role in our daily lives, it's more important than ever for parents to be aware of the potential dangers of giving a smartphone to their children.
While smartphones can provide kids with access to valuable educational resources and opportunities for communication, they also open the door to potential dangers such as cyberbullying and online predators.
To help keep kids safe, it's essential for parents to have a system in place for monitoring their children's phone usage.
So, in this article, we'll provide an answer to the "how can I see everything on my child's phone" query.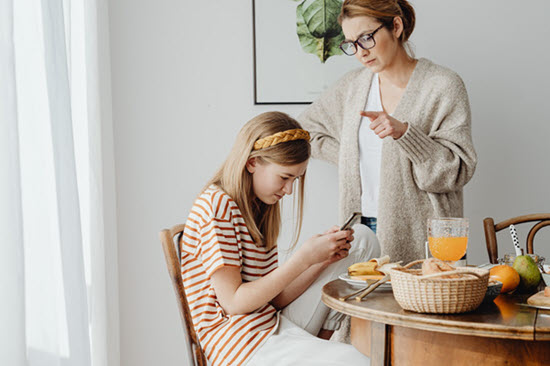 Part 1: Can I Monitor My Child's Phone?
It is possible for parents to monitor their child's phone usage to ensure their safety and to prevent access to inappropriate content or communication with potentially dangerous individuals.
Strategies for monitoring can include setting usage limits, regularly checking for suspicious activity, and implementing parental control software.
Part 2: Reasons Why Parents Should Monitor Child's Phone Activities
There are several reasons why parents should monitor their child's phone activities. First and foremost, it is a way to ensure their child's safety while they are online. There are several things to look out for online, such as pornography, violence, or hate speech.
Additionally, monitoring can help prevent children from communicating with strangers or others with harmful intentions.
Another reason to monitor your child's phone usage is to ensure they are not being bullied or victimized by others online, known as cyberbullying.
Furthermore, monitoring phone usage can help parents set and enforce healthy boundaries for their child's phone usage.
This can include limiting the time a child can spend on their phone, the apps and websites they can access, and even blocking certain phone numbers.
Finally, monitoring phone usage can help parents stay informed and connected with their child's digital life. It allows the parents to remain aware of the apps and websites children use, who they communicate with, and what content they engage with.
Generally, monitoring your child's phone activities can be an important tool for protecting your child's safety and well-being while setting and enforcing healthy boundaries for phone usage.
Part 3: How Can I See Everything on My Child's Phone?
With the dangers of unsupervised smartphone access in mind, it is vital to employ efficient means to look after what children do on their devices.
This section will explore the top 3 ways to monitor children's phones.
3.1 How Can I Monitor My Child's Phone Without Them Knowing?
If you wish to anonymously monitor your child's phone, try the Yeespy app.
Information on every bit of activity performed on the phone will be available on the remote dashboard of Yeespy. Plus, this service offers cross-platform compatibility, so it does not matter if your kid owns an iPhone or Android device.
It can track everything.
Key Features of Yeespy Parental Control App
These parental control tools ensure your child's web experience is safe and educational:
Protect your child from harmful content by easily accessing and reviewing all photos and videos stored on their device
Stay informed and in the know with detailed timestamps and contact information for all incoming and outgoing text messages
Monitor their online activity and safeguard against inappropriate content by reviewing browsing history and setting URL blocklists
Keep an eye out for red flags with our keyword alerts and keylogger for sensitive words exchanged on the phone.
How to Protect Your Children from Child Predators?
You can start protecting your kids from predators using Yeespy by applying the following guide:
Protect Your Children from Child Predators on iPhone
Step 1: Sign Up on Yeespy
Sign up for free with Yeespy making a new account. Just provide your valid email address.
Step 2: Enter the iCloud Details
To sync the iOS device and verify it, share your child's iCloud account details.
Step 3: Track the Kid's Activities
Open the online dashboard, go to the General Features section, and click on Text Messages to review the details.
Protect Your Children from Child Predators on Android
Step 1: Make an Account on Yeespy
Share your email address to create a new account for free.
Step 2: Set Up the Android App
Follow the onscreen directions on your account
listed on your Yeespy account to install the Yeespy APK app.
Step 3: Monitor Your Kid's Activities
Enable the online dashboard on your device. Click on General Features and select Text Messages. That's it!
What Else Can Yeespy Do?
With Yeespy, you can keep track of important events and notes with the event and note tracking feature.
Also, you can enable the GPS locations tool and see where your child is at that current time. Also, setting geo-fencing parameters will let you select restricted zones(sites your kid shouldn't visit).
Why Choose Yeespy as The Best Parental Control App?
The monitoring features are secure and easy to use, with readily available customer support. No jailbreaking/rooting is required for iPhone/Android.
Additionally, the features are highly compatible and can be used on Android and iOS devices.
3.2 Forward Your Child's Text Messages to Your Phone
There are several ways to forward your kid's text messages to your phone, depending on the type of phone they are using and the specific messaging app you have.
Here are a few methods:
iPhone
The built-in messaging app on an iPhone, called "Messages", allows you to forward text messages by opening the message thread, tapping, and holding on to the message you want to forward.
A menu will appear, and you can select "More" and then select the message to deliver to another contact.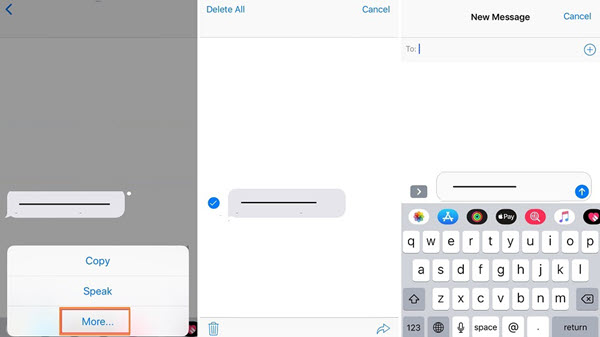 Android
Most Android phones use a messaging app called "Messages" as well, which allows you to forward text messages by opening the thread and tapping and holding on to the message you want to forward.
A menu will appear, and you can select "Forward" to forward the message to another contact.
Third-Party Messaging Apps
Some third-party messaging apps, such as WhatsApp, Telegram, Signal etc., allow you to forward text messages easily. You can find the forward button on the conversation with the sender and deliver it to the desired contact.
Limitations
The solution eliminated anonymity. There will always remain a risk of getting caught.
3.3 Monitor Your Kid's iPhone via iCloud
To access text messages from your child's device using iOS 12 or later, you can utilize Apple's cloud message sync feature by enabling iCloud syncing. This way, you can access all data on your kid's device.
Follow the steps below to learn how to monitor a kid's phone using iCloud:
Go to "Settings" on your device.
Search for the child's device you want to access, then tap on "iCloud".
Move the slider in "Messages" to enable syncing.
Wait for the sync process to complete.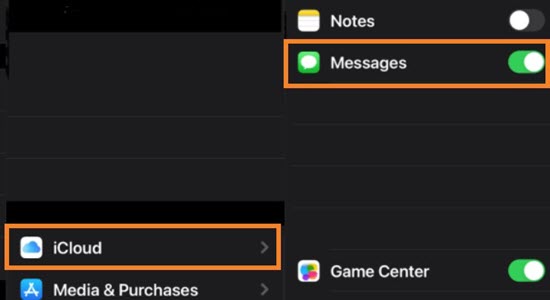 Limitations
Please note that you will need your child's Apple ID and password to use this feature. Also, inputting your ID and password may sync your messages to your child's device.
Part 4: FAQs on Monitoring Kids Phones
Monitoring children's phones has become common for many parents to ensure their kids' safety and well-being. The following FAQs will answer common questions and concerns about this.
4.1 Can I see my kid's text messages on my phone?
Yes, parental control apps like Yeespy allow parents to view their child's text messages and phone activity on their own devices.
4.2 Is there an app to monitor my child's phone?
Yes, the Yeespy app is available for iOS and Android devices, allowing parents to monitor their child's phone activity.
4.3 Is it okay for parents to look through their child's phones to read their text messages and Internet history?
This can be a complicated question, and it's ultimately up to the parents to decide what is best for their child. Generally, it's best to communicate openly with your child and establish confidence.
However, it is possible with Yeespy!
4.4 Can I see what apps my child is using?
Yes, through the Yeespy control panel, you can easily check what type of apps are installed on the phone. It also offers to block certain apps if necessary.
Conclusion
This ends our article on how I can see everything on my child's phone!
We hope that by now, you understand that it is possible and probable to perform such an action without your kid knowing.
You can use iCloud or a much more private solution, such as Yeespy, to track your kid's phone activities and ensure they are safe online.