As parents, we want what's best for our children. Unfortunately, social media can be a huge distraction for kids.
In this article, we'll discuss how to block on TikTok and give tips on how to do so.
We want to help you make the best decision for your child and give you the information you need to make that decision.
So, please read on!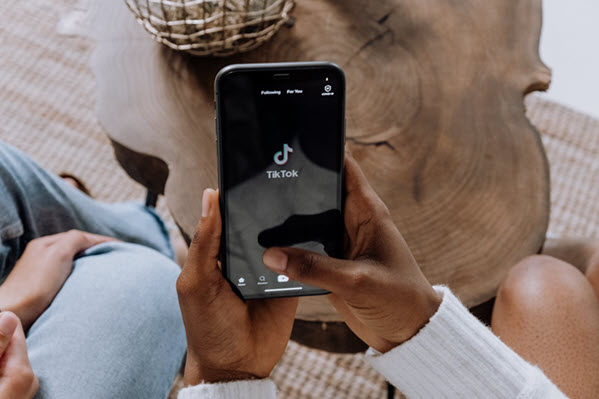 Part 1: Can I Block TikTok?
TikTok is a social media platform that has become massively popular in the past few years. Why is it the case?
Well, the content is easier to create, and the service is quite accessible. However, it can be quite distracting for a child.
So, if you are wondering if it is possible to block on TikTok, the answer is Yes!
The exact steps for doing so will depend on the type of device you are using and the operating system it is running, which we will discuss in the following sections of this article!
Part 2: Concerns about Using TikTok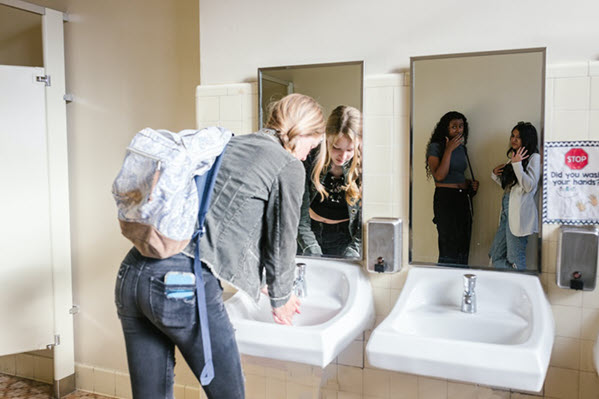 For a parent, several factors regarding the content could prompt the approach to block TikTok.
We have listed them here:
Inappropriate Content: There is a large amount of inappropriate and explicit content on the app, including videos with sexual themes, drug use, profanity, and violence. Parents should be aware of their child's online activity and monitor what they watch on TikTok.
Cyberbullying: With the ability to post and comment, TikTok can be a breeding ground for cyberbullying. Parents should talk to their children about being kind online and avoiding negative interactions.
Privacy: The app collects personal data, such as location and contact information, which can be shared with third-party companies. Parents should be aware of the app's privacy settings and ensure that their child's information is secure.
Time Management: TikTok can be a major time-suck, and parents should know how much time their child spends on the app. Setting clear guidelines and limits can help encourage your child to use the app responsibly.
Part 3: How to Block TikTok on Android?
Read the steps as follows and quickly learn how to block TikTok on Android:
Open the Google Play Store app on your Android device.
Tap the three horizontal lines in the top left corner of the app.
Now, hit the "Settings" option.
Scroll down and tap "Parental Controls".
Enter your Google account password and then toggle the "Parental Controls" switch to the on position.
Select "Apps & Games" and then toggle the switch to the on position.
Tap "App Ratings" and select the age limit that you want to set.
Choose "TikTok" to block it. That's it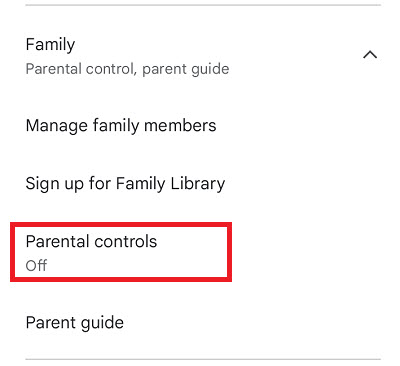 Part 4: How to Block TikTok on iPhone?
It is fairly simple to learn how to block TikTok on an iPhone. Just apply the following steps:
Open the Settings app on your iPhone.
Scroll down and select "Screen Time".
Tap "Content & Privacy Restrictions".
Enter your Screen Time passcode.
Select "Content Restrictions".
Tap "Web Content".
Choose the "Limit Adult Websites" button
Toggle the switch next to "TikTok" to the off position. Lastly, exit out of Settings.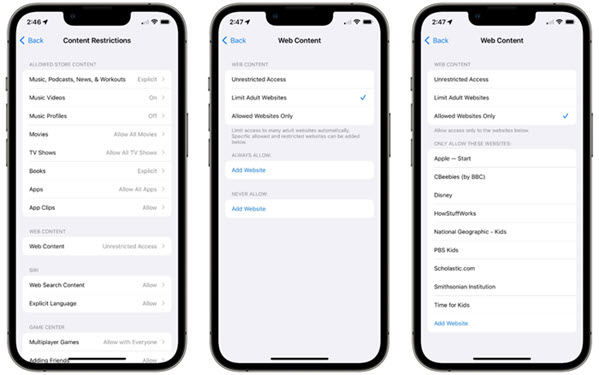 Part 5: How to Block TikTok on Router?
So this solution is a bit tricky. You should only block any app, such as TikTok using a router if you possess a technical background.
The steps on how to block TikTok on a router are listed below:
Log in to your router's admin page. This can usually be done by typing the router's IP address into a web browser.
Find the section related to parental controls or access restrictions. This will vary depending on the make and model of your router, so you may need to refer to the instruction manual.
Add TikTok's domain name (tiktok.com) to the list of blocked sites. This will prevent any device connected to the router from accessing the site.
Save the settings and restart the router. This will ensure that the new settings take effect.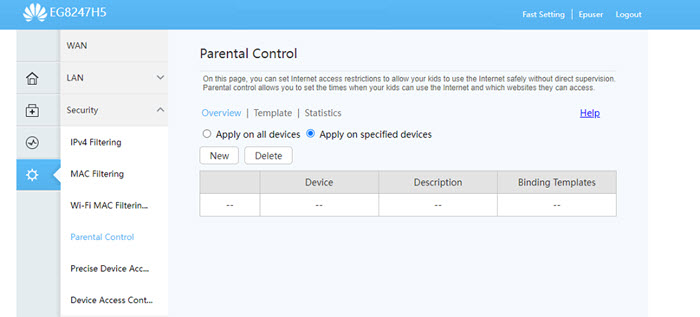 Part 6: Tips on How Do I Block My Child from TikTok with A Reliable Tool
If you try to block TikTok on your child's Android or iOS device, the chances are they would instantly know that something is up.
The methods can be nullified immediately. Plus, nowadays, it is incredibly tough to pick up a kid's phone randomly and snoop into their social media activities undetected.
Also, if you do not have the technical know-how to enable the router technique, you are just back to square one!
So, what to do in that case?
Well, the answer is simple! Just use Yeespy, a third-party app blocking app that enables you to remotely manage TikTok activities on the child's phone using an online control panel.
Moreover, it is easy to install, and the Hidden Mode allows the parent to keep their child safe anonymously. Besides, it works on all Android and iOS devices.
Key Features of Yeespy Phone Monitor
With Yeespy, you can not only view what type of app is installed but also block it without the target user knowing.
It also offers the following blocking features:
WiFi Block – To view the history of network connections and block them accordingly
Website Block – To check what type of content is accessed via the browser and to restrict access to sensitive URLs.
How to Block TikTok via Yeespy?
You can learn how to block TikTok via Yeespy by applying the following step-by-step guide:
Block TikTok on the Android Phone
Step 1: Sign Up on Yeespy
Sign up with an Email address to create a new account.
Step 2: Install the App
Use the instructions on-screen to set up the Yeespy app on the target device.
Step 3: Block TikTok for Android
Now, access the Control Panel and tap the Controls options. There, select App Block, choose TikTok from the list and click on Block in front of it.
Block TikTok on the iPhone
Step 1: Sign Up on Yeespy For Free
First, sign up for the spy app with your new account.
Step 2: Add the iCloud Credentials
Continue by entering the iCloud details of the target iOS device.
Step 3: Block TikTok Remotely
Now, access the Controls section on the Control Panel. Tap App Block and remove TikTok from the phone.
What Else Can Yeespy Do?
Here are some additional features by Yeespy that enable a parent to keep their child away from harm online:
Location Tracking: This allows parents to track their children's location and receive alerts if they wander too far away.
Activity Monitoring: Allows parents to monitor their children's online activity, including web searches.
Content Filtering: This Lets parents filter out explicit content from the internet and block access to inappropriate websites.
Part 7: FAQs about TikTok Blocking
Check out these handy tips on blocking TikTok across various platforms:
7.1 Does TikTok have parental controls?
Yes, TikTok does have parental controls. Parents can use the Family Pairing feature to set up their accounts and link them to their child's accounts.
This gives them access to their child's account, including monitoring activity, setting screen time limits, blocking inappropriate content, and more.
7.2 How to block TikTok from being downloaded?
Unfortunately, there is no way to completely block the TikTok app from being downloaded. However, you can set up parental controls on your device to restrict access to certain apps, such as TikTok.
Depending on your device, you may be able to set up restrictions on what apps can be downloaded, as well as restrict access to specific websites. You can also use third-party apps like Yeesyp to block or limit access to certain apps.
7.3 How to block TikTok from the app store?
You can only restrict access to the app store on your device's settings. To do this, go to Settings > General > Restrictions > Allowed Content > Apps and set the rating for apps to 12+. This will restrict access to all apps rated over 12+.
7.4 How to block TikTok on YouTube?
There is no solution to block TikTok on YouTube as both are separate social media platforms.
7.5 How to block someone on TikTok?
The steps are as follows:
Open the TikTok app and tap the profile icon.
Tap the three-dot icon in the top right corner of the profile page.
Select "Privacy and Settings".
Tap "Manage My Account" and select "Blocked Accounts".
Now, tap the "+" icon in the top right corner, and provide the username of the person you want to block.
Finally, tap "Block" to confirm.
Conclusion
Blocking the TikTok app on a device can be a great way to ensure that it is not used for inappropriate or unproductive activities.
It is also a great way to promote healthy device usage and ensure children are not exposed to inappropriate content.
The steps outlined in this article are a great way to learn how to block on TikTok, no matter if it is the app, the content, or the user.
Ultimately, though, it is up to the parent to decide what type of access is appropriate for their child's device. Plus, to enable anonymity while blocking TikTok, Yeespy is a great way to start.