Uncover the truth behind iPhone activity with our expert guide on how to spy on iPhone for free. From concerned parents to savvy business owners, learn how to monitor an iPhone and keep those you care about safe.
This comprehensive guide will walk you through the best methods and tools available, so you can make informed decisions and protect what matters most.
Get ready to dive into the world of iPhone spying and start uncovering the truth today.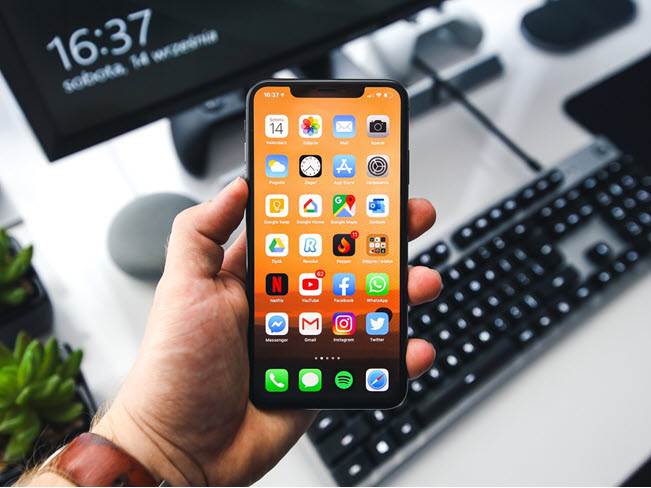 Q 1: Can I Spy on an iPhone for Free?
Using third-party free iPhone spy apps, you can quickly track the devices remotely without the other person ever finding out.
These apps offer complete information on the user activity on their dedicated control panel, accessible via any browser on any device.
Q 2: Is There A Free App to Spy on iPhones?
There are several spy apps online that claim to track iPhone activities privately for the user. However, currently, every available application isn't entirely free of cost.
Nevertheless, the majority of them provide a Live Demo to test the features, along with a free trial.
Part 1: 3 Solutions on How to Spy on iPhone for Free
Using the built-in utilities on the iPhone, you can keep tabs on the other user's location for free.
We have listed the 3 most efficient solutions here:
1.1 Find My
Find My App is a built-in tracking feature for iPhones that allows you to see the real-time location of the target iPhone. With this app, you can set up notifications when the other person arrives or leaves specific areas.
Here is the step-by-step guide:
Make sure the target iPhone has the Find My app installed and turned on.
Open the Find My app on your own iPhone.
Tap the "People" tab and choose the other user's name.
Now, you'll see their current location on the map, as well as their location history.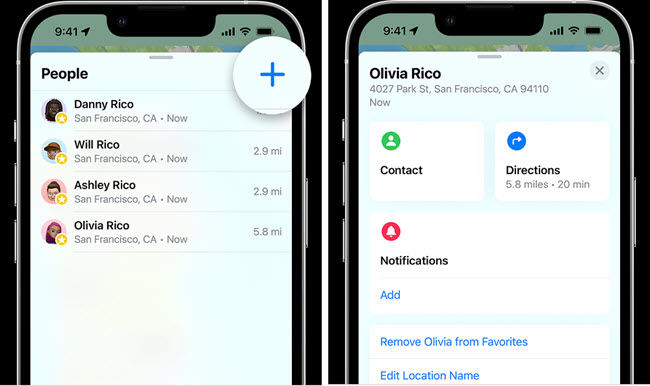 Shortcomings
The target user can turn off location sharing, which would prevent you from being able to track their location.
Find My App only works with Apple devices, so if the user has a different type of phone, this solution won't be an option.
1.2 Find My Friend
Find My Friends is a separate app that works with Apple devices and allows you to see the real-time location of the other person's iPhone for free.
Moreover, this app allows you to set up geofencing alerts to get notified when your loved one enters or leaves a certain area.
Check out the how-to steps here:
Download the Find My Friends app on both the target user's iPhone and your own iOS device.
Physically access the target iOS device, and accept your friend request on the app.
Once it is accepted, you'll be able to see their location in real-time on your own iPhone.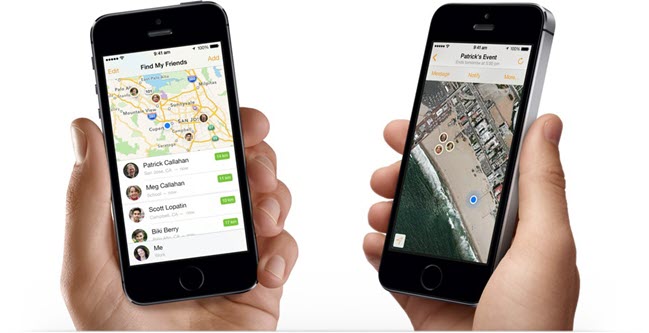 Shortcomings
The other user can remove the location sharing at any time
Dependent on a stable network
1.3 Google Maps
Google Maps is a popular navigation app that can also be used to track the iPhone in real-time.
Here's how:
Open the Google Maps app on your own iPhone or computer.
Sign in with the same Google account on both devices.
Search for the other user's iPhone location on the Google Maps app or website.
You'll be able to see their current location and location history.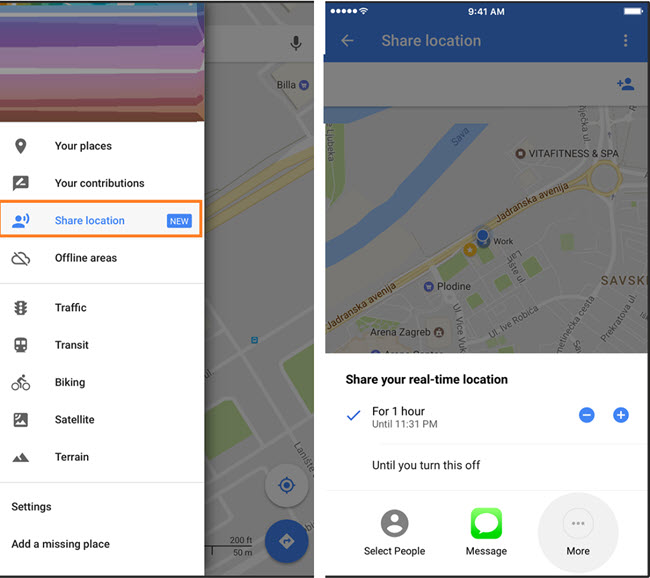 Shortcomings
Google Maps requires an internet connection, so you won't be able to track the location of the target iPhone that is out of range or has no internet.
You may not provide as accurate or up-to-date location information as the other options.
Part 2: 10 Best Apps to Spy on iPhone
If you want to track all iPhone-related activities that the other user performs, then the following 10 spy apps for iPhone free of cost can help:
2.1 Yeespy - The Best iPhone App
Are you concerned about your child's online activity but struggling to keep up with the latest social media trends? Yeespy might be just what you need!
This comprehensive monitoring tool lets you stay up-to-date with your child's digital life by tracking their activity on popular platforms like WhatsApp, Snapchat, Facebook, Instagram, Kik, and more.
With its compatibility across all iOS devices, including iPhones and iPads, Yeespy provides easy access to important insights into your child's online behavior.
Key Features of Yeespy iPhone Spy App
Yeespy is equipped with a range of powerful features that make it an effective tool for monitoring a target iPhone.
With its iPhone keylogger, text message spy, call log tracker, location monitoring tool, and social media spy, Yeespy provides comprehensive insights into the online activity of the device.
How to Spy on an iPhone for Free?
Read and apply the following steps to quickly learn how to spy on someone's iPhone free of any suspicion:
Step 1: Sign Up
Go to the Yeespy official website. Next, click "Sign Up Free", and enter your email address to create a new account for free.
Step 2: Enter iCloud Account
Provide the target person's iCloud credentials to verify their device.
Step 3: Spy on the iPhone Privately
Access the online dashboard, go to Social Networks options, and click on WhatsApp. There, you can view the chat history and other relevant details instantly.
2.1.3 What Else Can Yeespy Do?
Using Yeespy, you can also:
Block apps and URLs
Track calls and contacts
View text messages
Check the installed apps
Why Choose Yeespy as The Best iPhone Spy App?
Here are the reasons why we recommend Yeespy:
No jailbreak requirement
Easy to use
Top-notch support
Free sign-up and quick installation
Safe and Private
2.2 iKeyMonitor
iKeyMonitor is a mobile tracking app with many features, such as call and message monitoring, camera hacking, and keylogging. What's more, the app performs all its features spectacularly well. It requires no effort from the user in its impeccable functioning.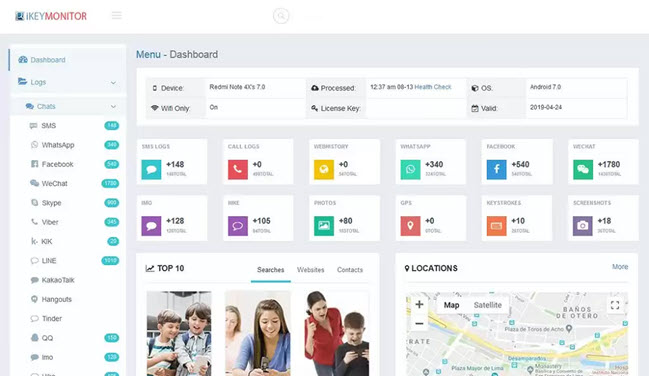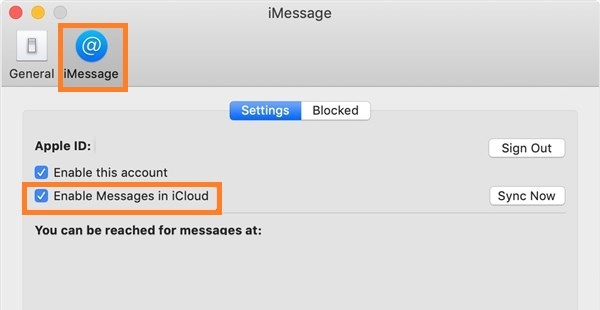 Cons:
Extra pricing for advanced features
A different set of features for Android and iOS tracking
This application does not offer app blocking! Whereas, Yeespy provides several options to look into the user's apps and block them.
2.3 FlexiSPY
Without the hassle of software installation, you can easily track the other person's iPhone with FlexiSpy. Moreover, it isn't easy to detect!
Also, you can access Facebook, WhatsApp, and other popular social media chats through a remote control panel.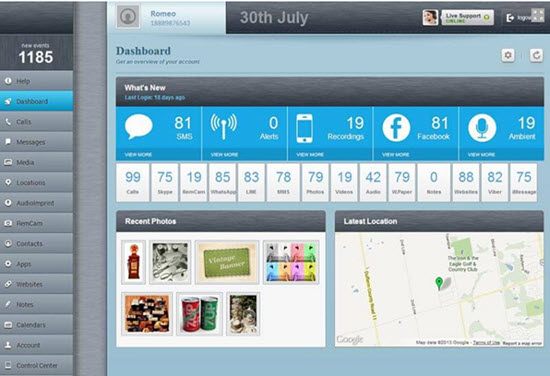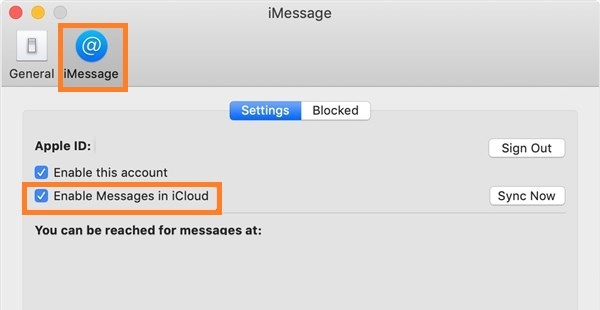 Feature-rich
Responsive customer support
Cons:
It isn't compatible with older iPhones
Compared to Yeespy, it is a bit expensive.
2.4 uMobix
With uMobix, you can track your child's phone call history, including deleted phone calls with details, read text messages to understand their online activities, and monitor their social media.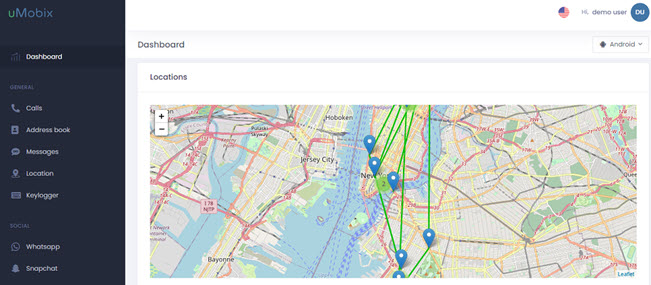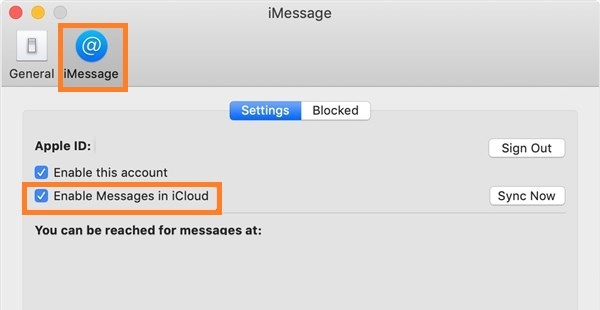 Cons:
In some countries, uMobix is geo-restricted, but Yeespy is accessible everywhere without any problem.
2.5 mSpy
mSpy is one of the best and most reliable apps for spying on iPhones for free. It offers all the basic tracking features and hacks into the phone so that you can see almost all activity carried out on the iPhone being spied on, completely in secret, without the target phone or user noticing.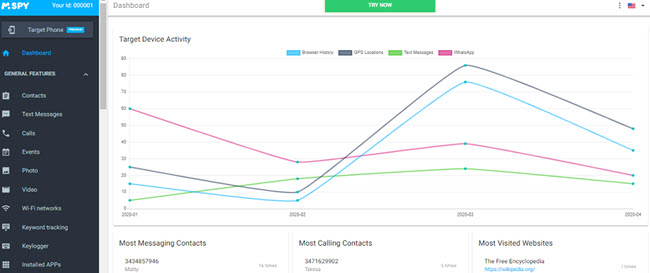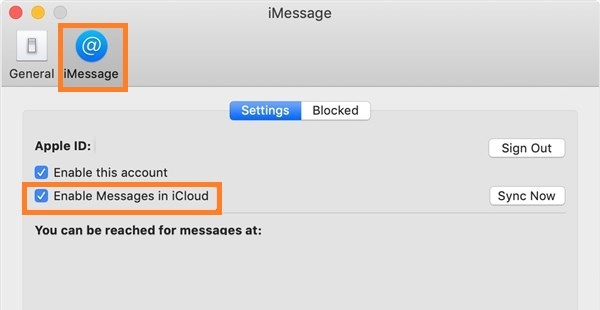 Remote control features
Popular
Cons:
Limited to tracking one device per plan
Yeespy, on the other hand, lets you track any specific iOS device you want.
2.6 SpyBubble
SpyBubble can track multimedia messages and media files, control several of the target phone's applications, and block callers and URLs. Additionally, it provides GPS location, internet activities, emails, and messages.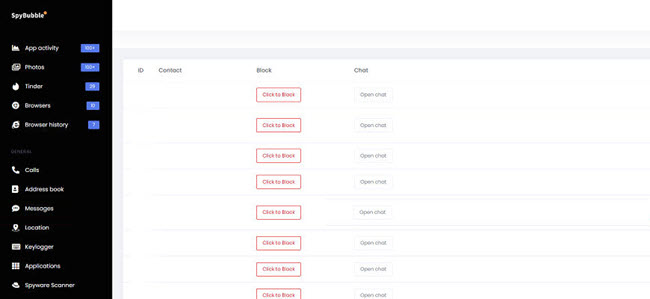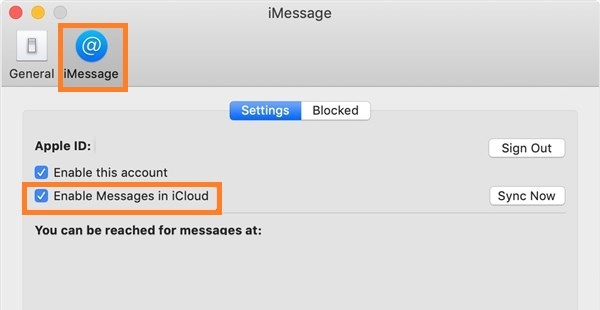 Intuitive
Cross-platform compatibility
Cons:
Requires jailbreak for some features
With Yeespy, there is no requirement to jailbreak the iPhone or alter its security settings. If you do not jailbreak the iPhone, SpyBubble is just a basic spy app.
2.7 ClevGuard
You can keep track of all the calls and messages on the target device, check the location history, and monitor the target device's social media and online activity.
It requires no jailbreak or root access, and the app is easy to install and perfect for those looking for a simple and straightforward monitoring solution.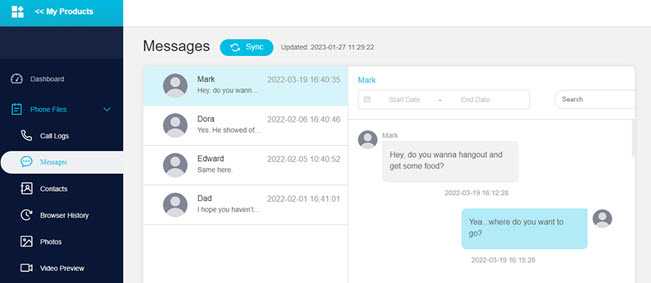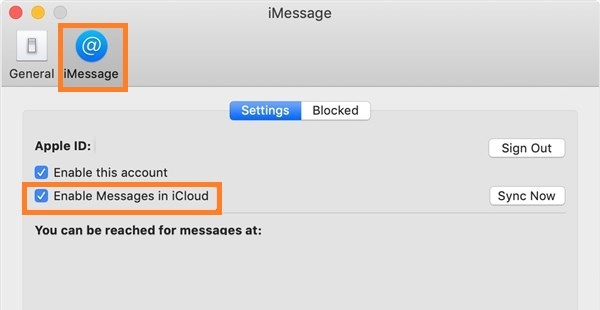 Cons:
Different features for Android and iOS
Yeespy provides equivalent features that are compatible with all operating systems, and it can be used on multiple devices simultaneously, unlike ClevGuard.
2.8 Hoverwatch
You can view your internet history and even check when and when a particular site was visited. With its comprehensive tracking capabilities, Hoverwatch is an excellent option for those who want to keep tabs on their children or employees.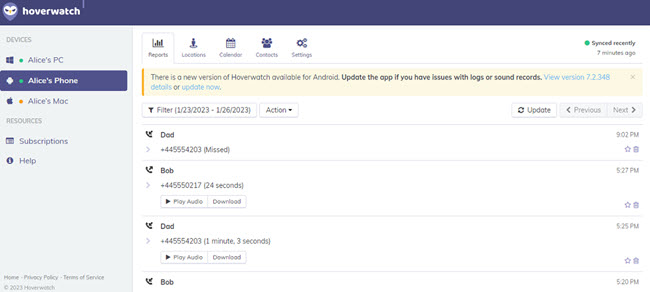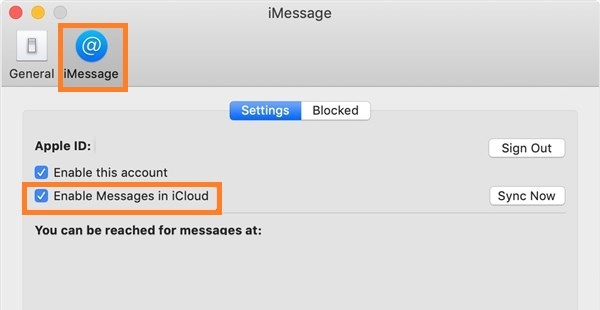 Cons:
Yeespy's control panel offers real-time updates on iPhone activities. Whereas, Hoverwatch lacks this!
2.9 Cocospy
With features like GPS location tracking, social media spying, and call and message monitoring, Cocospy provides parents and employers with the insights they need to stay informed.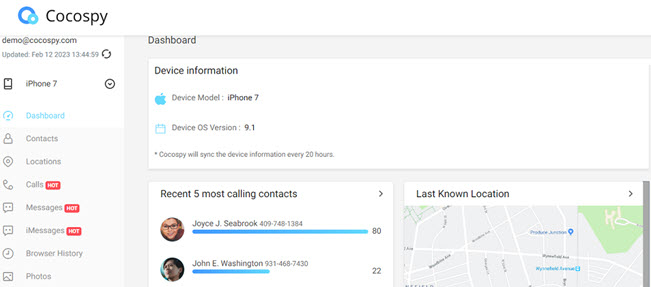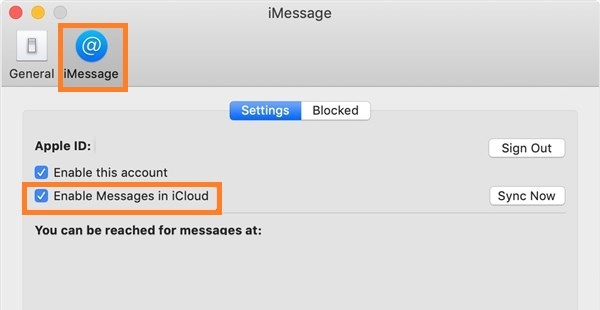 Interactive control panel
Easy to install
Cons:
There are a few limitations to using the advanced features of Cocospy, such as social media tracking. On the other hand, you won't find any restrictions while managing Yeespy to monitor an iPhone.
2.10 Mobile Spy
MobileSpy is a mobile tracking app that allows you to have 24/7 control of the target iPhone. The app is completely safe to use and offers handy features such as social media spying, geo-fencing, and location tracking.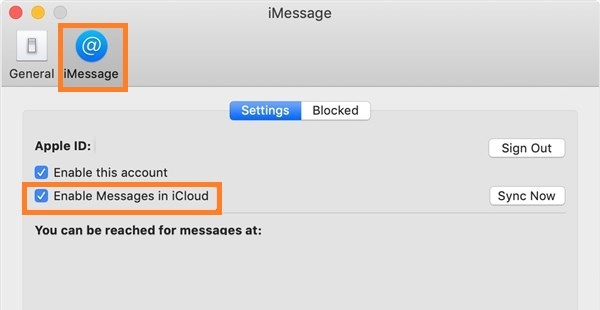 Live demo available
Useful control panel
Cons:
The basic plan offers low-level features
Yeespy offers the same number of high-quality tracking features with all its subscription plans.
Conclusion
Using the apps listed above or the built-in solutions in this article, you can quickly learn how to spy on the iPhone for free!
However, you can get caught if you are not careful. Still, if you do not have enough technical know-how and wish to perform iPhone spying undetected, try Yeespy!