Discovering what your loved ones are up to on their iPhones can be both enlightening and concerning.
While it can be tempting to snoop through their text messages, it's important to do it in a way that respects their privacy and doesn't leave any trace behind.
In this guide, we'll show you how to gain insights into their iPhone messages without raising any red flags. With our step-by-step instructions, you'll learn to spy on text messages on an iPhone undetected and keep your snooping a secret.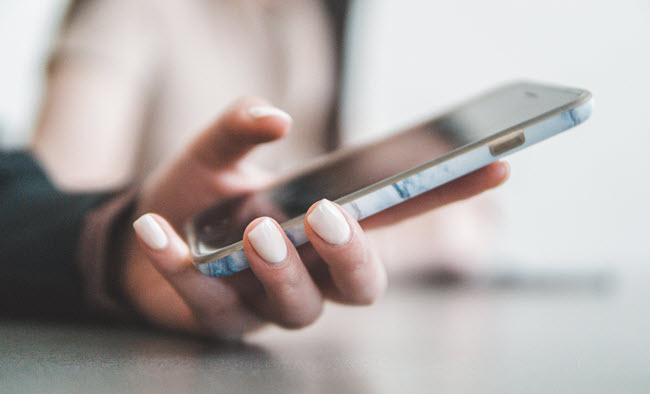 Q: Can You Spy Texts on Someone Else's iPhone?
Yes, there are several means available on the internet that enable you to view someone's SMS and iMessage chat history undetected.
So, what are those solutions?
Well, simply enable an SMS forwarder on the iPhone or use a third-party spy to read the texts in real time. We'll discuss all those techniques as we proceed in this article!
Method 1: Forward iPhone Text Messages to Your Phone
Uncovering who your kids are texting is easy with text message forwarding on an iPhone. You can look at their messages by accessing their device settings and keep track of their online activity.
Here's how to set up forwarding on an iPhone to spy on iPhone text messages:
Open the iPhone Settings and navigate to the Messages section.
Find the "Send & Receive" option under Messages and select it.
Log in with your Apple ID to gain access to the device settings.
Go back to the Messages section and turn on Text Forwarding.
Choose the target user's iOS device and enter the verification code sent to complete the process.
With text message forwarding, you can keep a close eye on the other user's text messages and make sure they stay safe while using their iPhones.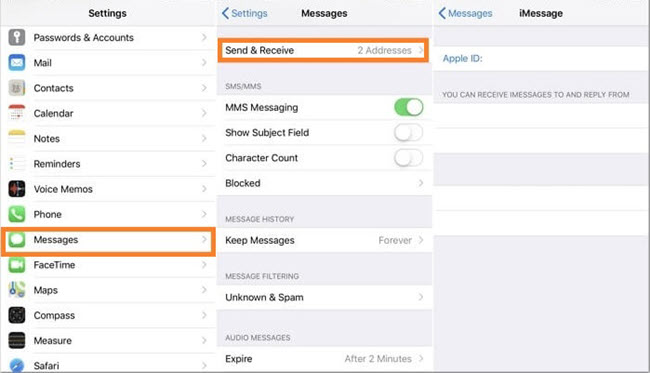 Cons:
Physical access to the device is needed
Method 2: View The Synced Text Messages on iCloud
If you're looking for a way to view the target person's text messages, iCloud can be a helpful resource. This cloud-based storage service allows you to access and retrieve data from a device as long as the devices are synced.
Learn text message spying on iPhone via iCloud here:
Visit iCloud.com.
Next, sign in using the other user's Apple ID. Select the device you want to access if they have multiple devices linked to their ID.
Follow the on-screen prompts to access and view the text messages.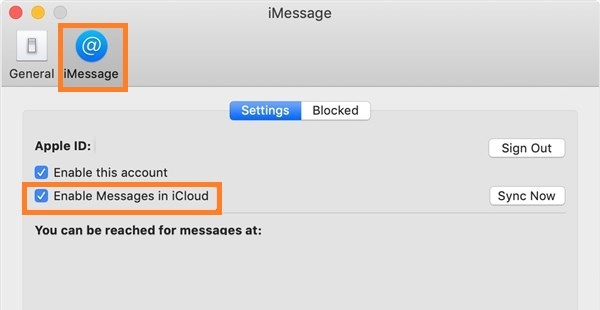 The interface is user-friendly
Free
Cons:
Access to the user's Apple ID credentials is required
Method 3: Spy on Text Messages on iPhone with iPhone Text Spy Apps
Although instant, the above-mentioned solutions still come with quite a few limitations, which isn't ideal.
So, how to eliminate such disadvantages and spy on text messages on iPhones without the other person knowing?
Spy apps are the best option; we have shared info on the top 5 ones here.
3.1 Yeespy - The Best iPhone Text Spy App
If you're looking for a way to monitor someone's text messages on an iPhone, a monitoring app like Yeespy can be an effective solution.
Moreover, it is a top-rated app that offers a variety of features for tracking and monitoring an iPhone, including the ability to spy on text messages.
What makes Yeespy stand out is its ease of use and undetectable nature.
You can quickly and easily set up the app on any Android or iOS device, and the information is updated in real-time on an online control panel. This makes checking on someone's text messages convenient without physically accessing their device.
Key Features of Yeespy iPhone Spy App
With this tool, you can access a complete chat history between the sender and receiver, including the time and date of specific messages.
Additionally, the tool provides details on the sender and receiver's personal information, including their name, phone number, and profile picture.
This level of detail gives you a deeper understanding of who the sender and receiver are, making tracking and monitoring conversations easier.
How to Spy on Text Messages on iPhone?
Here's what you need to do to enable Yeespy on the target iPhone to track texts:
Step 1: Sign Up For Free on Yeespy
To start using Yeespy, simply click on "Sign Up Free" and enter your email address to create a new account.
Step 2: Enter the iCloud Account Details
Once you've created your account, you'll need to enter the target iOS device owner's iCloud account credentials to verify their device. This step is crucial for accessing their data.
Step 3: Spy on the iPhone Text Messages
Once the device is verified, you can access the online dashboard and select the "Text Messages" option to view the chats in real time. The dashboard is updated regularly, so you can stay up-to-date on any new messages sent or received.
What Else Can Yeespy Do?
Yeespy has a range of features to offer. Here are some of the key functions that you can expect from Yeespy:
Location Tracker – Yeespy's location tracker allows you to monitor the real-time location of the target device, giving you peace of mind knowing where your loved one is.
Call Monitoring – It also provides call log monitoring, allowing you to see the target device and who is calling them.
Social Network Spy – Yeespy can spy on popular social networks such as Instagram, WhatsApp, Snapchat, Messenger, Facebook, Kik, and more, giving you insight into your loved one's online social activity.
Why Choose Yeespy as The Best iPhone Spy App?
The following attributes make Yeespy the best of the lot:
No jailbreak needed
Compatibility with Android devices
Responsive and expert technical support accessible 24/7
Completely secure
Intuitive
3.2 mSpy
Another popular mobile monitoring app is mSpy for iPhone.
This app offers a wide range of features, including viewing text messages and call logs, monitoring social network activity, viewing photos and videos, keeping tabs on instant messaging apps, and checking email history.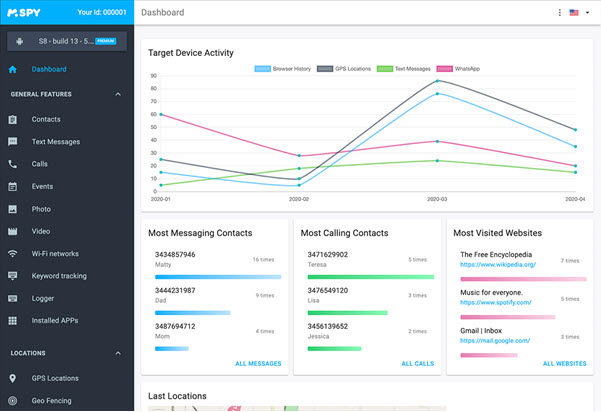 Data is securely stored
The support team is available 24/7
Cons:
3.3 Mobile Spy
One of the most well-known mobile monitoring apps is Mobile Spy. This app gives you access to a wealth of information about the device you're monitoring, including incoming and outgoing call logs, SMS and MMS messages, the device's location, and various usage statistics.
Also, you'll be able to see the full list of contacts on the device, as well as a summary of recent social media and instant messaging activity.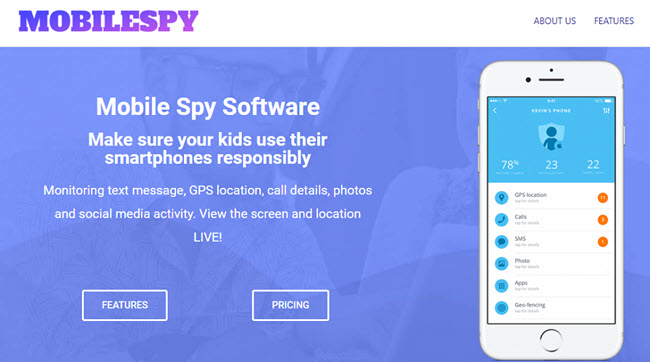 Trial version is available
Responsive customer support
Cons:
3.4 SpyBubble
If you're looking for a more straightforward solution, SpyBubble is a great option. This app is designed to be accessible even to those who are not tech-savvy.
With it, you'll be able to read messages sent and received by the device you're monitoring, see a history of the device's location, and view a map of where the user has been.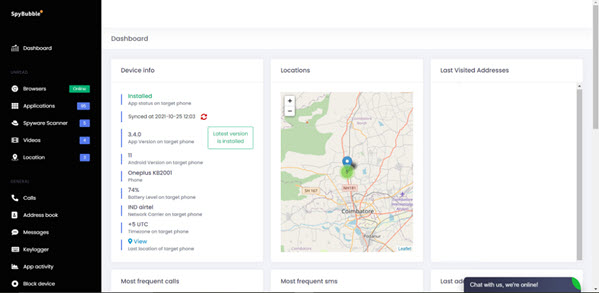 Offers a 60-day money-back guarantee
Cons:
Only a 3-day free trial
Remote installation isn't available
3.5 TheTruthSpy
TheTruthSpy is another mobile monitoring app that can spy on text messages from any cell phone.
Moreover, this text spy app for iPhone is compatible with Android, allowing you to control multiple devices' activities, including smartphones and tablets.
Besides, with the Text Message Spy feature, you'll see all of the messages on the target device, even if they've been deleted or are old. Plus, you can instantly see who the person is chatting with and if there's a significant connection between them.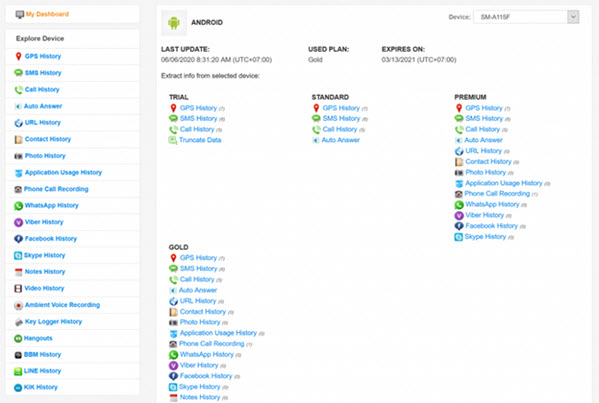 Cons:
Part 4: FAQs on iPhone Text Spy
Here, we have answered some commonly-occurring questions related to iPhone message spying:
4.1 How can I read iPhone messages without the person knowing?
After enabling the iPhone's Yeespy or any other spy app, access the online dashboard, go to the Messages features, and view the texts without anyone noticing.
4.2 What is the best text message spy app for iPhone?
With a user-friendly dashboard, comprehensive features, cost-effective pricing plans, and no installation/jailbreak requirement, Yeespy is the best tool to spy on someone else's texts.
Conclusion
Tracking the loved one's messages lets you know if they are in some sort of trouble or not.
Using any of the solutions listed above, you can easily spy on text messages on the iPhone. However, if you aim to perform this activity undetected and fast, then we recommend using Yeespy!