With millions of users, Kik is a popular instant messaging app among kids and teens.
However, the anonymity and lack of parental controls have raised concerns about the app's safety.
Here, we'll explore the question "is Kik safe", its potential risks and provide tips for keeping yourself and your children/partners/friends safe while using the app.
From understanding the dangers of strangers and cyberbullying to Sexting, we will cover everything to give you a complete picture of the app.

Part 1: FAQs on "Is Kik Safe?"
When it comes to how safe is Kik, there are a lot of concerns that parents and adults may have. We have answered those issues here:
1.1 Is it safe to send pictures?
Sending pictures can be risky, as images can be screenshotted and shared with others without your knowledge or consent.
Having honest dialogs with your kids about the dangers of sending pictures and the importance of only sharing personal information with people they trust is important.
1.2 Are Kik messages traceable?
The anonymity of the app makes it difficult to trace messages and identify the sender. However, law enforcement agencies may be able to request user data from Kik with a valid subpoena.
1.3 Are Kik's private albums safe?
Private albums can be accessed by anyone if they have the link, so it's important to be cautious about who you share it with.
Additionally, Kik has no way to verify that someone claiming to be a minor is, in fact, a little; thus, it is important to be skeptical of any content from the private album.
1.4 Is Kik safe for adults?
Kik is safe for adults. Still, it's important to be aware of the potential risks and take steps to protect yourself. Always be cautious about the information you share, and be wary of unsolicited messages from strangers.
1.5 Is Kik safe for teens?
While Kik can be used safely by teens, parents are recommended to share the potential risks that come with using such a platform.
Additionally, using monitoring software can provide an extra layer of safety for teens on Kik.
Part 2: What's The Danger of Kik?
Kids and teens often use Kik, a popular instant messaging app, but its anonymity may put them at risk.
Predators can easily contact children on Kik without the need for phone numbers. Also, anonymity makes it difficult to trace messages and identify bullies, leading to cases of cyberbullying.
Sexting also becomes a concern as photos and videos shared on the app can be easily disseminated without consent.
It's crucial for parents to have open and honest conversations with their children about the dangers of the app and to use parental control software for monitoring and protection.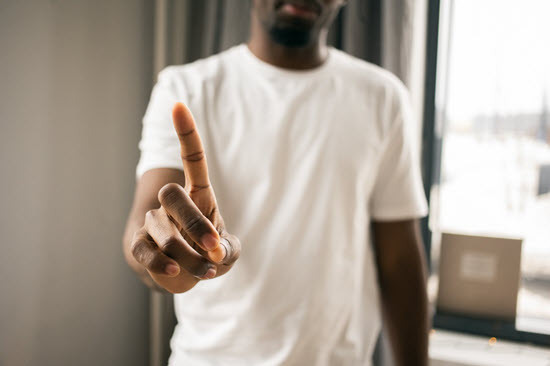 Part 3: The Most Recommended Way How to Keep You Safe on Kik
By employing Yeespy on the phones, you can keep yourself and your loved ones safe while managing Kik.
How?
It displays all the chat messages, photos, and videos shared on the top-rated social platform on a dedicated control panel. Plus, it works on most Android/iOS devices, so it is quite effective.
3.1 Key Features of Yeespy Kik Monitoring App
Once installed, Yeespy will share the following:
The texts exchanged on Kik accounts
When the messages were sent or received
Info on the person who interacted with the target user
3.2 How to Monitor Your Kik Activities?
Here is how you can make the Kik app safe for yourself and your loved ones:
Monitor iPhone Kik Activities
Step 1: Sign Up For Free on Yeespy
First, create a new profile for free by simply entering your email address.
Step 2: Share the iCloud Account Details
Next, enter the iCloud account details used on the iOS device.
Step 3: Monitor the Activities on Kik
Finally, access the web-based dashboard. There, click Social Networks, and tap Kik from the list to view the required information on app activities.
Monitor Android Kik Activities
Step 1: Make a New Profile on Yeespy
Share your working email ID to set up a new Yeespy account.
Step 2: Install the App
Apply the guidelines mentioned on the newly created Yeespy account to install the Yeespy Android app on the device.
Step 3: Monitor Activities on Kik
Open the online control panel, and click on the Social Networks icon. Select Kik to review all activities.
3.3 What Else Can Yeespy Do?
Besides ensuring Kik is safe for its users, Yeespy lets you monitor other social apps like Instagram, Facebook Messenger, Snapchat, Likee, and more.
Additionally, it can share the real-time location of the target phone. What type of content is managed via the device's browser. Also, you can block inappropriate apps and URLs remotely on an Android or iOS smartphone.
3.4 Why Choose Yeespy as The Best Kik Monitoring App?
Yeespy is marketed for users from every background, whether they have the technical skills to manage a spy app. Plus, the customer support staff is there to provide guidance in case of an issue.
Plus, the app's hidden mode ensures the tracking activity remains private. In addition, you can use this app to track any Android or iOS device without rooting or jailbreaking it.
Part 4: 6 Other Common Ways to Protect Your Kik from Danger
Learning "is Kik secure" is a top priority for many users.
While a variety of tools and features are available to help you stay safe, there are also many simple, commonsense ways to protect your account and yourself from harm.
4.1 Don't Give Away Personal Information
One of the most important things to remember is never to give away personal information.
This includes things like your name, address, phone number, and email address. Be especially careful when chatting with strangers, as they may use this information to try and contact you outside of Kik or to impersonate you.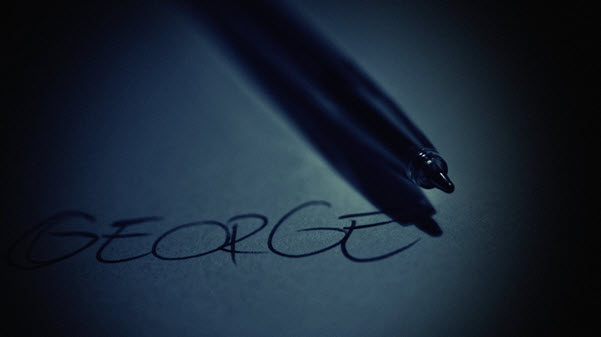 4.2 Don't Share Personal Photos and Videos
Another way to protect yourself is to be careful when sharing personal photos and videos. Once something is shared on the internet, it can be hard to control who sees it or where it ends up.
So, thinking twice before sharing something you wouldn't want the whole world to see is important.
4.3 Be Careful When Chatting with Strangers
When chatting with strangers, it's also important to be cautious. If someone seems suspicious or makes you uncomfortable, it's better to end the conversation or block them. It is always better to be safe than sorry.
4.4 Choose a Strong Password for Your Kik Account
Having a strong password for your Kik account is also essential. A strong password should be at least 8 characters long and include a mix of letters, numbers, and special symbols. Changing your password periodically is also important to keep your account secure.
4.5 Manage Messages with New People
Managing your messages with new people is also an important step to take to protect your Kik account.
You can set up your account to automatically filter messages from new people, or you can choose to review them before they reach your inbox. This way, you can choose to block or report users who are sending unwanted messages.
4.6 Report The Issue to Kik
If you ever encounter any issues or suspect any suspicious behavior on Kik, it's important to report it to the platform. The Kik team is dedicated to keeping the community safe, and they can take steps to investigate and address any problems that may arise.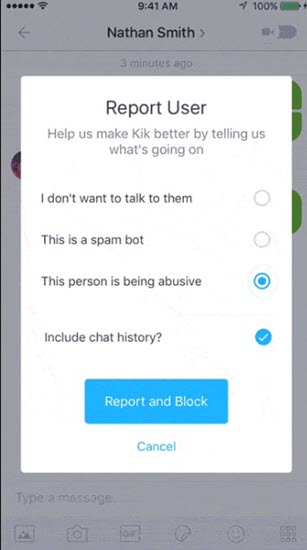 Part 5: FAQs on Kik
Now that you fully understand how to keep the entire Kik experience safe, here is some additional information on the social platform:
5.1 What do adults use Kik for?
Adults may use Kik for instant messaging, social networking, and connecting with friends and family. Moreover, some adults may use it for professional communication and networking.
5.2 Can police track a Kik account?
The anonymity of the app can make it difficult for police to track specific accounts. However, law enforcement agencies may be able to request user data from Kik with a valid subpoena.
5.3 Why do people use Kik instead of texting?
Kik offers a number of features that may make it more appealing than traditional text messaging, including the ability to connect with others without the need for phone numbers and a wide range of built-in features like chat rooms, group messaging, and the ability to share media files.
5.4 What does Kik stand for on dating sites?
Kik is not an abbreviation or acronym; it is just the name of the instant messaging app. However, on dating sites, Kik is often used as a shorthand for "Meet me on Kik" as an alternative to giving out personal contact information.
Conclusion
To answer the question "is Kik safe for users", it is really about how one manages their account. For this reason, we have also mentioned the steps you can take to ensure an incident-free browsing session on Kik.
However, if you want to remotely track someone else's Kik activities, do give Yeespy a try. It is a secure and fast way to ensure your loved one's safety online.