As we all know, parents are always sensitive when it comes to the well-being and safety of their children. For this reason, software developers have created a competent app called JJSPY to track your child's activities, location, etc.
This will keep your child safe and secure and your heart at ease. But the question is, is your JJSPY legit or not?
To find this out, you need to scroll down and read out its various aspects and features in this JJSPY review, and after that, you can try it yourself.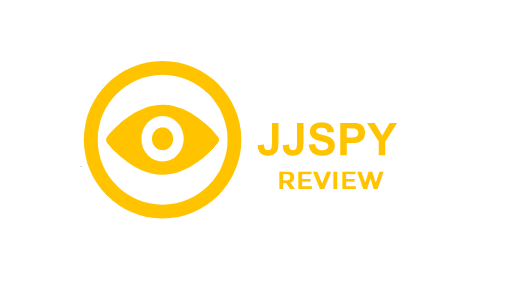 Part 1: What is JJSPY?
JJSPY is a monitoring software or spyware explicitly designed for parents to monitor their children's activities to ensure their safety. It can also be used by employers who wish to keep an eye on their employees.
It is available for both Android and iOS phones.
With this spyware, you can now track your child or employee's location, calls, messages, emails, and so many other activities, and that too in real-time.
Part 2: Is My JJSPY Legit?
Many spyware promises more than they can offer, but the JJSPY is a legit application, not a scam. It runs in the background, and the target users cannot detect that they are being monitored.
Make sure you install the JJSPY app from the Google or Apple store, otherwise, your data might get breached. According to the JJSPY privacy policy, it does not release private data to any external party.
The data is secured by the Premium SSL Certificate. With the SSL certificate, the data becomes illegible to anyone other than the sender and the receiver, protecting the sensitive data from hackers.
Part 3: The Key Features of JJSPY
JJSPY app has an array of features that make it stand out from other spy apps.
The features listed below are some key features available on both versions of the JJSPY app.
Real-Time Location Monitoring

It lets you know the target phone's location in real time. There is no delay or lag.

Call Logs

It allows you to access the call log of the target phone. The entire data shows calls received, missed, rejected, or dialed.

Browser history

It allows you to check the browser history of the target phone. This way, you can keep an eye on your child.
Part 4: The Compatibility of JJSPY
The JJspy application is available on both Android and iOS devices. You can install it from the Google Play Store or the Apple store and get started.
Besides, the app cannot be installed on PCs. Make sure that you are not installing from inauthentic websites. Since these websites are unsafe, your private data may get into the hands of scammers.
The features on each version are slightly different. The android version has more features even though both are priced at the same rate.
Part 5: The Pricing of JJSPY
The JJspy application costs 39.99 dollars per month for both android users and iPhone users. The pricing may seem a little on the higher end, but the app's unique features make the cost worth the investment.
Moreover, it can access other apps, meaning you only need the JJSPY app for all sorts of surveillance. For example, you can access the camera, browser history, and even the call history log.
One thing to note is that JJSPY will not renew your subscription automatically once it expires. If you wish to continue using the JJSPY app, you will have to renew the subscription manually.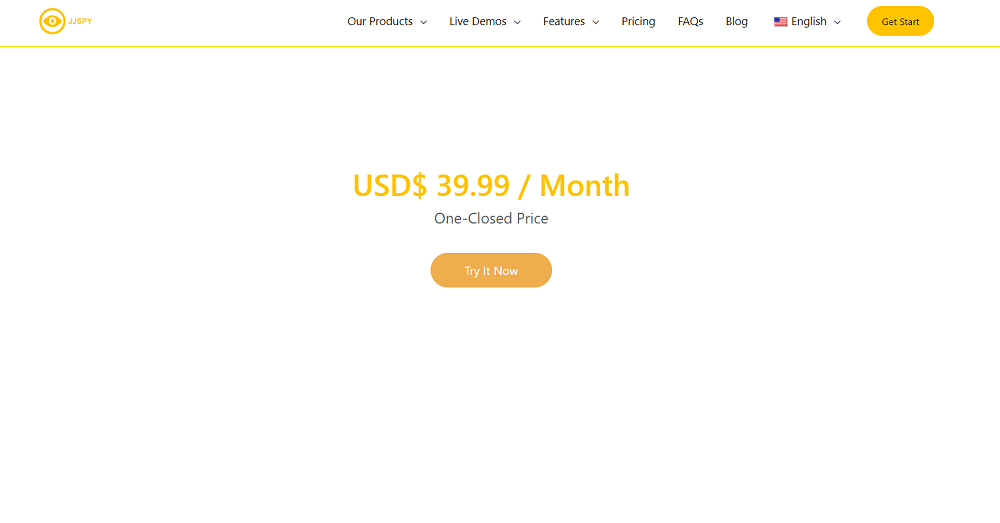 Part 6: How to Use JJSPY?
Follow the installation guide for JJSPY below:
For Android Users
Visit jjspy.com before you install the application on your Android.
Subscribe to the JJSPY application for Android.
Create your account using an email address.
Follow the instructions provided to set up the app on Android phone.
From the website of JJSPY, login to your account.
You can now monitor the target phone's activity via the control panel and spy on their location calls, texts, and more.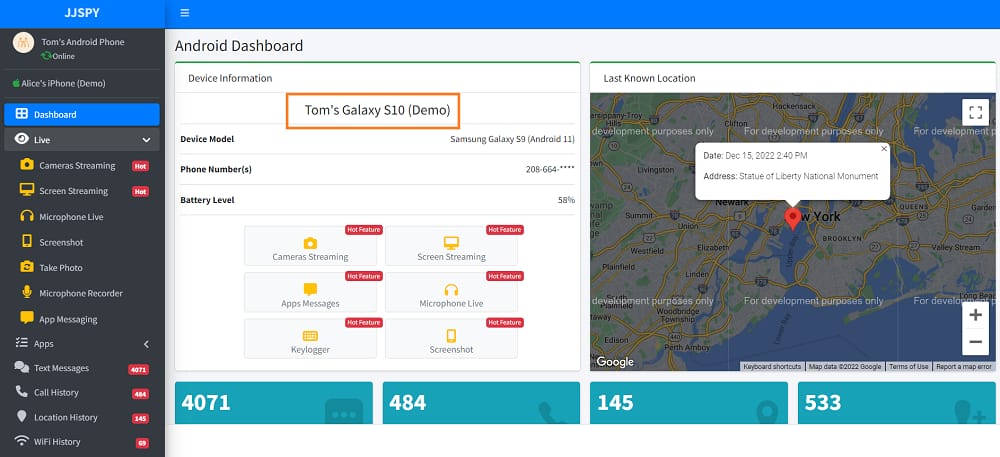 For iPhone Users
Visit the JJSPY website.
Subscribe to the JJSPY application for iPhone.
Set up account using your valid email address
After receiving a confirmation email, enable the tracker on iPhone, install per the instructions provided.
Login to your JJSPY account.
You can now track the target phone's activity from the dashboard.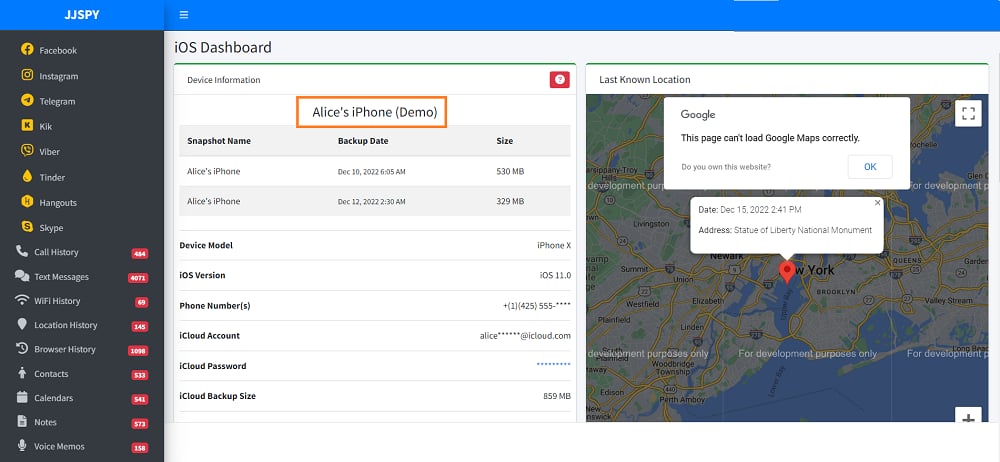 Part 7: The Pros and Cons of JJSPY
Here are the various advantages and disadvantages of using JJSPY:
Pros:
Poor-quality stock imagery
Sites packed with dozens of ads
Thousands and thousands of words of copy
Constant references to making huge amounts of money
Low-quality page copy
Endless redirects
Cons:
The app is unavailable on PC. This means that any activity on the PC cannot be tracked.
You will require a stable and strong internet connection to use the app. If you are offline, you will not be able to view the racking reports
The iPhone version of the app has limited features at the same rate as the android version.
It is essentially an invasion of someone's privacy.
Part 8: The Best Alternative for JJSPY – Yeespy Phone Tracker
If you are searching for an alternative to JJSPY, Yeespy is the best you can get!
Yeespy is a tracking app that helps you track your child's activity without letting them know. This way, you can protect your children from dangerous people and unfavorable circumstances.
So, let's examine what features you can explore in this app!
Key Features of Yeespy Phone Tracker
Yeespy can track down text WhatsApp messages and chats from other social apps as well.
With the help of Yeespy, you can view contact lists, call logs, emails, any internet activity, or keylogger.
It can also help track your child's phone and SIM card locations.
You can go for geofencing and WiFi Blocking.
It doesn't require Root/Jailbreak. You can easily Start tracking your child's activity within five minutes.
How to Monitor Phones for Free?
This is how you can set up Yeespy on the target Android or iOS device:
How to Enable Yeespy for Android?
Step 1: Sign Up to Make a New Yeespy Account
Enter your email address and instantly create an account for free on Yeespy.
Step 2: Install the App
Follow the guidelines to install the Android-based Yeespy app on the device.
Step 3: Monitor the Android Phone Remotely
Go to the online control panel and utilize any Yeespy feature there.
How to Enable Yeespy for iPhone?
Step 1: Set Up Your Free Yeespy Account
Make a new account with your email address.
Step 2: Share the Target Person's iCloud Account Credentials
Now, verify the other user's iOS device by entering their iCloud credentials.
Step 3: Monitor the iPhone
Finally, access the online dashboard using any device and click on any feature to perform phone monitoring.
Why Choose Yeespy as The Best Phone Tracker?
Here is why Yeespy is the best phone tracking solution for you:
Yeespy works in stealth mode, detecting all data types without letting the owner know. This makes it completely undetectable.
Yeespy can easily track 42 data, including messages, media files like videos, photos, contacts, call logs and social apps such as WhatsApp and Facebook. It can also track GPS etc.
All the data that you track from Yeespy gives you real-time tracking results. To get the latest information, you will be updated after every few minutes on your control panel
It's 100 percent secure and completely reliable as it remains undetectable and gives real-time tracking; you can rely on its results.
Its support team is available 24/7 to assist you and guide you. You can get all your answers with complete guidance.
Part 9: JJSPY VS Yeespy
If you are confused between JJSPY and Yeespy, read on to find out a brief comparison and decide which one suits you better!
| JJSPY | Yeespy |
| --- | --- |
| If we talk about JJSPY, it requires jailbreak or root permission to track down data. | Whereas Yeespy doesn't require such permission and works efficiently without it. |
| JJSPY has limited features and doesn't offer new or advanced monitoring features. | On the other hand, Yeespy is adaptable, continuously updates its features, and brings something innovative every now and then. |
| JJSPY is much more expensive concerning its limited features. | Yeespy offers a good deal with advanced features. |
| JJSPY does not necessarily offer 100 percent accurate results. | Yeespy gives 100 percent accurate results with real-time tracking. |
Conclusion
Since parenthood has become a difficult task in this new technological world. Often children use technology to engage with dangerous people without letting their parents know.
So, In order to keep up with these circumstances, apps like JJSPY and Yeespy are developed. It helps parents to detect their child's location, messages, and other internet activities to ensure their safety.
In this JJSPY review, we conclude that the platform is reliable if you are looking for limited tracking features. Still, if you want unlimited features and 100 percent accurate results, you must try Yeespy.