In today's digital age, it's natural to find yourself curious about what your loved ones get up to on social media.
You might find your loved ones acting unusual, or you might be concerned about their well-being in the dangerous world of the internet.
This article will help answer the question, "can I log into someone else's Instagram" and walk you through the simple steps on how to log into someone's Instagram without them being notified.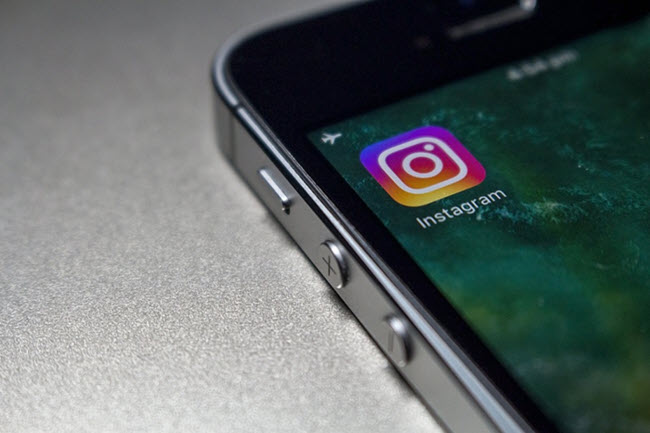 Part 1: Can You Log into Someone Else's Instagram without Them Knowing?
You might find yourself wondering what your loved ones are getting up to on their social media.
Considering how we practically live our entire lives on the internet, this is not an unreasonable desire at all.
Whether you want to look out for your loved ones and keep them from harm or suspect their behavior towards you is unusual, you can quell your mind by logging into their social media, such as their Instagram.
Part 2: 4 Proven Ways on How to Log into Someone's Instagram without Them Getting Notified
To give you a visual representation of how logging into someone's Instagram works, we have drawn a table where we sorted the various methods by success rate, the difficulty of use, cost, and legality of said methods.
| Method | Success Rate | Difficulty | Cost | Legality |
| --- | --- | --- | --- | --- |
| Yeespy | 100% | Easy | Variable Packages | Legal |
| Phishing | 25% | Easy to Moderate | Free | Illegal |
| Guess the Password | 20% | Easy | Free | Illegal |
| Reset the Password | 10% | Easy | Free | Legal |
2.1 Use The Best Instagram Tracker and Viewer
The perfect and natural answer to "how to log into someone's Instagram without them knowing" is obvious to use Yeespy.
Since Yeespy comes packed with many features suited just for this experience, it became our obvious choice to get into someone's Instagram unnoticed without leaving any trace behind.
Key Features of Yeespy Phone Monitor
Yeespy becomes the ideal and obvious choice from the very beginning due to the easy and efficient set-up and installation process.
The Yeespy solution consists of such a clean interface that even the least tech-savvy person can use it without breaking out a sweat.
This Phone Monitor comes with the ability to track the location of the target device and keylogger.
Moreover, it grants you access to the Instagram messages and media files on the target device without leaving any trace behind.
How to View Someone's Instagram Without them Knowing Via Yeespy?
Follow the below-mentioned Yeespy installation steps and learn how to log into someone's Instagram without them knowing.
Access Someone's Instagram on Android
Step 1: Create a Yeespy account
Sign up for a free account on Yeespy by simply providing your email address.
Step 2: Install the Android APK
Install the app on your target device by following the on-screen instructions.
Step 3: Monitor Instagram activity
Once the app is set up, head to the control panel and click on the Social Apps section. From there, simply click on Instagram to view all the activity on the account.
Access Someone's Instagram on iPhone
Step 1: Sign Up for Free on Yeespy
Enter a valid email ID to set up your Yeespy account.
Step 2: Enter the iCloud Info
Provide the target user's iCloud info.
Step 3: Check Someone's Instagram Remotely
Go to the Yeespy dashboard, and click Social Apps. Select Instagram, and review the details.
What Else Can Yeespy Do?
Yeespy comes packed with limitless features which make it effective in various aspects. Some of its general features include its ability to track text messages and calls.
You can also gain access to the media files and other installed apps (such as social media apps) on the target device.
The app goes the extra mile when it helps you track down the location of the target device as well as a complete browser history which can give you a better insight into the lives of your loved ones.
Why Choose Yeespy as The Best Instagram Tracker and Viewer?
Yeespy is a straightforward solution to accessing someone's Instagram account and cuts through all the hassle and unnecessary details of all the other methods.
Not only that, but it comes packed with many features that can be used for other social media.
Because Yeespy is so easy and convenient to use, it comes highly recommended by previous users who have given it a remarkable rating.
2.2 Phishing Method
Another standard method some hackers use is called "Phishing". In this method, hackers send fraudulent messages or emails to the target devices.
These messages usually contain offers and deals that are too good to be true. The unsuspecting receiver opens the links contained in these emails and grants all access to the hacker.
Follow this fairly simple procedure and understand how to log into someone's Instagram without them knowing:
Grab a spoof email or a personal domain such as GoDaddy.
Create an email on the domain.
Now hook up an email client like Thunderbird to send the phishing emails.
This method has its fair share of pros and cons; however, the cons outweigh the pros quite a bit.
The advantage of this method is that if you're smart about it, the receiver will take the bait. However, the success rate is low, and the effort required is quite a lot.
Not only that, but phishing is considered a misdemeanor at the least and illegal at the most.
2.3 Try to Guess the Passwords
While this method is a little harder to gain success in, you can also try guessing the password of the Instagram account you wish to log into. This can be done in the following steps:
Open the Instagram app
Enter the email address or username of the account you wish to gain access.
Start guessing the password based on what you know about the account holder.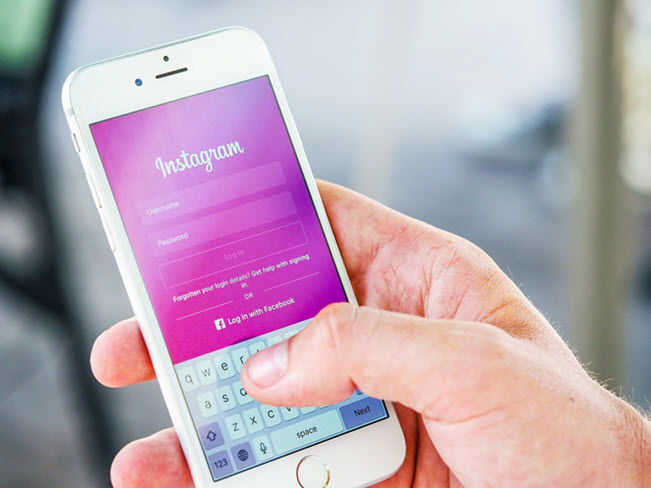 The main advantage of this method is that it is a lot less complex than most of the other methods out there.
Additionally, the rate of success goes up significantly if the account holder is someone you might know well enough to learn about their likes and dislikes.
The major disadvantage of this method is that it is extremely time-consuming, and there is a high likelihood that you might not succeed.
2.4 Reset the Password
Finally, you can get access to someone's account by attempting to reset the password. Follow the steps given to implement this method:
Open the Instagram app and enter the Email or username of the target account
Select "Forgot Password".
Enter the email or recovery email address.
An email will be sent to the email address, following which you can reset the password and log in to the account.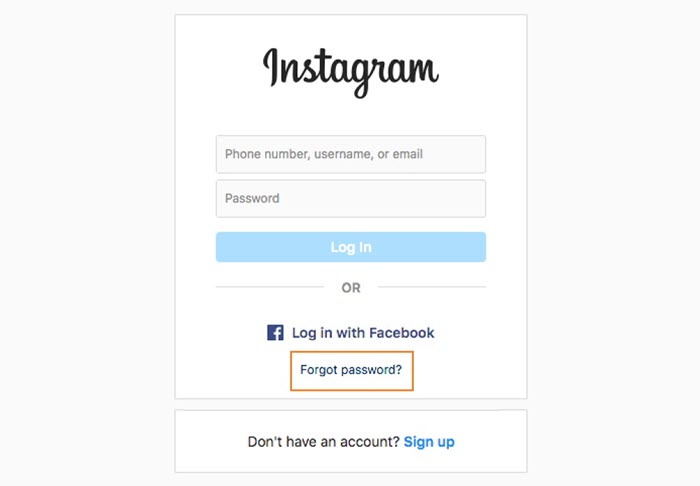 While this is a simple process, it does have some very tricky limitations.
It has the lowest success rate because you have access to the target account or recovery email for this process to work.
Part 3: How to Hide or Delete Login Activity on Instagram?
Once you know how to get into someone's Insta without password, another critical step is to hide or delete login activity on the user account. This is necessary to remove any suspicion.
Here are the steps:
Open the Instagram app and log in to your account.
Tap on the profile icon in the bottom right corner of the screen to go to your profile.
Tap the three horizontal lines in the top right corner of the screen to open the menu.
Select "Settings" at the bottom of the menu.
Tap "Security" in the list of options.
Choose "Login Activity" to view a list of devices logged in to your account.
To hide login activity:
Tap the device you want to hide.
Tap "Hide" at the bottom of the screen.

To delete login activity:

Tap the device you want to delete.
Tap "Log Out" at the bottom of the screen.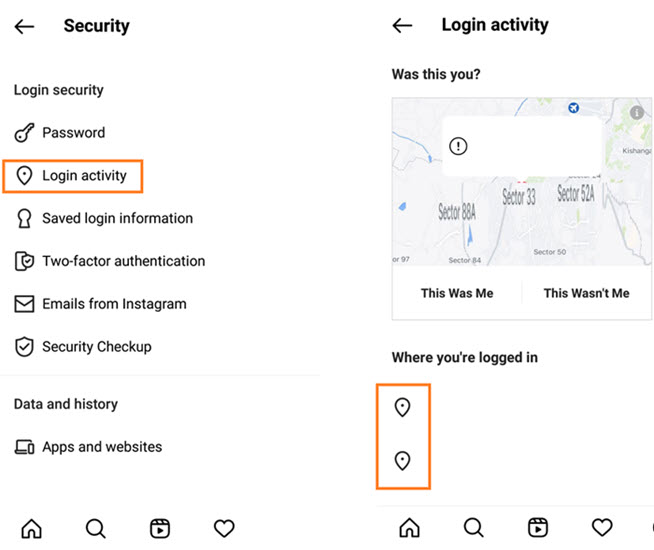 Keep in mind that hiding or deleting login activity will not remove the device from your list of trusted devices.
To do that, you will need to go to the "Trusted Devices" section in the "Security" settings and remove the device from the list.
Part 4: What Will Happen If Someone Hacks Your Instagram Account?
If someone hacks your Instagram account, they may be able to:
Change your account password, locking you out of your own account.
Edit your profile information and change your account username.
Post content on your behalf, potentially damaging your reputation or causing confusion among your followers.
Send messages or comments from your account, potentially spreading spam or phishing scams to your followers or other users.
Use your account to gain access to other accounts or personal information if you have linked your Instagram account to other online services.
Use your account to engage in malicious or illegal activities, such as spamming, scamming, or cyberbullying.
If you suspect that your Instagram account has been hacked, it is important to act quickly to secure your account and prevent further damage.
You should change your password immediately and contact Instagram for assistance.
Part 5: How to Protect Your Instagram Account from Getting Hacked?
Here are some steps you can take to protect your Instagram account from getting hacked:
Use a strong, unique password for your Instagram account. Avoid using the same password for multiple accounts. Make sure to mix letters, numbers, and special characters.
Enable two-factor authentication (2FA) on your account. This adds an extra layer of security by requiring you to enter a code sent to your phone or Email whenever you log in from a new device.
Be cautious when clicking on links or downloading attachments from unknown sources, as these can potentially contain malware or phishing scams that could compromise your account.
Avoid using public Wi-Fi networks to access your Instagram account, as these can be vulnerable to hacking attempts.
Regularly update your Instagram app to ensure you have the latest security features and protections.
If you suspect your account has been compromised, change your password immediately and contact Instagram for assistance.
Part 6: FAQs on Instagram
Here are some additional tips on the burning question: can I log into someone else's Instagram?
6.1 When does Instagram notify you via email?
Instagram will often notify you when you try to log in to your account from an unknown or a new device. This can happen even if you log in from an incognito window from the same device.
Instagram also notifies you via email when you request a new password.
6.2 Does Instagram send a notification when you log in from another device?
Yes, Instagram will send notifications when you log in from another device. This is one of the many security features implemented by the social media app.
6.3 Is there an activity log for Instagram?
Yes, by default, Instagram comes with an activity log, and it tracks a lot of your activities on Instagram, such as logging in and out times and devices, like posts and recent searches. However, it is possible to disable the activity logs.
Conclusion
In summation, there are many ways on how to log into someone's Instagram without them being notified.
However, some of these methods are not as effective, and most are even illegal.
This is where Yeespy comes in and saves you from all the hassle of the effort required to access someone's Instagram.
Additionally, it also shields you from all the nasty business of legality.
Hopefully, by now, you're well-equipped with the information necessary to gain access to someone's Instagram. Good luck!