Have you ever received a link via text or email?
On the one hand, the promises made before this link seem very tempting, but on the other hand, you have heard enough horror stories about malicious links and scam attempts to know better than to trust it right away.
Luckily, several safe link checkers can help you decide which link is worth trusting and which will bring you a lot of confusion and frustration.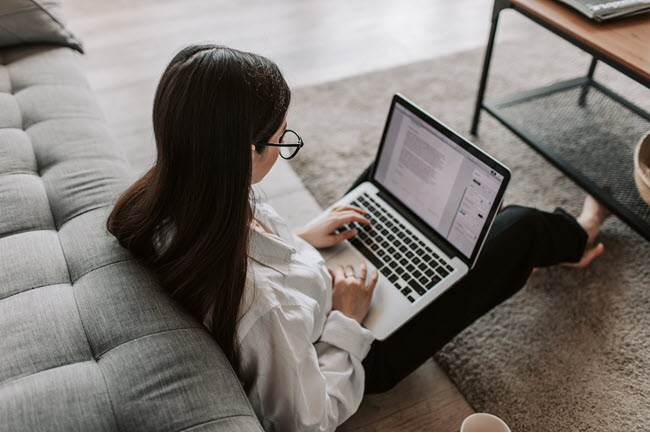 Part 1: What a Safe Link Checker Can Do?
A safe link checker is a tool or service that checks links for potential security risks, such as malware or phishing attempts.
The tool will check the destination URL of a link to ensure that it is safe to visit and may also check the reputation of the website or organization associated with the connection.
Some safe link checkers also check for broken links or other issues that could negatively impact the user experience.
Part 2: Top 10 Safe Link Checkers
We went through the hassle of evaluating a bunch of safe link checkers and narrowed the list to only 10 of the best options.
2.1 Google Transparency Report
Google Transparency Report is one of the most convenient and easy-to-use safe link checkers. All you have to do is go to https://transparencyreport.google.com and enter the URL you are unsure about, and Google does the rest for you.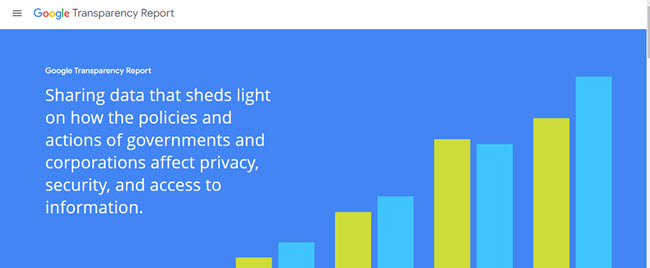 Pros:
Does not require technical knowledge.
Reliable and fast.
Cons:
Users have expressed concern about their privacy while using this option.
2.2 Norton Safe Web
Another quick and easy way to test the reliability of a link is to use Norton Safe Web. Simply enter the URL in the search field, and Norton Safe Web gives you an in-depth report containing the rating and community reviews regarding the URL.

Pros:
Quick service and results.
Easy to use.
Cons:
Too many ads prove to be overwhelming.
2.3 EASYDMARC Phishing URL Check
EASYDMARC was primarily aimed to help businesses protect themself and their data, but now it is used by people from all walks of life to test the authenticity of a URL.
EASYDMARCH Phishing URL Check scans the URL you provide and tells you whether it is "good" or "suspicious".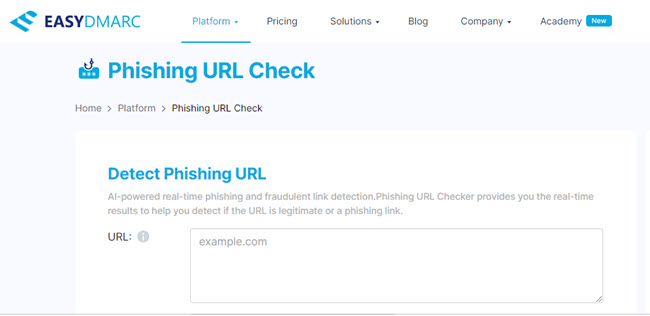 Pros:
Generated reports are easy to decipher.
Free trial available.
Cons:
Paid services can be expensive.
2.4 ScanURL
ScanURL is a simple and effective tool to help you figure out if a link is malicious. This safe link checker will check whether the URL has been reported for phishing, hosting malware/viruses, or has a suspicious reputation.

Pros:
Allows you to share results with friends and family and warn them.
Easy to use.
Cons:
Ad-supported, so you will have to turn off your adblocker.
2.5 dfndr lab's URL checker
Yet another way to check if a link is safe is to use dfndr lab's URL checker. This secure link checker prompts you to enter the URL and lets your mind know whether it is malicious.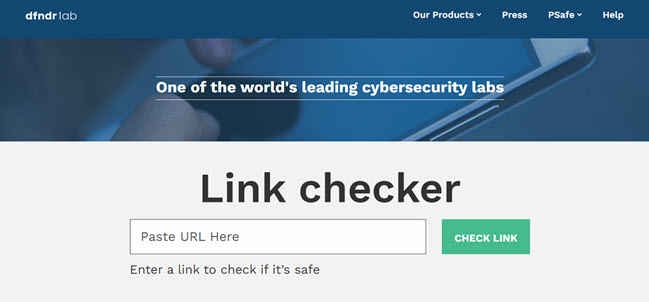 Pros:
Supported across all platforms.
Convenient to use and reliable.
Cons:
Basic features are free, but premium packages are expensive.
2.6 PhishTank
PhishTank serves as an extensive database of phishing attacks. If the link you wish to check has a track record of baiting people into traps, PhishTank will let you know.
If no record exists, but you still feel suspicious, you can lodge a report, and PhishTank will keep you updated about its status.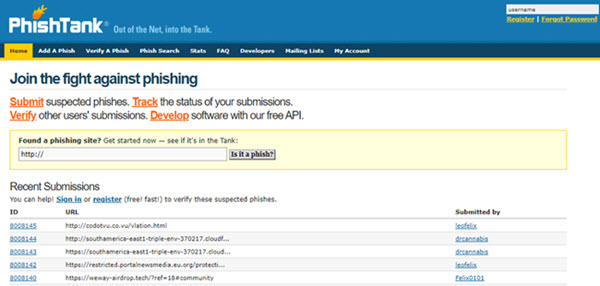 Pros:
Easy to use.
Detailed reports are issued.
Cons:
Some users reported a lag in database updation.
2.7 URLVOID Website Reputation Checker
URLVOID makes it easy to check the validity of a potentially malicious URL. This safe link checker takes in your URL and generates a detailed report about how harmful the website may be.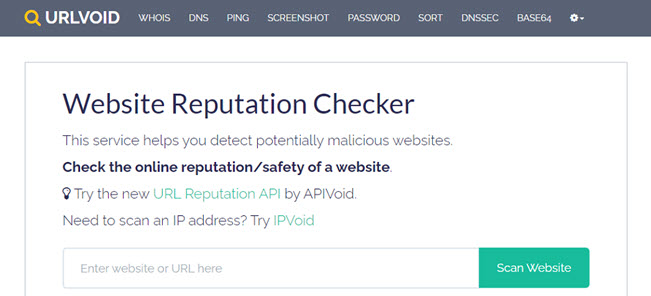 Pros:
Response time is very low.
Clean interface.
Cons:
Customer service could be improved.
2.8 VirusTotal
VirusTotal is a convenient and easy-to-use safe link checker used to test the validity of a URl. It works in tandem with anti-malware engines to detect viruses, malware, and trojans associated with the link.

Pros:
Quick and efficient - saves time.
Offers several useful features.
Cons:
Average user experience.
Account setup can be challenging.
2.9 Sucuri SiteCheck
If you doubt how safe a website URL is, you can trust Sucuri SiteCheck. It remotely checks a URL for signs of security threats, malware, and fraud.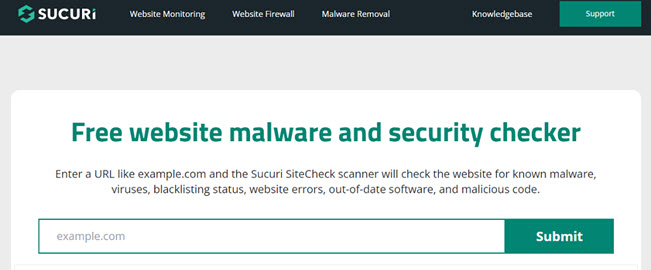 Pros:
Can help recover websites.
Cons:
Poor customer support.
Some level of technical knowledge is required.
2.10 Email veritas
Email Veritas is a cybersecurity service with many features, including the ability to check the validity of a URL. You simply give the URL as an input, and this safe link checker tests it for phishing, scam, and fraud.
Pros:
Clean and simple interface.
Reliable and detailed reports.
Cons:
Customer support has been reported to be unresponsive at times.
Part 3: Tips on How to Monitor Unsafe Links on Your Kid's Phone
It is much easier for adults to protect themselves against malicious attacks on the internet than for susceptible kids.
Therefore, it falls on the shoulders of parents and guardians to ensure their children are safe on the internet and do not fall into the traps of an unsafe link.
3.1 Key Features of Yeespy Website Blocker
Yeespy is one of the most useful apps worth considering when monitoring unsafe links on your kid's phone and blocking harmful apps and websites to keep them from harm.
The software can track social media, text and call data, alerting you to any malicious schemes being hatched. You can then use the website blocker provided by Yeespy to block out and eliminate such threats.
3.2 How to Monitor Unsafe Links on Your Kid's Phone?
You can start to check link safety by following the installation steps mentioned below:
Track Unsafe Links on Android
Step 1: Make A New Account on Yeespy
Share your email address to set up your free Yeespy account.
Step 2: Install the App
Set up the Android app on the kid's phone by reading and applying the instructions.
Step 3: Block the Unsafe Website
Open the control panel and click on Controls. Select Website Block from the list and enter the unsafe link. Finally, click Add.
Track Unsafe Links on iPhone
Step 1: Sign Up Free of Cost on Yeespy
First, create a new account on Yeespy. Enter your email address!
Step 2: Enter the iCloud Credentials
Now, share the child's iCloud account information to verify the iOS device.
Step 3: Block the Unsafe Website
Go to the control panel, and tap the Controls. Next, click Website Block and add the malicious URL before clicking the Add button. The list will be updated.
3.3 What Else Can Yeespy Do?
Yeespy comes with many other features which can help you in assuring the safety of your loved ones.
Not only can you track their real-time location, but you can also keep an eye on their social media activity, SMS and call history, media files, and emails to ensure no malicious links are being sent anywhere.
3.4 Why Choose Yeespy as The Best Website Blocker?
While there are many competitors, Yeespy still pulls ahead with its myriad features to give you a complete and total experience. We put a lot of apps through rigorous tests, but none offered the same peace of mind as Yeespy did. Additionally, it comes highly recommended by satisfied users.
Part 4: What Do Suspicious Links Look Like?
There are several signs that a link may be suspicious.
Some of these include:
The link looks strange or out of place. For example, the link may use a different domain name than the website it claims to be associated with.
The link is sent unprovoked, such as in an email or message from an unknown sender.
The link leads to a website that contains spelling or grammatical errors, is poorly designed, or otherwise looks suspicious.
The link leads to a website asking for personal information or login credentials.
Part 5: What If I Accidentally Clicked on a Suspicious Link?
If you accidentally click on a suspicious link, it is important to take immediate action to protect your device and personal information. The first step is disconnecting your device from the internet by disconnecting from the WiFi.
Next, run a full scan of your device with an antivirus or anti-malware program to detect and remove any potential malware.
If you suspect your personal information may have been compromised, you should also change any relevant passwords and monitor your financial accounts for suspicious activity.
Also, contact your bank and any other relevant financial institutions to alert them of the situation and ask for their help protecting your accounts.
Conclusion
Considering how far we have evolved in technology, you cannot be too careful on the internet. All our personal and sensitive information has been stored digitally.
We cannot risk people with malicious intentions gaining access to this information.
Safe link checkers not only help us prevent malicious attacks on our personal information, but they can help us protect the ones we love and care about the most.
Another way you can protect yourself against such malicious attacks is by using Yeespy's website blocker, which acts as a shield between you and viruses, scams, and frauds.