The notion of tracking a phone might seem like it is straight from a Sci-Fi movie, but it is as easy as counting to three.
Whether you have lost your phone and are panicking to find it or the best of your curiosity is getting to you, you might find yourself looking around frantically for a way to learn how to track a phone location.
Look no further: This article can help you navigate the seemingly daunting journey of tracking a phone.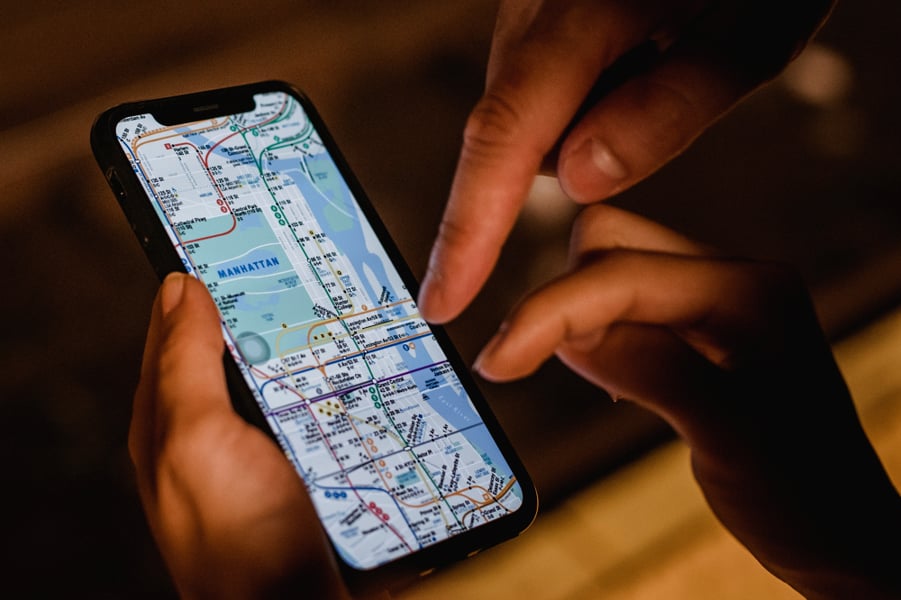 Part 1: FAQs You Need to Check before Learning to Track a Phone
Before embarking on any new journey, one must be equipped with the fundamentals. Let's deal with the basics before we delve into the nitty-gritty details.
1.1 Can I track a phone with just its number?
Yes, it is possible. We know service providers can track a phone with just the number, so it is entirely possible for you to do the same.
Such websites prompt you to enter the number of the cell phone you wish to track. Now, you can sit back and relax as the phone's location pops up.
1.2 Can someone track my phone without me knowing?
While it is possible for someone to track your phone without you knowing, there are several ways to protect yourself from that possibility.
1.3 Can you track a phone without an app?
Yes, it is possible to track a phone location without installing an app, although it can be a bit of a hassle. The easiest way to do this is to use Google FindMyPhone for all your devices.
1.4 Can someone track my phone by texting me?
With the right app or software, someone can track a phone's location by texting the target device.
Part 2: 10 Apps to Track Cell Phones for Android and iPhone
Now let's dive a little deeper and shine the spotlight on the apps to track cell phones. Let's go over a comprehensive list of phone tracking apps for Android and iPhone.
2.1 Yeespy Phone Tracker
Packed with multiple features, the app allows you to track the device in just a few minutes. The Yeespy app has support for both Android and iOS which means it allows you to track a phone's location no matter what kind of device you have.
2.1.1 Key Features of Yeespy Phone Tracker
Yeespy Phone Tracker comprises several features to help you monitor a device. Its features include a text message spy, call tracker, and WiFi monitor, which can help determine the network the device was recently connected to.
2.1.2 How to Track a Phone without Them Knowing via Yeespy?
Check the Yeespy installation guide below:
How to Track an Android Phone with Yeespy
Step 1: Create an Account
First of all, make an account on Yeespy by entering your email address.
Step 2: Set Up the Phone Tracker
Follow the guidelines on Yeespy to set up the app on your target device.
Step 3: Track the Android Phone
Access the online dashboard to check your child's device's GPS location and position history.
How to Track an iPhone with Yeespy
Step 1: Create an Account for Your iOS Device
Make an account on Yeespy by providing your email address.
Step 2: Enter iCloud Login Details
Then you have to enter the iCloud info of the target user, such as
their Apple ID and password.
Step 3: Track the iOS Device
Go to the control panel and search for GPS Locations under the Feature section. To see the location of your target, click on the option "Map View".
2.1.3 What Else Can Yeespy Do?
The powers of the Yeespy app do not meet their limits just yet.
The app also has specific features, such as tracking social networks, which is extremely helpful for tracking activities across all social media apps.
Yeespy's Geo-fencing feature alerts you immediately if your target device is somewhere you do not wish for it to be.
2.1.4 Why Choose Yeespy as The Best Phone Tracker?
There are quite a few reasons why it makes the most logical sense to use Yeespy to track a phone's location.
Its clean and simple interface makes it user-friendly, and the app is secure, offering greater peace of mind.
Additionally, there is helpful customer support, and the fact that the app is compatible across all devices makes life much easier.
2.2 Minspy
Minspy is a quick and efficient app that can help you seamlessly review another user's GPS info. It allows you to stay updated with texts and call on the target device without being detected.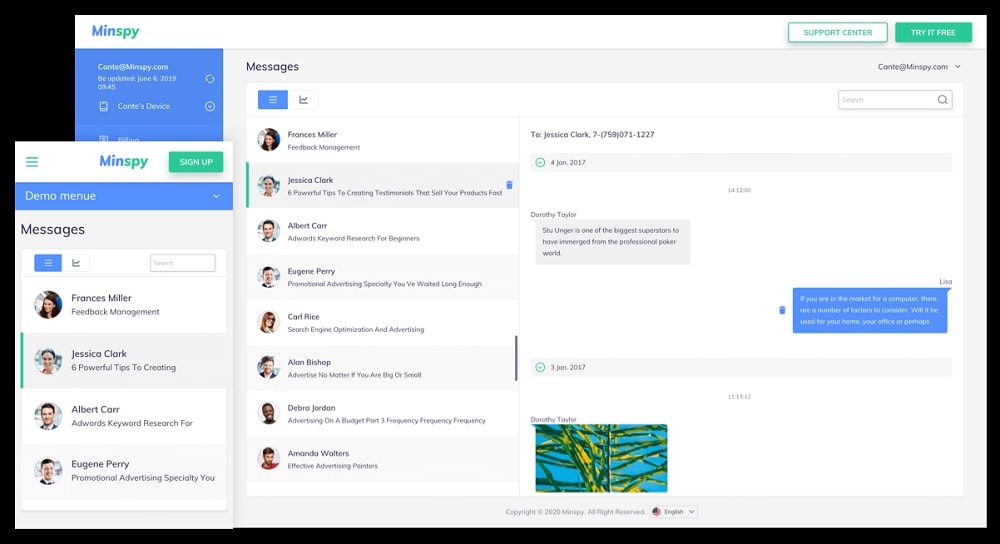 Pros
Available for both Android and iOS.
Multiple plans across different devices.
You can enable stealth mode to avoid being detected.
Cons
No free trial.
Social media monitoring is not as extensive.
2.3 uMobix
Next up on the list is uMobix. The app goes above and beyond as it provides you access to calls, texts, media files, and history logs of the target device.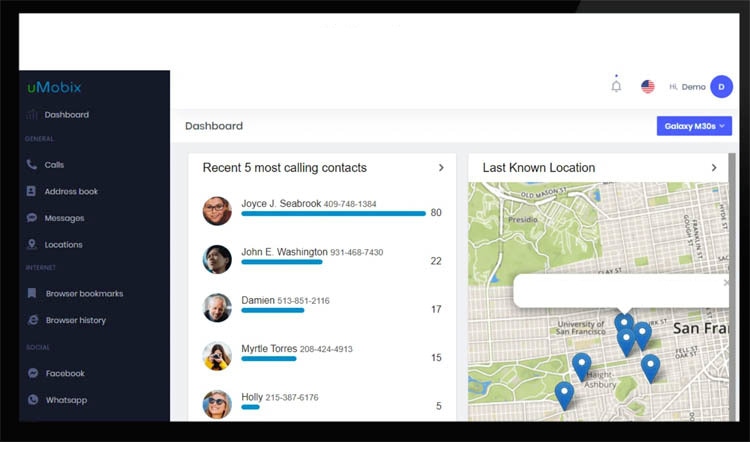 Pros
Stealth mode can be enabled to avoid being detected.
Provides detailed summary reports.
Cons
Limited features in the Basic Plan.
Works better with Android than iOS.
2.4 Glympse
The Glympse app deserves a spot on the list. Its GPS tracker shares real-time updates on the position of the target device. Also, it provides multiple options for social media monitoring.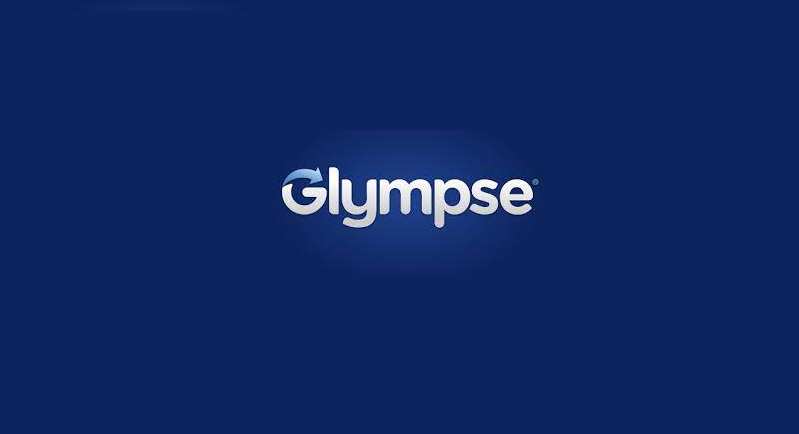 Pros
Free to use.
Available on both iOS and Android.
Cons
Location alerts are not yet available.
Other people can find ways to hide their location from you.
2.5 Hoverwatch
Another phone tracking app, Hoverwatch, has found a way to set itself apart from the crowd. The app does so by enabling call recording amenities and demo mode.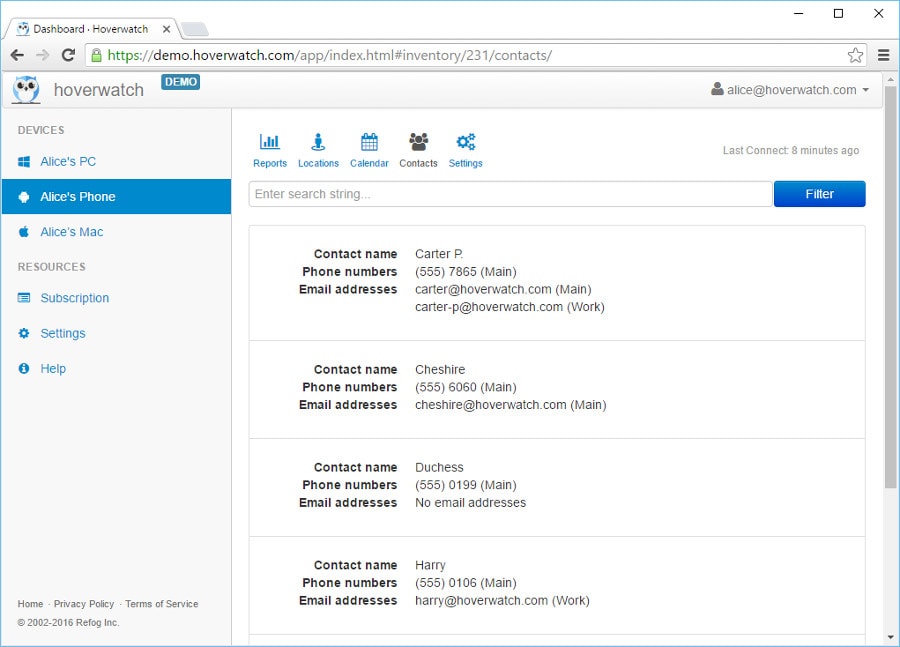 Pros
Features can be tested in Demo Mode.
Available for both macOS and Windows.
Data is saved to your account.
Cons
There can be a slight lag in the updating of data.
You must have access to the target device to install the app.
2.6 Life360
We could not turn a blind eye to Life360 and felt the need to include it in the list of apps to track a phone.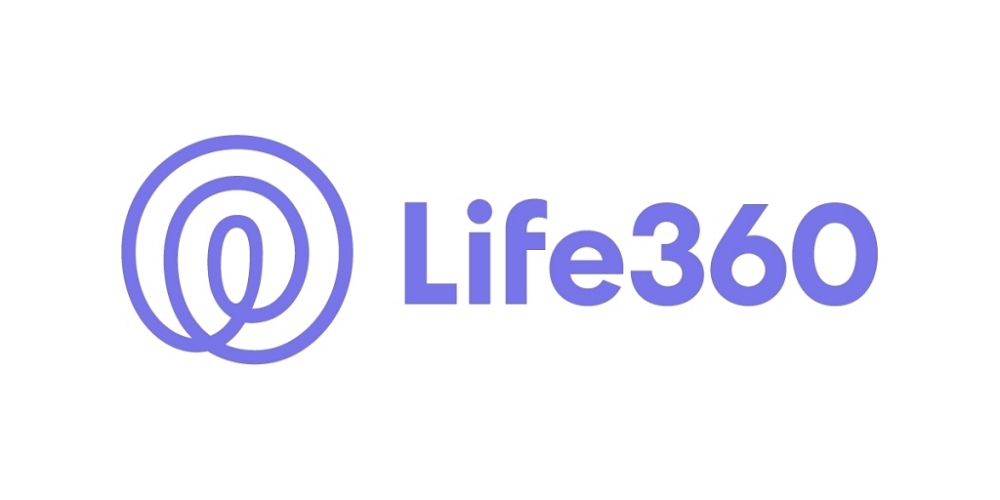 Pros
Pinpoint accuracy of the real-time location.
Available for iOS, Android, and Blackberry.
Cons
The app does not function on tablets.
Customer support could be more robust.
2.7 mSpy
mSpy is another phone tracking app that has made it to the list. In addition to real-time location with GPS tracking, it lets you view call history and media files.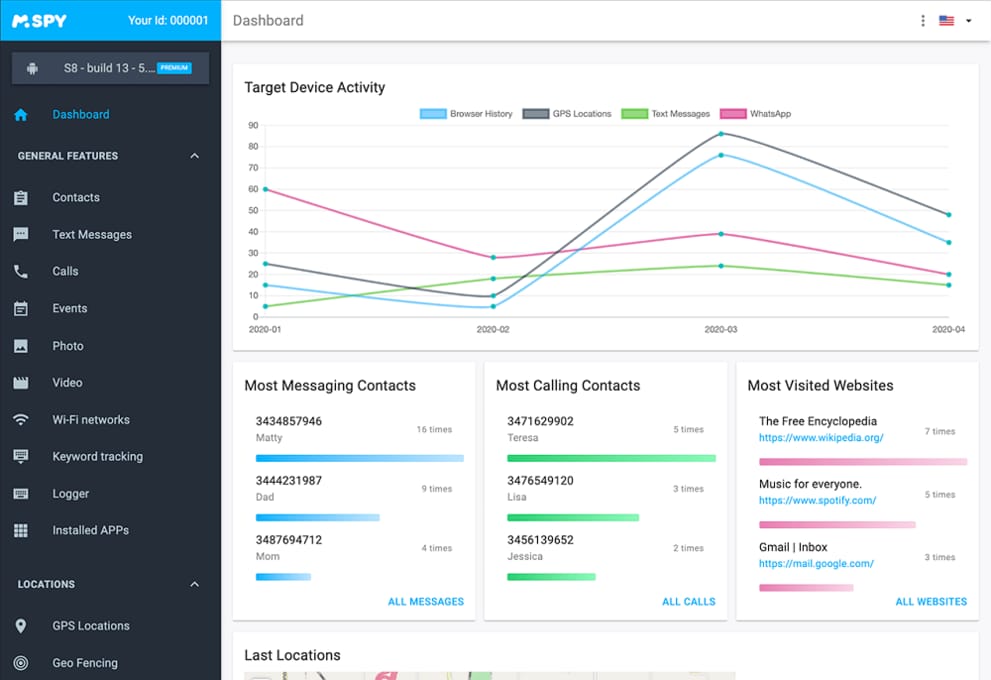 Pros
Exceptional customer support is available around the clock.
Available on multiple platforms.
Cons
Some features cannot be accessed without jailbreaking/rooting your device.
It cannot be used on multiple devices.
2.8 FollowMee
FollowMee is one of the major apps for tracking phone locations that comes highly recommended by its users.
Pros
Smooth interface, which is easy to use.
Exceptional customer support.
Updates are given frequently.
Cons
Sometimes lags in providing information
2.9 Spyera
Spyera is a cross-platform app that can track a phone's location within minutes. It offers an intuitive interface and accurate information to check the other user's location.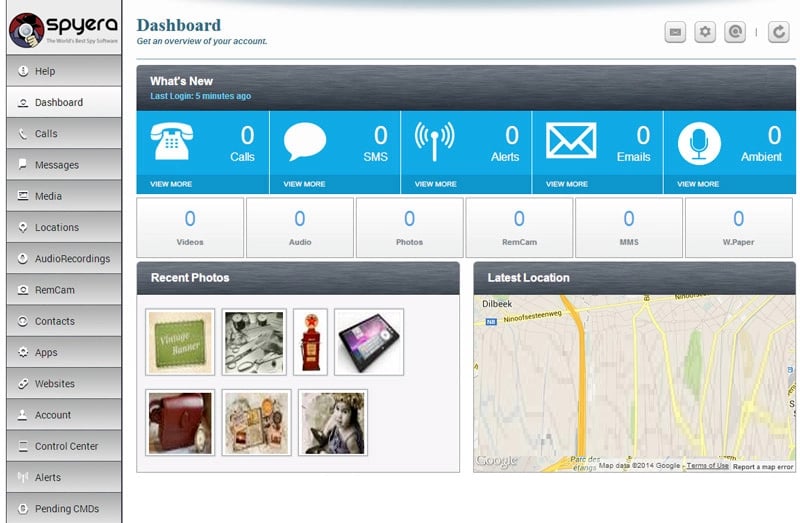 Pros
The stealth mode feature is readily available.
Works across all platforms.
Cons
Some bugs are still in line to be fixed.
Geo-fence feature is not available to provide alerts.
2.10 Spyic
Spyic is also known for its SMS and call tracking. Also, the location tracker provides detailed information on where the target user is on the map. You can also set geo-fencing alerts to keep them safe.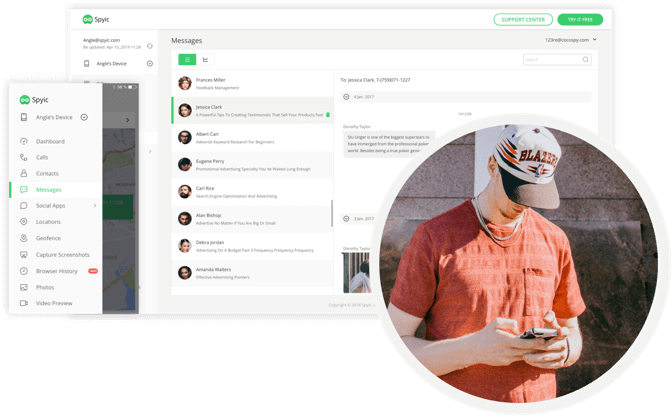 Pros
Doesn't require jailbreaking/rooting.
Simple installation.
Available across iOS and Android.
Cons
iCloud credentials are required to set up on iOS.
Social media tracking results are not sorted.
Part 3: Other Possible Ways to Track a Cell Phone Location for Free
Here are some alternative ways to keep tabs on a smartphone:
3.1 How to Track Android Phone?
There are several ways to track an Android phone; many are quick and easy to follow.
3.1.1 Google Maps
Sometimes simplicity is the key, and Google Maps is a testament to that statement.
How it works:
Step 1: Make sure you are signed into Google Maps with the target device's email.
Step 2: Select the "Profile" icon on the top right and select "Location Sharing".
Step 3: Add a new sharing option and select "Until You Turn This Off".
Step 4: Add your own email to the option and select "Share".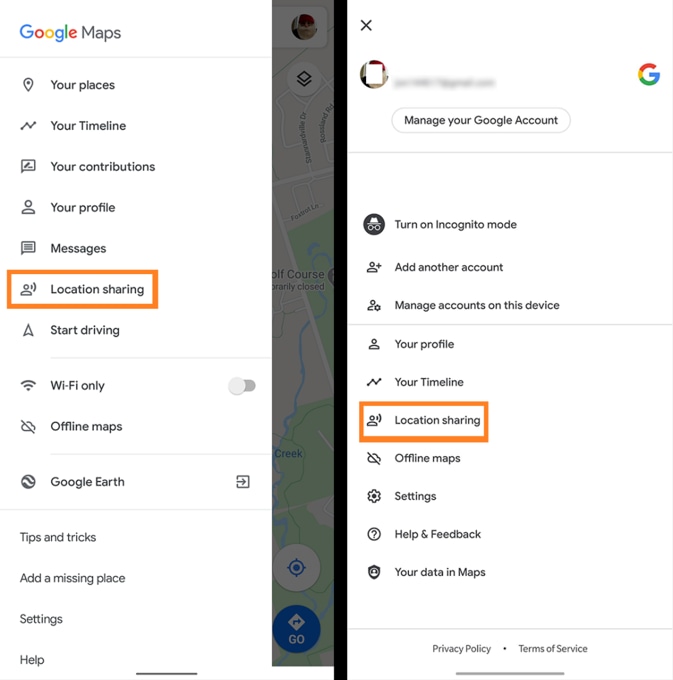 Limitations of this Method
Access to WiFi or mobile data is a prerequisite for this method to work.
3.1.2 Find My Device
Find My Device is probably the most common way to figure out the location of your devices. It only requires you to enter the Google account credentials used on the target device to locate it instantly.
However, the phone must be connected to a network for this method to provide the desired results.
How it works:
Step 1: Download and install the app.
Step 2: Open the app and enable location services.
Step 3: Enter the device's email address. The location will be available.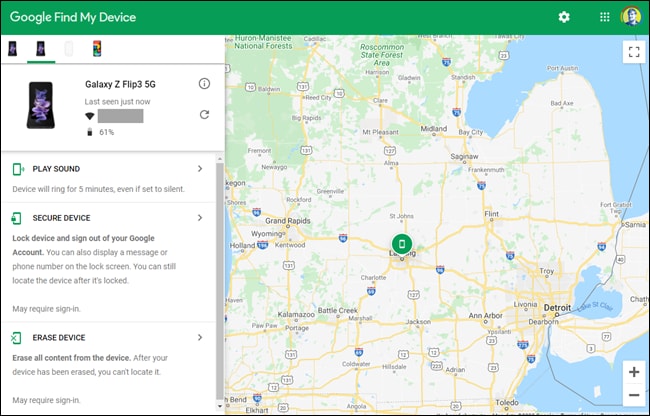 Limitations of this Method
This method only works if the phone is on and has access to WiFi or mobile data.
3.2 How to Track Someone's Location on iPhone?
What if the target user owns an iPhone?
Well, do not panic.
Just follow the solutions mentioned here to learn how to track an iPhone without anyone knowing!
3.2.1 Find My
iPhone users are fortunate enough to have the "Find My" option to seek the location of any of their devices.
How it works:
Step 1: Search "Find My" by searching in Settings.
Step 2: Toggle all the options on.
Step 3: Go to "Find My" and select the device whose location you wish to find.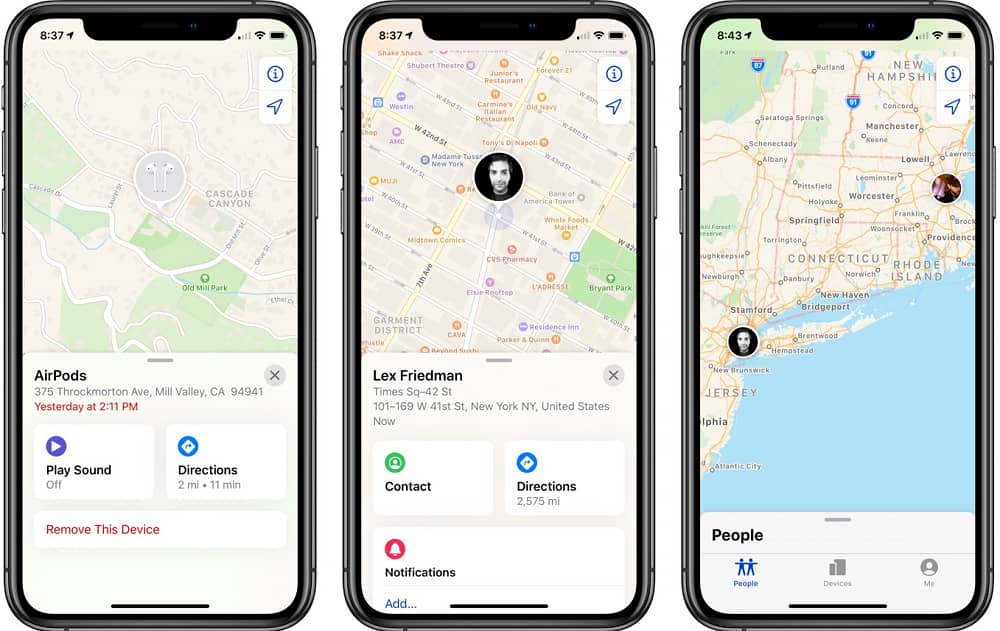 Limitations of this Method
This will only work for devices that are powered on and have the Apple AirTag.
3.2.2 iCloud Location Tracking
Another excellent option for iPhone users to monitor a phone's whereabouts is iCloud Location Tracking.
How it works:
Step 1: Turn on the location services.
Step 2: Go to iCloud and sign in with the target device's credentials.
Step 3: Select "Share My Location" and choose people to share it with.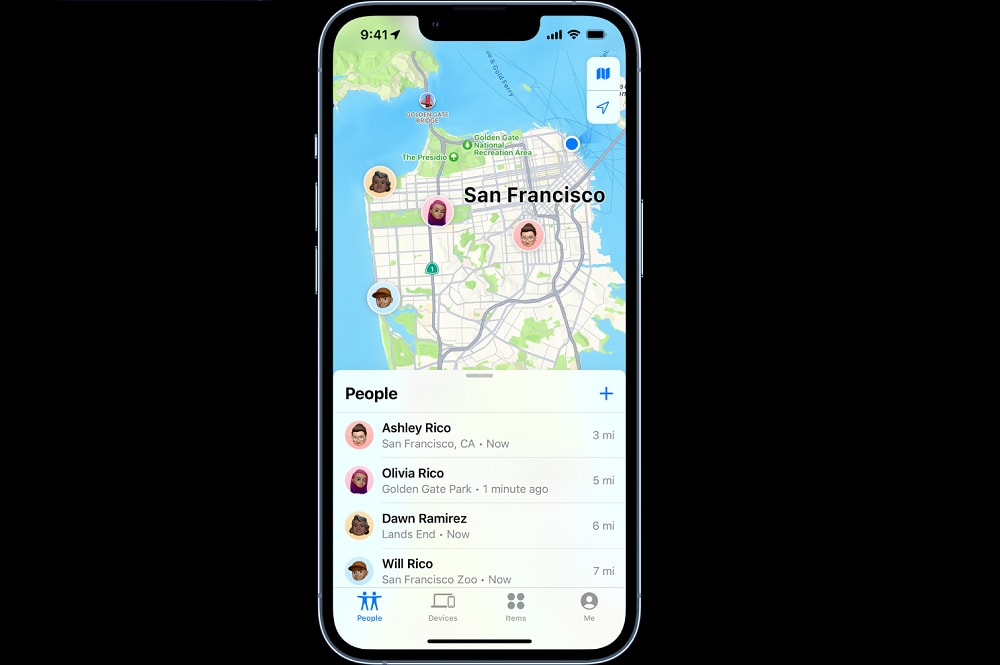 Limitations of this Method
You need to have access to WiFi or mobile data.
Part 4: How Do You Know If Your Phone is Being Tracked by Someone?
If you suspect your phone is being tracked by someone, some tips and tricks can help you quell your fears.
Perhaps the most noticeable sign of someone tracking your phone might be reduced battery life. If your phone's battery drains faster than usual, it could signal that it is being tapped.
Another indication of your phone being tracked is receiving unusual texts and hearing odd clicks and noises during your calls.
These are not typical unless your phone is being tracked, and it is a sign for you to take necessary precautions.
Other signs might include an inexplicable increase in data usage and your phone taking significantly longer to shut down. Keeping all these in mind, you can figure out how to protect your location and data.
Part 5: How Can I Stop Someone from Tracking My Phone?
In today's modern tech world, one can never be too safe with their privacy and data. There are several ways to protect yourself against possible tracking attempts on your phone.
One of the simplest ways to avoid your phone being tracked is to be careful about the WiFi networks you connect to.
Be sure to connect to only the networks you know and avoid public WiFi networks as much as possible.
Conclusion
The marvels of the modern world are limitless; however, they also come with their pitfalls.
You might need to learn how to track a phone's location in case you lose your device or if you are concerned for the safety and well-being of a loved one.
Luckily, there is a cure for everything, and hopefully, by now, you will know about the several apps to track a phone's location.
Weighing the pros and cons, we can see how Yeespy is one of the most secure and easy-to-use options.