There are many people out there who would love to know what the person they're dating is up to or what they're looking at on their phone.
But how to secretly track an iPhone?
In this article, we will discuss a few different methods that will allow you to secretly track someone else's iPhone.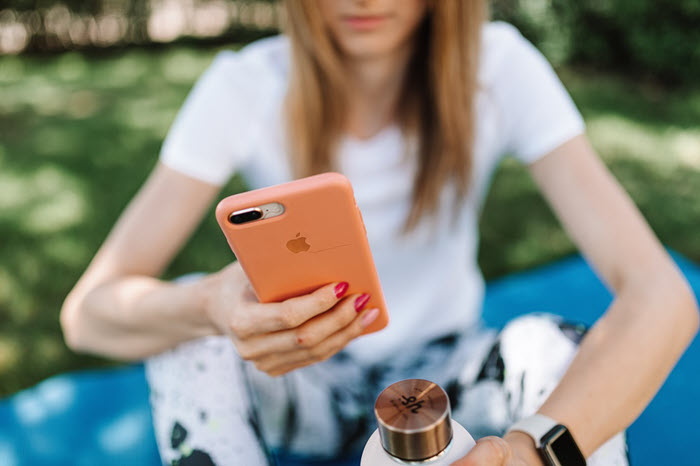 Q: Can You Track Someone's iPhone Without Their Permission?
Generally, it is always a good idea to be transparent and open about your intentions and respect others' privacy.
However, it is permissible for a parent to keep an eye on their child's location and phone activities by whatever means necessary.
So yes! You can keep a check on someone else's iPhone using different means mentioned in this guide.
Way 1: How to Track an iPhone Location Secretly via The Specialized Tracker?
To keep tabs on your child's whereabouts and other phone activities undetected, Yeespy is an excellent choice.
There is no need to physically pick up the iOS device to install any app or software. You are good to go by just entering the user's iCloud account details into your Yeespy profile.
Moreover, with Yeespy, there is no need to jailbreak the iPhone, as every available utility is accessible to you without limit!
1.1 Key Features of Yeespy iPhone Location Tracker
Yeespy is a top-notch platform to track the location of your child's device, enabling you to keep your child safe and helping you to stay informed about their whereabouts.
Using this service, you can check the following:
Their position via map view in real-time
The entire location history with timestamps
Address and location accuracy
1.2 How to Secretly Track an iPhone for Free
Learn how to secretly track an iPhone location for free using Yeespy:
Step 1: Create Yeespy Account
First, make an account used to track the iOS device's location. For it, just enter your email address and "Sign Up".
Step 2: Verify iCloud Details
Share the user's iCloud login details and click "Continue".
Step 3: Start to Check the Location on iPhone
To follow the iPhone's current location, access the online dashboard. Click "GPS Locations" in the features section, and check out the details.
1.3 What Else Can Yeespy Do?
Yeespy can offer a variety of features to help you monitor and manage the user's device use. Some standard features of this app include:
Web filtering: This feature allows you to block access to inappropriate websites and content based on age-appropriateness or specific categories (e.g., violence, pornography).
Text and call monitoring: This feature allows parents to see who their child is communicating with via text or call and to block specific contacts if necessary.
Remote Control: This feature allows parents to remotely control their child's device, including setting limits, blocking apps, and setting up geo-fencing alerts.
1.4 Why Choose Yeespy as The Best iPhone Location Tracker?
Wondering why you should opt for Yeespy? Check out the following reasons:
Customer support: It offers reliable customer support 24/7 in case you have questions or need assistance with the app. It includes a frequently asked questions (FAQ) section, a help center, and email support.
Privacy and security: Yeespy prioritizes the privacy and security of your family's personal information. This includes using secure servers and data encryption to protect your data from unauthorized access.
Ease of use: The app is easy to set up and use, with a clear and intuitive user interface. It doesn't matter if you are not technically inclined, as Yeespy is straightforward to navigate.
Wish to be aware of more techniques on how to secretly track an iPhone? Continue reading!
Way 2: How to Secretly Track an iPhone User on the iCloud Website
Tracking your child's iPhone using their iCloud account is a great way to keep an eye on their location and ensure their safety.
To do this, you'll need access to your child's Apple ID, which is set up when the iPhone is initially activated. Once you have this information, it's easy to track their device using the iCloud website.
Here are the steps on how to secretly track an iPhone location:
Log into the iCloud website using your child's Apple ID and password.
Select 'Find My iPhone' from the main menu.
Click the 'All Devices' drop-down menu and select your child's iPhone.
On the map, you'll see your child's current location.
By following these steps, you'll be able to easily track your child's iPhone and make sure they're safe.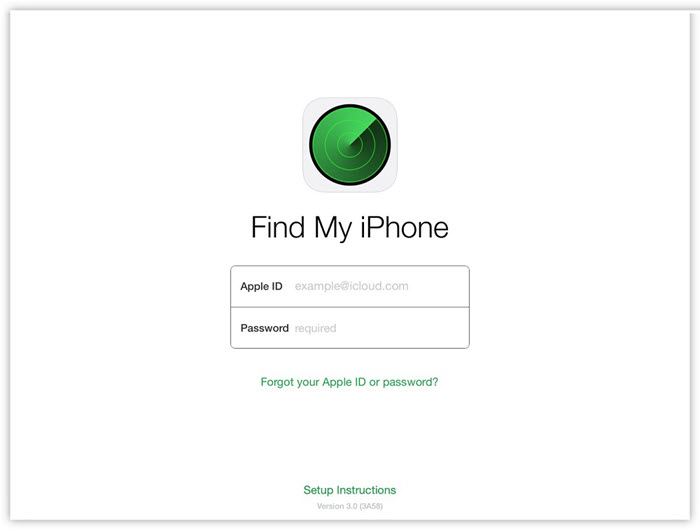 Pros:
Cons:
Need access to the child's iCloud account info
Dependent on a strong network connection
Way 3: How to Track an iPhone Secretly via Find My App
With the Find My App, users can receive regular updates on the location of their and their loved ones' iPhones.
It is a built-in feature accessible across all iOS devices.
These steps will show you how to secretly track an iPhone without iCloud:
Pick up the target iPhone, and tap "Settings".
Go to "Privacy" and select "Location Services".
Now, tap the "Share My Location" option, and select your name from the list.
Tap "Share My Location" to complete the process.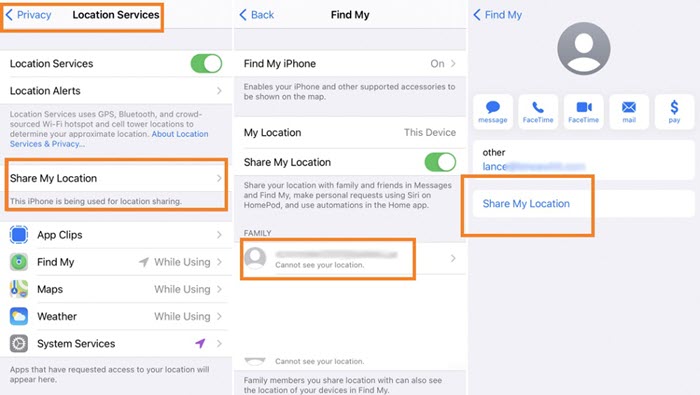 Pros:
Cons:
Requires you taking permission from the user
Needs a stable internet connection to work
Time-consuming
Way 4: How to Track The Location of an iPhone Secretly by Google Timeline
One way to locate a target iPhone without them knowing is by using Google Timeline.
This feature makes use of GPS technology to provide up-to-date information on the iPhone user's location, allowing you to keep tabs on the person without them being aware.
This method is best to understand how to secretly track an iPhone with an Android:
Sign in on any device using the target user's Google account.
Open the Google Maps page or app.
Hit the profile avatar(top-right corner).
Tap the Your Timeline option from the menu list, and select the date to check the location details.
That's it!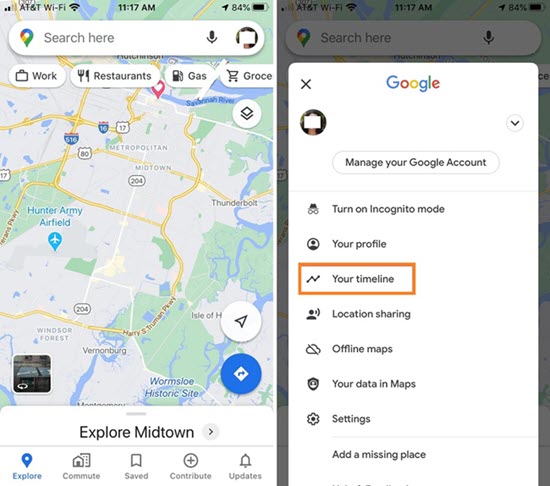 Pros:
Cons:
Most iPhone users do not enable the Google Timeline feature
Comparison of The 4 Ways to Secretly Track an iPhone
Now that we have explored four different methods for tracking an iPhone without a tracking app, it's time to determine which one meets your needs the best.
Check out the following detailed comparison table:
| Method | Yeespy | iCloud | Find My App | Google Timeline |
| --- | --- | --- | --- | --- |
| Recommendation Index | 5/5 | 4/5 | 3/5 | 3/5 |
| Requirements | iCloud Information | Physical Access | Physical Access | Access to Google Account and User's Reliance to Google Timeline |
| Stealthy | Yes | No | No | No |
| Extra Features | Complete Phone Tracking Platform, even in real-time | Tracks Family Members With Their Permission | Tracks Family and Friends Members With Their Permission | No |
| Difficulty Level | Easy | Easy | Easy | Easy |
So, the answer is clear!
Yeespy is an excellent choice. Not only does it provide iPhone tracking, but it also lets you track the real-time location of any Android device.
Plus, extra features are available, and it is easy to use without needing to physically access the iPhone.
Conclusion
If you're looking to learn how to secretly track an iPhone, you can use a few methods.
You can use a spy app like Yeespy, which will allow you to track their location, read their texts, and more.
Or, you can use the Find My app, iCloud, or Google Timeline if you're already friends with the person you're trying to track.
Thanks for reading! We hope this article has helped you.