Are you concerned about your kid's safety and want to know their whereabouts? There are many online applications that promise to show the location history of a mobile number. Still, in reality, these apps are scams.
Well, then, how to track the location history of the mobile number?
There are some reliable ways to track location by mobile number.In this article, we will show you how to find the information in a few simple steps.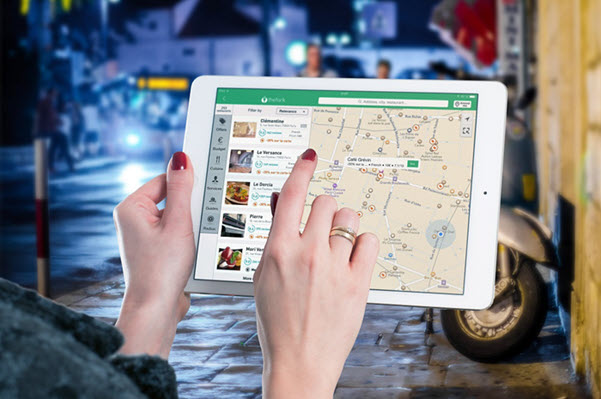 Part 1: 2 Ways to Track Location History of Mobile Number
Google timeline is the most general application to track and confirm mobilelocation. However, there are many reliable and professional apps as well that you can easily find online.
You can use these apps to track your children's location or even find your mobile phone if it gets stolen.
Way 1. Use A Professional App to Track the Location History of Mobile Number
Yeespy is one of the best mobile number locationtrackers for parents. It is available for both iPhone users and Android users.
To start tracking the location history of mobile numbers freeof cost, go to their website and sign up with your email address.
The Yeespy account is free, without any hidden charges. Follow the instructions on the app to set up the account. You can set it up on the phone or even a tablet.
To begin tracking mobile phone location history, go to the control panel.
Key Features of the Yeespy Spy App
With the Yeespy app's GPS phone tracker, you can find the phone's accurate coordinates and address. It will show you the live location as well as the location history. The places show up in both the map and list views with the exact date and time.
The live location is real-time and efficient. It updates every few minutes without interfering with any other app on the target device.
The most amazing feature of the app is its stealth mode. You can track someone's location without them knowing. The app remains completely undetectable.
How to Track Location History of Mobile Number
Here is how you can mobile phone location history with the Yeespy spy app:
Use Yeespy for Android
Step 1. Create An Account For Free
Enter a working email address to make an account for free.
Step 2. Set Up the Yeespy App
Apply the online instructions on your account to add the app on the target phone.
Step 3. Track the Android Device Location
Open the online control panel, click on the GPS Location feature. There, check out the location on the map in real-time.
Use Yeespy for iPhone
Step 1. Make Your Yeespy Account For Free
Provide your email ID to make a Yeespy account.
Step 2. Share the User's iCloud Credentials
Now, enter the target user's iCloud account data to sync the device.
Step 3. Track the iPhone Location
Go to the control panel and check the location remotely.
What Else Can Yeespy Do?
Besides GPS tracking, the Yeepsy Spy app can track 42 data types, such as media files and messages, contacts, calls, photo galleries, and social apps.
Two of the most unique features are the Keylogger which tracks all the keystrokes on the target device. It works for the android version of the apps only.
Another interesting feature is Geo-Fencing. You can enter an address into the app. When and if your child leaves or enters that area, you will get a notification.
Way 2. Use Google Timeline to Track Mobile Phone Location History
Google Timeline is perhaps the most common app used to track the location of mobile numbers. If you are signed into a Google account and turned the location history on, then Google will automatically save your details wherever you go.
If you want Google maps to track your mobile phone, go to the "Location History" of your account. Turn on the "Location History". Google maps will now be tracking your location. You can view this under the "Timeline".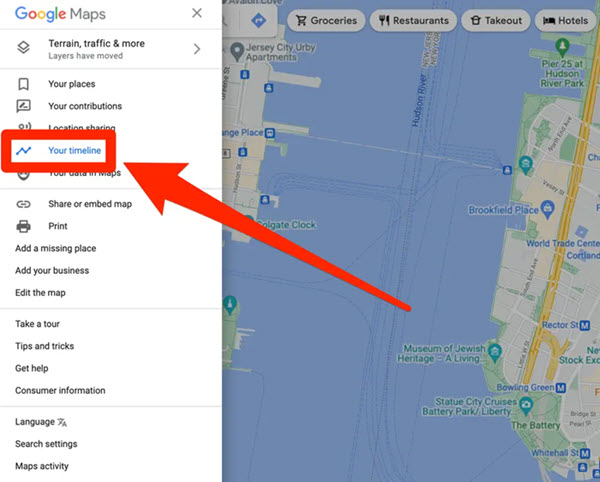 The advantage of using Google timeline is that it takes the location data to improve your experience of other apps.
This means Google will show you traffic updates, relevant ads, personalized maps, places to visit, and your mobile number and phone location.
Part 2: How to Manage Your Location History?
Now that you know how to track the location history of a mobile numberlet's also learn how to manage the location history.
Can you turn it on and off, or can you delete it?
2.1 How to Turn Location History On or Off?
Turning the location history on and off on Google maps is quite simple.
If you do not use a personal account, your administrator at school or work will have the option to turn the location history on or off. Or they can make this setting available for you.
On the Google account, go to "Location History".
In this tab, you will be given the option to choose if you want to turn the location on or off.
If you want to turn off or on location for all devices under your account, turn Location History on or off.
If you want to turn the location on or off for one device only, then go to "Devices on this account".
Turn the device's location on or off.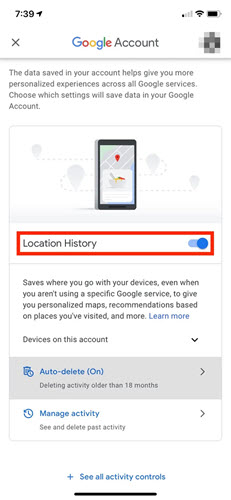 2.2 How to Delete Location History?
You can permanently delete the entire location history. It is also possible to only delete a stop or a day from the location history. Following are the steps to delete all location histories using the mobile and desktop apps.
On the Mobile App
Open the Google Maps
Tap on your initials or profile picture to go to the account
Go to the "More" option on the top right
Then go to "Settings and Privacy"
Under this, go to "Location Settings"
Under this tab, tap "Delete" to erase all Location History
On the Desktop Application
Open the Google Maps
Go to the "Timeline"
Tap on "Delete" to erase all of the Location History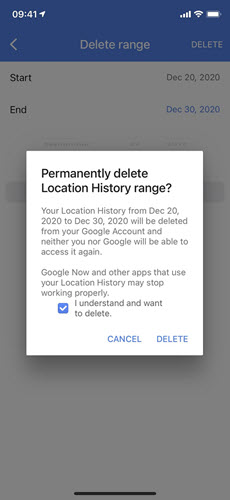 Part 3: FAQs on Location History of Mobile Number
Learn some handy tips on mobile number location here:
3.1 How to know the location of a person through his mobile number?
Simply enable a location spy app, such as Yeespy on the target phone, and check their online location with ease. You can also use the SIM Tracker feature for this!
3.2 How to track the location history of mobile numbers for free?
You need to open the Google Maps app.
Then tap on the menu location sharing.
Choose the person you want to track.
You need to select the friend's icon more and refresh for an updated location.
3.3 Can I track my wife's phone without her knowing?
The answer is yes!
There are two possible ways to do it. Either use a phone lookup service to locate your wife's location in a particular area.
Or, you track your wife's whereabouts using a tracking app called Yeespy! You must install it, log in, and follow the steps mentioned.
3.4 Can I track a phone location by its number?
Yes!
You can look into someone's phone location by entering their number into a lookup service online. However, such services only share known addresses of the user.
For more accurate information, you can use Yeespy's GPS Location or SIM Tracker feature.
3.5 Can you see someone's past locations on Find My iPhone?
The answer Is no. Unfortunately, providing location history is not an option on Find my iPhone. You can only view the current location of the person you want to track down.
Conclusion
Location tracking is the most important aspect when it comes to parental control. If you know your child's location, your heart will always be at ease.
Otherwise, you will continuously worry about your child's well-being. To avoid such a situation, you can use google maps and Find My iPhone to view the location history of the mobile number.
But, believe me, Yeespy is the best tracking app for this purpose. It's completely free, easy to use, and gives 100 percent accurate results. You can even use it to track the history of locations your child has visited. So, feel free to explore its various features, be a caring parent and protect your child from inevitable circumstances.