Facebook is one of the most popular social media platforms and the third most used messaging platform.
Unfortunately, most people abuse it to cheat their partner, so if your spouse spends a lot of time in someone else's Facebook Messenger chat, it's time to wear your spy goggles.
In such situations, you often get hasty. You expect to make the wrong move, which is why knowing how to check boyfriend's Facebook messages without touching his phone is a must.
Here's how!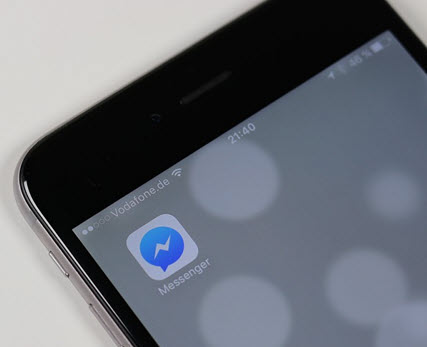 Part 1: Reasons Why You Need A Facebook Spy App to Check Boyfriend's Facebook Messages
Relationships are all about building trust and maintaining loyalty with one another.
With the evolution of the internet and widespread use of social media platforms, people are now more into hiding stuff which can lead to infidelity.
There can be many reasons for checking your boyfriend's Facebook messages, that include:
Extra Possessive of their Friends List

If your boyfriend is acting wary and extra possessive about the girls in his friend list, then you won't need any other reason to check their messages.

No Secrets in Relationships

The first rule of every relationship is that both partners shouldn't have any secrets from each other. You must know with whom they're calling or chatting on Facebook Messenger.

When there are secrets, there are lies, and then the trust is broken.

These Facebook Messages Spy apps can help you clear your head to focus on important points of your bond.
Part 2: What Should The Best Facebook Spy App Be Like?
Facebook Spy apps are quite straightforward to check any Facebook secret messages cheating.
If you're in a struggle to find a reliable Facebook spy app, then you must look for the following features in it:
Anonymity

Facebook spying app offers a high-end privacy protection system to keep your identity anonymous while going through your partner's chats.

The targeted user shouldn't be able to tell that their activities are being tracked. It must run in the background and must have a stealth mode.

Effectiveness

A great Facebook spying app should rank high in effectiveness, showing top-level accuracy from who you're willing to target to who you're tracking.

You must get accurate results, and every bit of information must be relevant to your search.

Ease of Use

The spying app must be easy to use with simple installation and low-impact storage. Every feature should be able to be implemented easily without much knowledge or experience beforehand.
Part 3: Top 10 Apps to Check Boyfriend's Facebook Messages without Touching His Phone
Now you know the characteristics of a good Facebook messages spy app.
Check out the following top 10 spy apps that will help you gather proof if your partner is cheating on Facebook messenger:
3.1 Yeespy Facebook Spy App
The first spy app on our list is Yeespy which is the best to stop every ifs and buts of your partner's activities.
It is a multi-purpose third-party monitoring app which is perfect for catching your cheating boyfriend in the act.
Yeespy allows its users to target any smartphone to take charge of their activities on every app, from location history to Facebook chats.
The app even keeps a record of the words frequently typed by the target, including passwords, pins, etc.
Key Features of Yeespy Facebook Spy App
Following are some of the exclusive features of the Yeespy Facebook Spy app:
Track Calls: Monitor all incoming and outgoing calls on Facebook messenger. You can even check the call duration, date, time, and other details about the calls.
Discover Synced Contacts Details: Get complete contact information about any certain person from the targeted phone.
Monitor Chats: Another feature is message monitoring, where you can read the entire conversation. Moreover, you can track the deleted message without any restrictions.
How to See Who Your Boyfriend is Messaging on Facebook
Follow the guidelines below and learn how to check boyfriend's Facebook messages via Yeespy:
How to Find out If Your Boyfriend is Cheating on You on Facebook on Android
Step 1: Make A New Yeespy Account
To begin, enter your email address, required to create an account for free on Yeespy.
Step 2: Install the App
Apply the instructions mentioned on your Yeespy account to enable the app on the boyfriend's Android device.
Step 3: Read Facebook Messages Remotely
Access the online control panel. Click the Social Networks option, and click Facebook to view the information.
How to Find out If Your Boyfriend is Cheating on You on Facebook Messages without Touching his iPhone
Step 1: Set Up a Yeespy Account
Create an account using your email address on Yeespy.
Step 2: Share the Boyfriend's iCloud Account Credentials
Verify his iOS device by providing his iCloud credentials, such as Apple ID & Password.
Step 3: Read the Facebook Messages Exchanged on His iPhone
Finally, open the online dashboard, click the Social Networks tab, access the sent and received messages.
What Else Can Yeespy Do?
Regarding the vast range of feasibility features, Yeespy isn't restricted to only monitoring and tracking.
The following are the aspects that make Spylix stand out among others:
Geofencing
App blocking
Ease of Use
High OS compatibility
WiFi usage restriction
Why Choose Yeespy as The Best One?
Yeespy saves you a lot of time and effort by directly targeting the root of the problem.
Why use shady websites online or waste time performing lengthy procedures when you can simply track the data of your cheating spouse's phone?
You don't even need a jailbreak or a rooted phone to install; everything can be done on the stock firmware.
3.2 Message Peeping Tom
If you want to read messages without letting the sender know, then you must try Message Peeping Tom.
It helps you go through any targeted user's chat without fear of getting detected so that both parties remain unaware.
Since it is dedicated to messages only, you can even find the oldest conversation quite easily and can record the time stamp as well.

Features
Manage your messages easily, including marks as read/unread, delete, etc.
Automatic deletion of spam
Protect your chats with pins and fingerprints
Keep a record of your chat statistics from the timestamp, response rate, disappearance rate, etc.
Pros:
Amazing graphics
Reliable
Old and detected chats can be detected
Excellent GPS locator
Cons:
Unnecessary ads
Needs improvement for fixing bugs
Comparison
In comparison to Yeespy, Message Peeping Tom is a more recent app that needs to fix bugs and reduce ad content.
3.3 eyeZy
If you're searching for a futuristic spying app, then eyeZy is an ideal app that incorporates artificial intelligence on the targeted device.
You can monitor your spouse's activities with the help of this distinctive app, especially about the information sent or received to any specific user.
Also, it lets you scan social media platforms and messaging apps giving you the entire conversation on any app.

Features:
Track GPS location and location history
Block any app within seconds
Discover social calendar
Monitor different social media apps
Pros:
Discover any hidden chat, videos, audio, or photos.
Previously saved WiFi networks
Authentic keyword tracking
Cons:
Inconsistency in customer support
Comparison
Yeespy offers 24/7 customer support which is difficult to find in eyeZy.
3.4 Snoopza
Snoopza is another tracking app helping its users to gather information about any targeted user without letting them know. It is dedicated to Android users but is easy to install.
Moreover, it allows you to track and record Facebook messenger calls and messages. Plus, it is widely used by employers, parents, and suspicious partners.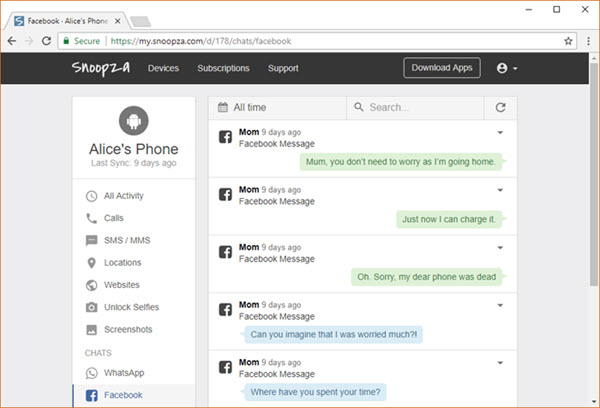 Features
Monitor Facebook activities and conversation
Track social media
Browse web history
Know when your targeted user replaces their SIM Card
Pros:
Simple to install and use
Easy to record activities
Ideal for tracking calls
Cons:
Sync every information from the targeted phone
Restricted by the region can't be used worldwide
Comparison
Snoopza services are restricted by the region, but Yeespy can be used worldwide from anywhere to any device.
3.5 Minspy
Minspy is an easy-to-use application with an intuitive and secured interface, making it easy to track any phone or tablet quite conveniently.
It doesn't restrict its services to smartphones only but computers since it is an online platform.
The best part is you don't have to be near the device to track it, nor does it require any jailbreak. Moreover, it doesn't need any extra skill or knowledge to work properly.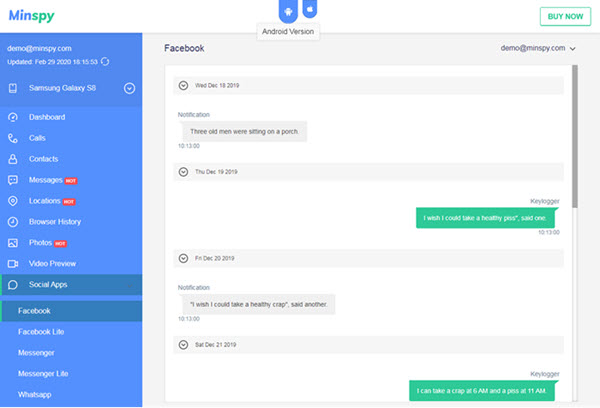 Features
Call log and chat monitoring
GPS tracking
Stealth mode
Social media navigation
Pros:
Easy to setup and install
Anonymous tracking on any device
Don't need to physically access the device
Cons:
No free trial
Different features for Android and iOS devices
Comparison
When it comes to Minspy, it has limited features as compared to Yeespy.
3.6 Highster Mobile
If you're looking for a free smartphone monitoring app, then Highster Mobile can be your go-to spying app. It is designed specifically for parents to keep track of their children's online activities.
The app is available on Android and iOS devices that track every online and physical activity.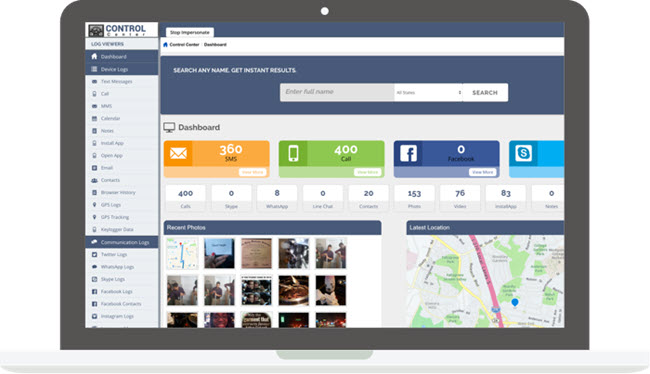 Features
Track calls and chats
Advanced keylogging feature
Monitor browsing history
Navigate browsing history
Stealth camera to record real-time footage or examine video calls.
Pros:
One-time fee without additional charges
Simple tracking options
Cons:
Limited set of features
No WiFi-usage restrictions considering it's a parental control app
Difficult to use on Apple devices
Comparison
Along with a vast range of features, Yeespy also offers simple integration with iOS devices.
3.7 Hoverwatch
Hoverwatch is one of the renowned phone tracking applications that are available only on the Android operating system but can be operable via Mac as well as Windows.
It allows you to record every action on the targeted devices, from text conversations, call logs, audio, videos, and GPS locations.
Besides, you can browse every real-time activity on your spouse's device by logging into your Hoverwatch account.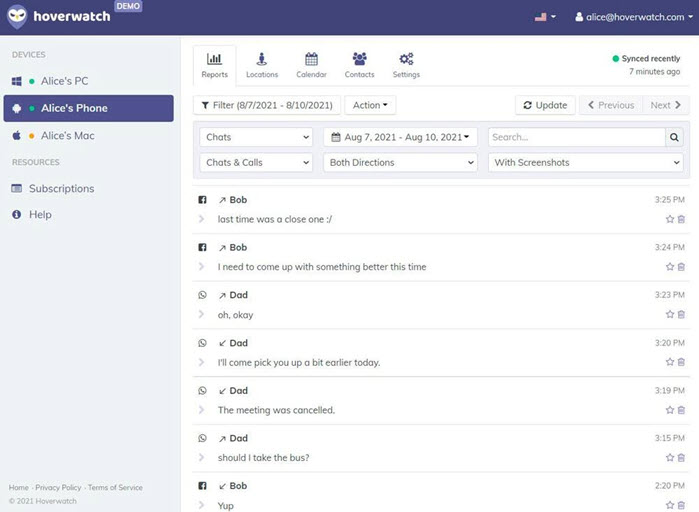 Features
Camera tracking on Facebook messenger video calls
Track browser history
Record calls and messages
Keep a log of sent and received messages
Pros:
Anonymous tracking
Budget-friendly
Free version available
Cons:
Not accessible for iOS
Limited usage
Comparison
Unlike Hoverwarch, Yeespy allows you to track renowned smartphone operating systems, i.e., Android and iOS.
3.8 iKeyMonitor
If you want to confront your spouse with a detailed summary of their Facebook Messenger activities, then iKeyMonitor can help you generate one without any effort.
It is meant for people who don't have much time to keep their eyes focused on every move but still want to stay updated.
With it, you can dig into your partner's action with proper media and timestamps.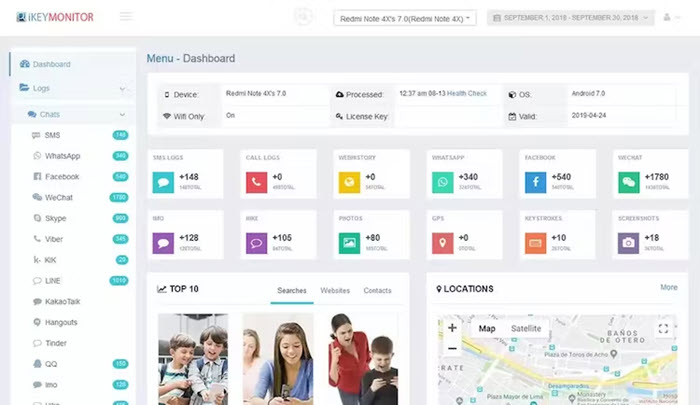 Features
Call history logs
Call recording
GPS tracking
Social app monitoring on a jailbroken or rooted phone
Pros:
Highly intuitive dashboard for tracking targeted device
Anonymous screenshots
Trial version available
Comprehensive activity report
Cons:
Can't record calls, or even screen recording is disabled
Comparison
Yeespy offers real-time streaming and screen recording features for call and message recording.
3.9 TheTruthSpy
Another tool in our list is TheTruthSpy, dedicated to monitoring employee activities but works well to track your spouse's Facebook messages.
It has many different features when it comes to monitoring and accessing private information.
Since the theme and working dynamic are meant for corporate usage, you may need some prior knowledge.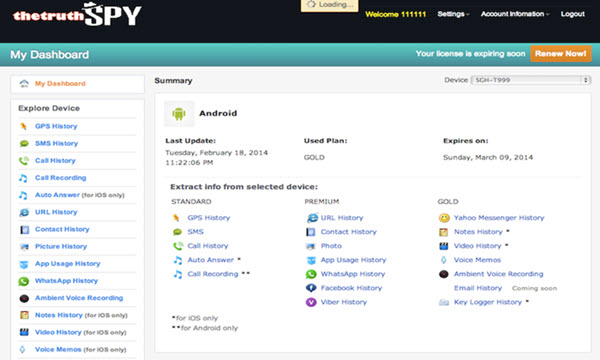 Features
Monitor online activity
Track chats and call log
Browsing history management
Keystroke detection
Location monitoring
Pros:
Stay anonymous while tracking Facebook records
Real-time tracking for any device
Record calls with time-stamp
Cons:
Requires jailbreak
No trial version is available
Can't claim a refund after five days
Unstable on the latest iOS devices
Comparison
TheTruthSpy falls on the higher spectrum of pricing, while Yeespy being an affordable choice, doesn't require rooting or jailbreaking your phone with a trial opportunity.
3.10 Spyic
Spyic is similar to most popular spying applications, where you can monitor any targeted phone messages or calls without hassle.
You can keep track of every incoming and outgoing update to catch any suspicious activity. The app is prominently meant for chat-based apps like Viber, Telegram, WhatsApp, etc.
You can keep a strict eye on every action, from audio, videos, and photos in the gallery to the current location.
Moreover, you can even set a no-go zone on the map where your spouse can't enter. Once the device goes near that zone, the app will send you an alert.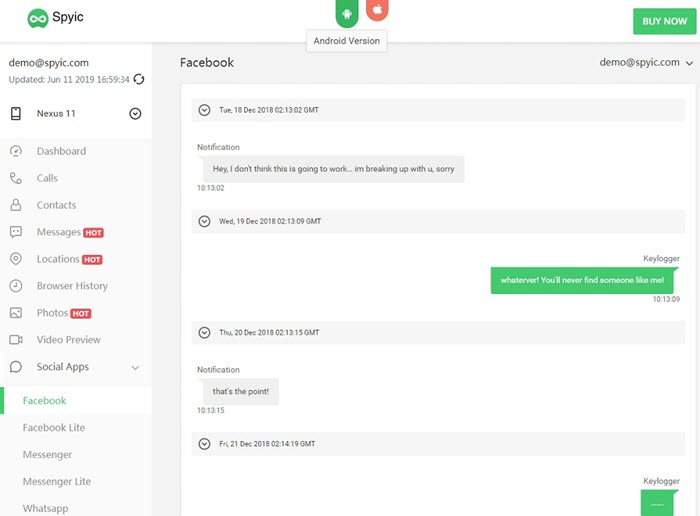 Features:
Call details tracking
Text messages monitoring
Hidden mode
Geo-fencing set up
Navigate browser history
Pros:
Set up geo-fencing details easily
Check the number of times the targeted user visited any particular site
60-day money-back guarantee
Cons:
Expensive iOS version
Unresponsive customer support
Comparison
Yeespy has quite an affordable pricing plan with highly interactive customer service representatives
Part 4: What to Do If Your Boyfriend is Cheating on Facebook Messenger?
After knowing all about your boyfriend's Facebook secret messages cheating through reliable spy apps, you must follow some simple methods to make effective decisions:
Give Yourself Some Time

Initially, it isn't wise to force yourself to make a decision immediately.

Take a breath and give yourself rest to think straight. Initially, you may get emotional upon finding out that your partner is cheating on Facebook messenger or other social apps.

Listen to What They Have to Say and Talk To Your Partner

Give them a chance to talk.

Although everything they say can sound irrelevant to you, please don't cut them in between and find guilt in their words.

Tell them only to tell the truth regardless of how painful it might come across.

After you're ready, confront your partner with proof you find about them. We would recommend going with a neutral approach rather than attacking them.

Ask Questions

Don't push back any questions, and try to keep your focus on the facts you've discovered and the follow-up perspectives you've seen.

Don't Hold Back to Make Any Decision

Although you can't deny that once a cheater is always a cheater, some people tend to change.

Consider your history and bond towards one another, analyze how apologetic they are and make sure to keep yourself a priority.
Conclusion
If you sense betrayal in your boyfriend's actions and activities, then there's no sense in keeping the bond.
However, you must be sure about every aspect of their affair before jumping to any conclusion.
To get it right, you must keep an eye on each of their social accounts with reliable spy apps that have features on how to check boyfriend's Facebook messages without touching his phone.
Although we've mentioned quite a number of tools, some of them outshine due to their incredible characteristics, just like Yeespy.
An all-in-one tool that can help you keep track of your partner's online activity without having physical access to their phone.