As humans, we're prone to ever-changing circumstances, and location-sharing features on the iPhone are a great way to notify your friends and family about your whereabouts.
However, it can severely compromise your privacy, inviting unauthorized people to track you down. The only way to prevent any mishap is to know how to stop sharing location without them knowing.
If you don't want others to see your online location, there are many ways to stop sharing it, some of which are mentioned in this blog.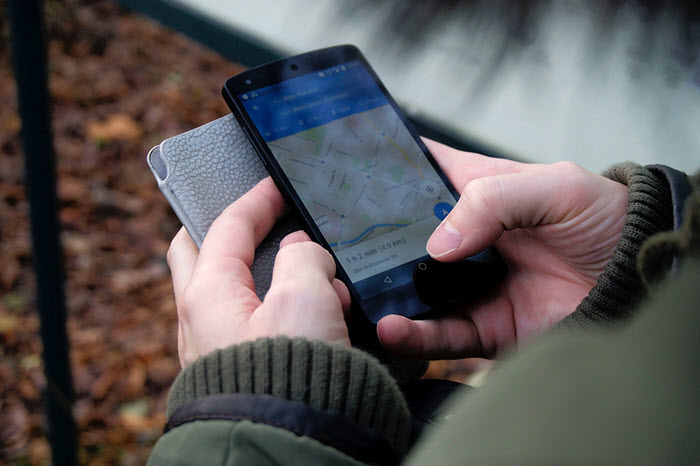 Part 1: Is There a Way to Stop Sharing Location without Notifying The Person?
Most smartphones have built-in location-sharing features that help ensure your family's security and ease of navigation.
You can find your lost phone, track any place in a new city or even monitor your child with this feature.
However, criminals and hackers can use location sharing as a tool for data breaches and stalking.
Those who want to disable location without letting others know can easily do it with simple changes in iPhone settings.
Part 2: How to Stop Sharing Location on iPhones without Them Knowing
Turning off the location-sharing feature extends from user to user, mainly depending on frequently used apps.
Some of the highly effective methods include:
2.1 Turn on Airplane Mode
One of the fastest ways to stop sharing your location on your iPhone without alarming anyone is by turning on Airplane mode.
Indicated by a small airplane on the top right of your screen, this mode is dedicated to disabling your network and internet access, terminating your connection with the land just like in an airplane.
There can't be any other way to know your location once you've turned on airplane mode.
Following are two simple ways of switching on the Airplane Mode on your iPhone
Method 1
Open up the control panel
Locate the Airplane icon and tap on it
Airplane Mode would be activated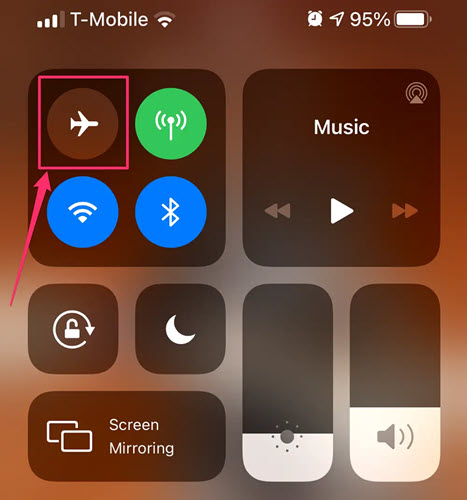 Method 2
On the Settings app, go to Airplane mode
Toggle on the button, and your location sharing will be temporarily disabled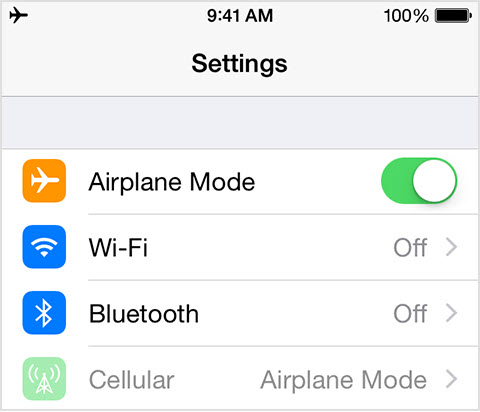 2.2 Close Certain Apps Permission
Certain apps, like Snapchat, WhatsApp, Instagram, etc., require access to your device location to make it completely operational.
Sometimes these apps can drain your battery and initiate data breaches. You can easily disable their permission to stop sharing your iPhone location.
Try out the steps below to turn off the permission:
Go to the Settings
Tap on the Privacy menu
On the Location Services section, choose the apps whose permission you want to disable
Now select Never to avoid sharing location anytime soon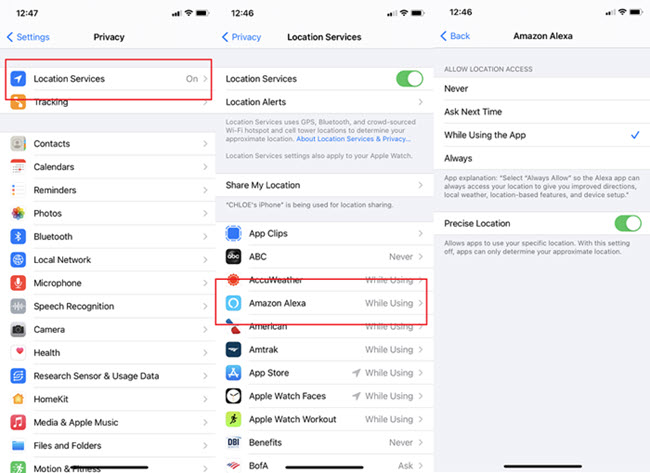 2.3 Turn Off "Share My Location"
The "Share My Location feature on iPhone" is responsible for sharing your current location with certain apps.
For those who want to stop location sharing can turn off this feature without letting anyone else know.
You can implement this method only on iOS 8 or the latest versions.
Open the Settings on your iPhone
Locate the Privacy menu by scrolling down
Go to Location Services
Toggle off the button to disable the location-sharing feature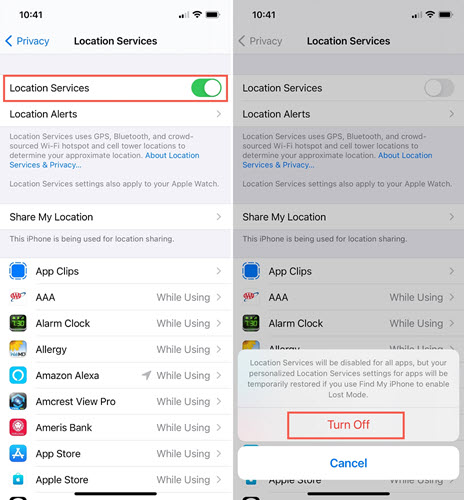 2.4 Stop Sharing Your Location on Find My App
Apple has suggested an official way to stop sharing location through your iPhone with the help of the Find My app.
It is an iOS-based service through which even people with ill intentions can locate you.
One of the primary advantages of this method is that you can stop sharing locations without letting any other person know, and it can result in lost contact from any certain or all connected devices.
Learn how to stop sharing location without them knowing on iPhone via the Find My app:
Go to Find My app on your iPhone
Open People tab
Tap the contact you don't want to share your location with
Select the contact
Tap on Stop Sharing My Location option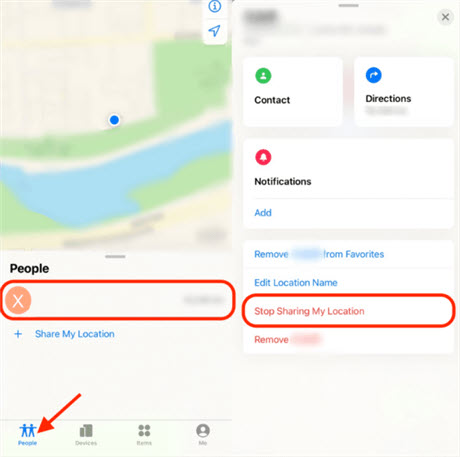 2.5 Use Another iPhone to Change Your iPhone's Location
If you want to stop sharing your iPhone location, then all you have to do is try using another iPhone.
This is the trick method: you can share your location from another iPhone, and your current position will automatically be hidden.
For the effectiveness of this method, both iPhones should be logged in with the same Apple or iCloud account.
Following are the steps on how to stop sharing location on iPhone without them knowing:
Your iPhone
Go to Settings
Open your iPhone profile
Switch on Share My Location
Other iPhone
Launch Find My app
Tap the "Me" icon
Choose the "Use this iPhone as My Location" option
This way, you can trick people by sharing the new iPhone's location and take your device with anyone with a hidden site.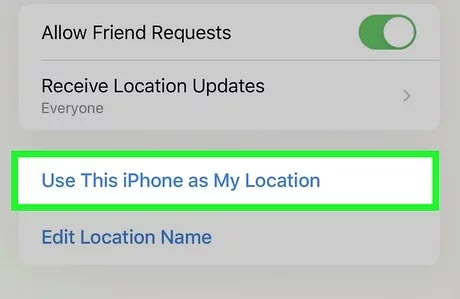 2.6 How to Stop Sharing Location without Them Knowing iMessage
iMessage is a multipurpose messaging app dedicated to iOS devices. But as you send messages through this app, you're automatically sharing your location.
This feature can be used to exploit your privacy as well. However, you can hide the location from iMessage using a built-in feature of the app.
Follow the steps on how to stop sharing location without them knowing iMessage:
Go to the iMessage app
Choose any chat or conversation from any contact
On the top right of the contact head, tap Info
Tap Stop Sharing Location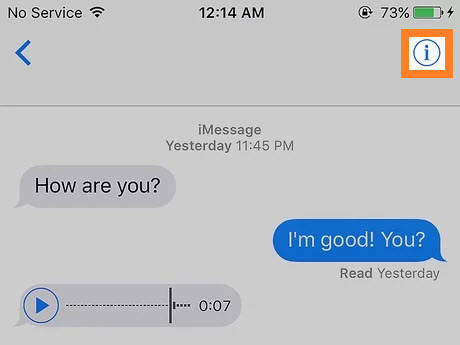 You can even set the duration you want your location to be disabled. It allows you to choose per day, week, or year period which will be automatically enabled after that particular period of time.
Part 3: How to Stop Sharing Location without Them Knowing Android
Many Android devices also have a feature where you can share your current location with any contact or through any app.
However, with the help of your Google account, you can disable the location-sharing feature without letting others know about any activity. If you don't have access to your device, you can also turn off the location via PC.
Before getting started, it is important to ensure that your Android device is logged in to a Google account with a stable internet connection.
Here is how to stop sharing location without them knowing:
Open your Google Account
Go to Data & privacy menu
Under History Settings tap Web & App Activity and Location History options one by one
Turn them off to stop sharing your location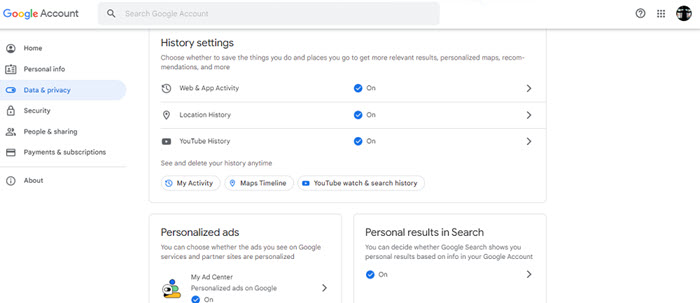 Part 4: Tips on How to Track Someone's Location If They Stop Sharing Location
If you can't track your child's location, they may have applied the above methods to disable location sharing.
In such circumstances, it is best to try out third-party applications like Yeespy Mobile Location Tracker to easily access their whereabouts.
Moreover, Yeespy can be used for monitoring both iOS and Android users without disclosing your identity.
Also, you can locate the real-time coordinates of the targeted users, which can be highly beneficial in case of emergency.
Key Features of Yeespy Mobile Location Tracker
See what more Yeespy has to offer:
Monitor target using both WiFi and GPS-based location
Accurate geographical coordinates
Arrival and departure time at a particular location
Locate user without phone access via web
Detailed report on target's whereabouts
How to Track Someone's Location?
You can view someone else's location online via Yeespy by following the steps below:
Enable Yeespy on Android
Step 1. Create An Account For Free
Enter a working email address to make an account for free.
Step 2. Set Up the Yeespy App
Apply the online instructions on your account to add the app on the target phone.
Step 3. Track the Android Device Location
Open the online control panel, click on the GPS Location feature. There, check out the location on the map in real-time.
Set Up and Use Yeespy on iPhone
Step 1. Make Your Yeespy Account For Free
Provide your email ID to make a Yeespy account.
Step 2. Share the User's iCloud Credentials
Now, enter the target user's iCloud account data to sync the device.
Step 3. Track the iPhone Location
Go to the control panel and check the location remotely.
Why Choose Yeespy as The Best Mobile Location Tracker?
Yeespy stands out among most location trackers because of a number of reasons, as mentioned below:
Ease of Use

Yeespy has a simple yet detailed interface allowing the user without any technical background to locate the targeted device accurately. It doesn't even take much longer to install or set up on any device.

Compatibility

The app is accessible to not only iPhone but multiple Android devices, which doesn't restrict you from ensuring the safety of your loved ones.

Security

Yeespy has built-in encryption ensuring the safety of your personal information or confidential data. All your monitoring details can be accessed only by you through the control panel.

Anonymity

It also offers Hidden Mode to ensure that the app stays anonymous on the targeted phone.
Part 5: FAQs about iPhone Location
Check out additional tips on this topic here:
5.1 How do you know if someone turned off their location on iPhone?
If someone has disabled their location on iPhone, you'll find Location Not Available appearing below their name when you search for connected devices on the Find My Friends app.
It will appear when the device is either powered off, on Airplane Mode or not connected to the internet.
5.2 Can someone tell if I check their location on iPhone?
No, it isn't possible for your friends to tell if you have checked their location on an iPhone using the Find My app.
The app doesn't alert or notify the connected device about the number of times their location has been looked up by any device.
5.3 Why can't I see someone's location after they share it with my iPhone?
There can be many reasons behind someone's location not appearing even after they've shared it, including incorrect date and time, no internet access, hidden location, location services being disabled, or just your phone's glitch.
Conclusion
Location sharing has offered ease of navigation and tracking in many ways; however, it can also create unnecessary issues.
To avoid them, you must know how to stop sharing location without them knowing your situation.
However, if you want to monitor your loved one who has disabled their location to ensure they're safe, try Yeespy mobile location tracker offering real-time location without extensive steps.
You can get the complete history of their frequent visits while being anonymous. It is an all-in-one tool that provides reliability and accuracy under budget.