Facebook is one of the most popular social media platforms, and it's a great way to share photos with friends and family.
However, now you can not check any user's profile picture in case they have locked their account.
That's why we've compiled a list of the top 5 Facebook photo viewers that make it easy to manage and access such photos.
From simple viewers to advanced tools, these apps will help you get the most out of your Facebook photos.
Read on!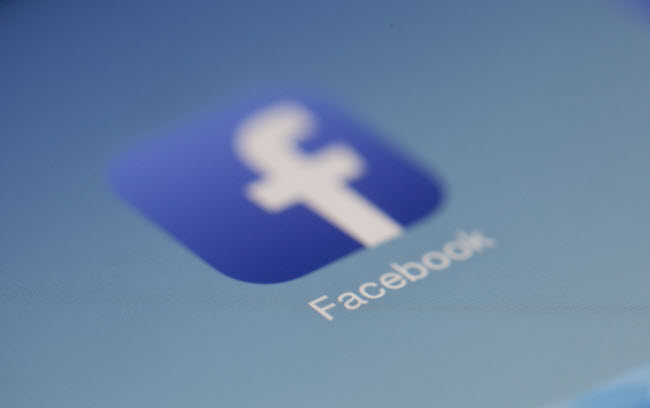 Part 1: Why Do You Need a Facebook Photo Viewer?
Facebook has allowed users to lock their profile pictures to give them more control over their privacy and security.
By locking their profile picture, users can prevent others from downloading or sharing their profile picture without their permission. This feature can be useful for people who want to protect their personal image if they are on Facebook dating.
For this reason, you can use a Facebook profile picture viewer that'll enable you to check it in high quality.
Part 2: Top 3 Facebook Photo Viewers
You can view full-size Facebook profile pictures using the following platforms:
Solution 1: Yeespy Facebook Photo Viewer
Yeespy is the top choice for viewing Facebook photos, profiles, and chats, even if the user has altered their privacy settings.
With its Stealth Mode feature, you can easily view someone's activity on Facebook without them ever finding out. So, now you can access hidden photos without needing to befriend the user on the social platform. It is that easy!
Key Features of Yeespy Facebook Photo Viewer
With the Facebook photo viewer, Yeespy enables you to:
Access the other user's hidden/private photos
View their Facebook notifications
Check the name, number, and email address of the person they interacted with
How to View photos on Facebook?
Want to access someone's Facebook profile picture in full size even if it is locked?
If yes, apply the following installation guide:
View Facebook for Android Photos
Step 1: Set Up A New Yeespy Account
Enter your email ID to create a free account on Yeespy.
Step 2: Install the App
Follow the guidelines on installing the Android app on the target phone quickly to enable the Stealth Mode.
Step 3: View the Facebook Photos Remotely
Go to the online control panel and click Social Networks. Next, click Facebook to view the images.
View Facebook for iPhone Photos
Step 1: Set Up the Yeespy Account
Create an account via your email address.
Step 2: Share the iCloud Account Credentials
Verify the target iOS device by entering the user's iCloud credentials.
Step 3: Check the Facebook Photos
Open the online dashboard, and click the Social Networks section. Tap Facebook to access private photos.
What Else Can Yeespy Do?
Using Yeespy:
You can block Facebook and other social apps
You can track social app activities with ease
You can keep tabs on the target user's location at all times
You can view the browsing history
You can use the keylogger to learn the frequently used keywords on the phone
Why Choose Yeespy as The Best Facebook Photo Viewer?
So why should you pick Yeespy as the optimum Facebook photo viewer?
Firstly, it is easy to install and use. Moreover, there is no compulsion to root or jailbreak the other user's device. Also, it is impossible to detect.
Solution 2: Findmyfbid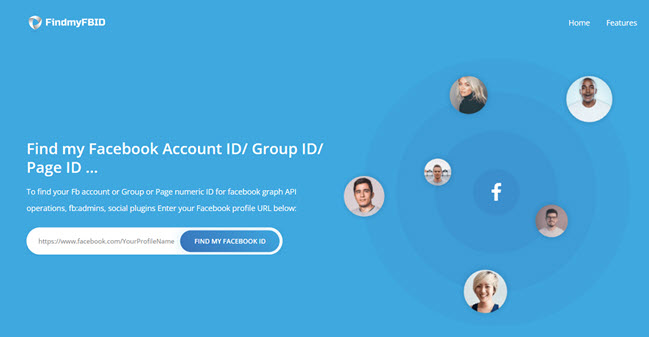 With Findmyfbid, you can easily obtain other Facebook user IDs to view locked or hidden private pictures.
Pros:
Easy to use
Simple interface
Cons:
The platform is a bit one-dimensional compared to Yeespy. Plus, with Yeespy, user privacy and security are always considered.
Solution 3: PictureMate
PictureMate is another great option to view photos on Facebook. This Google Chrome extension allows you to see pictures in which a user is tagged, even if their profile is private.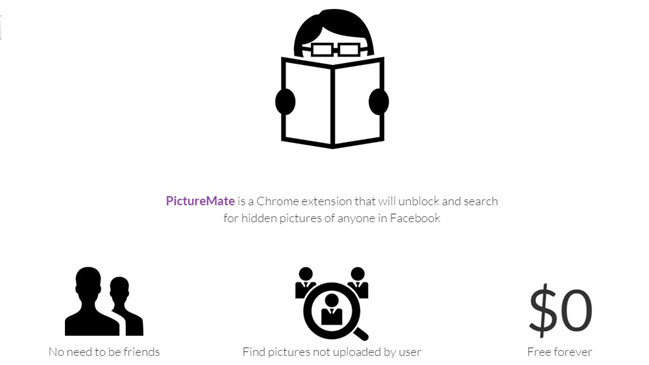 Pros:
Cons:
Only limited to picture viewing
Banned from the Chrome app store
This tool will not give you access to someone's full profile. Also, it isn't accessible on the Chrome Web Store anymore.
So, it is better to resort to Yeespy's services for this specific requirement.
Part 3: 2 Other Alternative Ways to View Photos on Facebook
Other than dedicated platforms, you can manually try to access someone else's Facebook photos. The solutions are listed here:
3.1 Become a Fake Facebook Friend
The simplest solution is to send a friend request and wait for it to be accepted.
This will give you full access to their profile, including all their pictures. However, if the person does not accept your request or if you want to view their profile discreetly, this technique will fail.
3.2 Use Source Code
You can access another user's private Facebook images by scrolling through their profile source code.
Here's how:
Open the Facebook account and right-click on it. Select "View Page Source".
A page containing the source code will open; press "Ctrl + F" on your keyboard.
In the search bar, enter the below-mentioned specific codes one by one until one of them works, and you can access the private photos.
Poke-_target=
data-referrerid=
data-profileid=
profile_id":
Profileid="
Profileid=
Profile_id:
actorIDs:
feed_subtitle_
actorid:
ownerid:
author: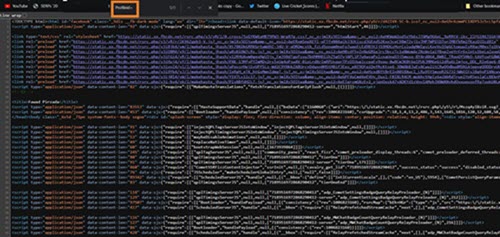 Remember that this method requires technical knowledge and may not work for all accounts.
Part 4: Comparison of The Above 5 Methods
We have summarized the pros and cons of all 5 solutions to view Facebook photos here. Check it out:
| Solution | Technical | Ease of Use | Efficiency | Shows Other FB Details |
| --- | --- | --- | --- | --- |
| Yeespy | No | Yes | 100% | Yes |
| Findmyfbid | No | Yes | 70% | No |
| PictureMate | No | Yes | 50% | No |
| Fake Profile | No | No | 30% | No |
| Source Code | Yes | No | 10% | No |
Yeespy is a complete solution that doesn't require acquiring the prior technical skill to view Facebook photos. Plus, it saves time and lets you privately check the full profile details.
Part 5: FAQs about Facebook Pictures
Still a bit confused about the overall functioning of the Facebook photo viewer? These FAQs will sort everything out for you!
5.1 How can I see someone's Facebook pictures without logging in?
Simply enable Yeespy on their phone, and check all their uploaded Facebook pictures without logging in.
5.2 Can I see who viewed my photo on Facebook?
No, Facebook does not have a feature that allows you to see who has viewed your photos. While third-party apps and websites claim to provide this functionality, it is impossible
5.3 How do I see hidden photos on Facebook?
Install Yeespy Facebook to spy on the specific user's phone and see hidden photos at any time.
5.4 How do I see full-size photos on Facebook?
To view full-size photos on Facebook, you can follow these steps:
Go to the photo you want to view in full size.
Click on the picture to open it in a larger size.
If the photo is still not showing at its full size, click on the three dots icon in the top right corner of the image.
Select "View full size" from the dropdown menu.
The photo will then open in a new window, showing the full-size image.
Conclusion
We hope that now you can easily access someone's private online images using the top 5 Facebook photo viewer solutions.
Each method can provide the expected results, but some will leave you wanting more.
So, for a comprehensive Facebook tracking experience, we recommend Yeespy as it shares everything from pictures and Facebook notifications to Messenger chat history.
Thank you for reading!